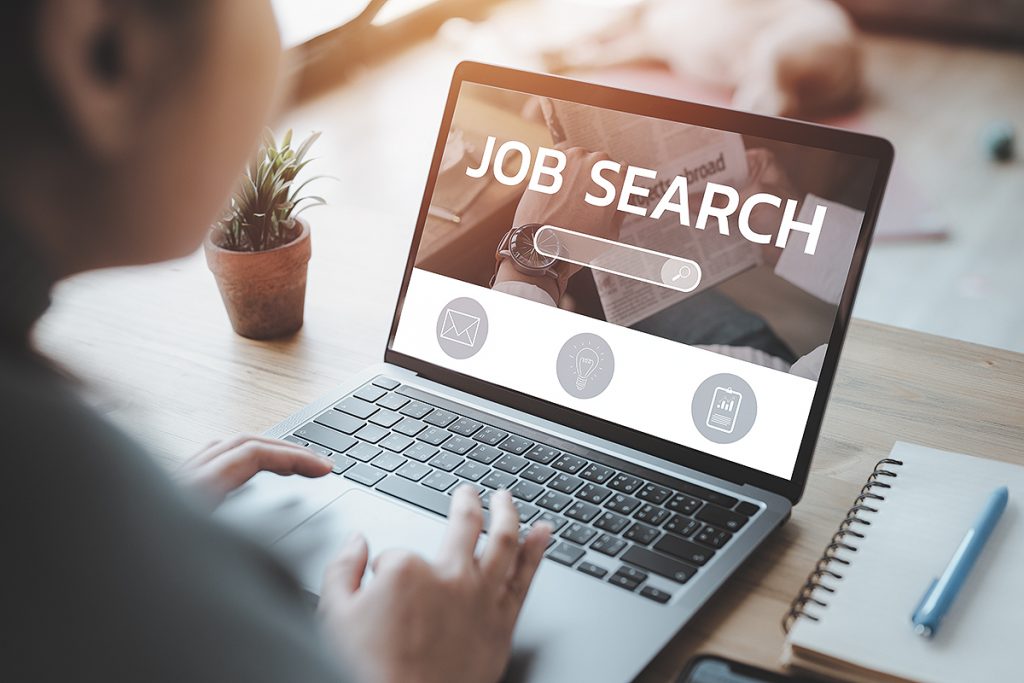 Whether feeling it firsthand or hearing about it at a conference or seminar, most Indiana legal professionals are aware there's a "lawyer shortage" in the state.
Studies have shown there's a need for more Hoosier attorneys — especially in the public sector and in rural areas — but it appears the decline isn't because new lawyers are leaving the state after turning their tassels.
While different groups have estimated why the number of Indiana attorneys has declined, data show that the number of lawyers graduating from Indiana law schools who go on to work in the Hoosier State hasn't changed much in recent years. At the same time, though, the number of overall new law school grads working in Indiana has declined due to one law school closing its doors for good in 2020 and bar passage rates dropping overall.
Multiple factors
Nationwide, the demand for legal services grew at a rate of 4% in 2021 compared to 2020, according to data from the Thomson Reuters Institute.
Simultaneously, the number of "legal deserts" in Indiana has been growing. A 2020 report by the American Bar Association found there were around 2.3 attorneys available per 1,000 Hoosiers statewide, but 40 of the state's 92 counties had fewer than one lawyer per 1,000 inhabitants.
Local data backs up those national numbers. In 2021, the Indiana Public Defender Commission presented data to the Interim Study Committee on Corrections and Criminal Code revealing that Indiana has a lower level of attorneys in the workforce compared to the rest of the nation. According to the data, Indiana had just 36% of the recommended number of attorneys per capita relative to the national average.
Currently, there are three law schools in the state offering J.D. degrees: Indiana University Maurer School of Law in Bloomington, IU Robert H. McKinney School of Law in Indianapolis and Notre Dame Law School in South Bend.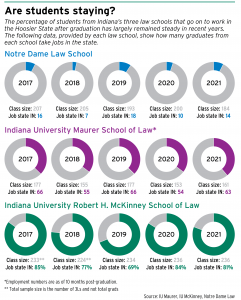 Data provided by the law schools showed that more than 80% of students from IU McKinney go on to practice in the state, while that number is around 40% for IU Maurer and 10% or less for Notre Dame Law.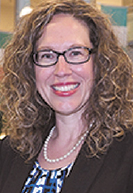 IU McKinney Assistant Dean of Professional Development Willow King Locke said it's no surprise that most of the Indianapolis school's students stay in state because many work with law firms, private businesses, and state and federal courts in Indianapolis while still in law school — and a majority of the students already have ties to Indiana.
She said many of the students she works with see Indianapolis as having a plethora of good-paying jobs, and added that low costs of living compared to other metro markets make it attractive to stay. Most of the grads, she estimated, go on to serve in Marion County or the surrounding "doughnut" counties.
At IU Maurer, Anne Newton McFadden, the assistant dean for student services, said around 35% to 45% of students are from Indiana most years. Around 40% of graduating classes go on to work in Indiana, McFadden continued, but it's typically a mix of in- and out-of-state students, not solely Hoosier natives.
Nearly 90% of Notre Dame Law grads don't hail from the Hoosier State, but those that do generally stay after graduating. While 18 or fewer students have gone on to work in Indiana right after graduation from Notre Dame Law each of the last five years, almost all Hoosier natives have stayed in state.
While the percentage of law school students staying in state after law school has largely remained the same year-to-year, the number of bar exam test-takers and overall passage rates have dipped.
Indiana bar passage rates over the last decade have largely decreased during the summer exam periods, going from the high-70%s around the turn of the century to as low as 64% in 2016.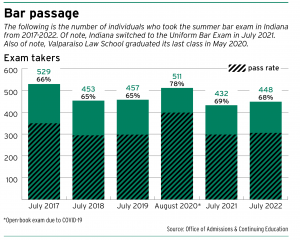 In July 2022, there were 448 exam takers with an overall pass rate of 68%, compared to 572 exam takers with 75% passing in July 2012. The last two years, students have taken the Uniform Bar Exam after the state switched over from the traditional state bar exam.
What about Valpo?
Indiana Lawyer was not able to obtain data regarding job placement for Valparaiso University School of Law graduates. The northwestern Indiana law school stopped admission of first-year law students in fall 2018 before fully closing in 2020.
However, multiple attorneys from northwestern Indiana told IL that closing the school has impacted the number of young attorneys working in The Region.
Valparaiso Law School's enrollment numbers steadily declined from 2011 to 2018, according to ABA Standard 509 reports filed by the school. In 2011, the school had 541 full-time students. By 2018 — the last year 509 data is available for the school — that number was 103.
Many of the students who attended Valparaiso Law appear to have stayed in state after graduation.
The school's 509 report from 2016 — the last such report to list bar exam results — shows 55 out of 123 first-time test-takers took the Indiana bar in 2015, while 35 took the Illinois bar. Consistently, Standard 509 reports show the number of Indiana bar test-takers from Valparaiso was higher than any other bar exams.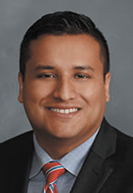 Lake County Bar Association President Alfredo Estrada, a partner at Burke Costanza & Carberry LLP, said Valparaiso Law School was a "pipeline" of associates for many northern Indiana firms. Now, he said, more emphasis is placed on recruiting students from Chicago-area law schools as well as those attending Indiana law schools.
Estrada, a Valparaiso Law School grad himself, said he's concerned that diversity in the Indiana legal profession will be harmed due to the law school closing because of its focus on the issue. While he wouldn't call it the situation a "shortage," Estrada noted many of the bar association members are getting older.
"… It seems there might be a slow decline of lawyers here in The Region," he said. "Right now, there is a difficulty in obtaining associates … hiring good attorneys here. I wouldn't classify it as a shortage just yet, but I think here in the future we may see one."
Since 2012, data from the Indiana Supreme Court Office of Judicial Administration has shown the gap between newly admitted bar members and retiring attorneys narrowing significantly in Indiana. In 2021, 560 attorneys were admitted and 305 lawyers retired.
More incentives needed?
Both McFadden and Locke said there isn't a general incentive program to entice young attorneys to stay in the Hoosier State after graduation.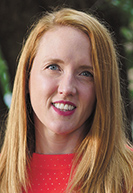 McFadden said she feels there's room at the state level to do something to keep "newly minted lawyers" in Indiana. She gave the example of a program similar to the Indiana State Loan Repayment Program — which helps physicians pay off students loans up to $40,000 for four years of service if they live and work in "health professional shortage areas" — as a potential idea to encourage more young lawyers to stay in the state, and also to work in rural areas.
According to U.S. News & World Report Best Law Schools rankings, the average debt for law school grads borrowing at least one educational loan was $121,755 at Notre Dame Law, $76,755 at IU Maurer and $94,650 at IU McKinney in 2021.
Due to the high costs of attending law school, taking pay cuts to work in the public sector or in rural areas has been off-putting for new grads, leading many to opt to live in urban areas and work for bigger firms.
While very new, the state has seen some success in getting lawyers to work in rural areas via the Rural Justice Initiative externship, a program at both IU McKinney and IU Maurer that places students in more remote parts of the state during the summer and pays them to work. The Indiana Supreme Court has partnered with the law schools on the project, which gives the students stipends.
McFadden, who oversees the RJI at IU Maurer, said of the 14 participants in the first two years, 10 are practicing in Indiana. While post-grad outcomes for everyone in the 2021 class weren't available, McFadden said that of the nine who participated that year, four have accepted post-graduation jobs, and three of those are in Indiana. Of the 10 who participated this past summer, four of the six who have reported to McFadden their summer plans have committed to 2L summer positions in Indiana.
Big firm competition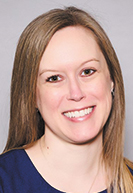 While rural areas are struggling to get young attorneys to work in their communities, urban areas are also competing for associates — especially with many firms now offering remote work.
Summer associate programs have become essential in helping firms maintain pipelines of young talent.
Caryn Glawe, co-chair of the Faegre Drinker Biddle & Reath national hiring committee and partner in the Indianapolis office, said it's imperative that her firm continues to build strong relationships with both the bars across the state and with the law schools.
"We are now pretty constantly in recruiting mode," Glawe said, emphasizing the work is year-round.
Faegre Drinker had an 88% retention rate of entry-level Indiana associates from Indiana schools from 2020 to 2023, she said. Since 2017, the retention rates for all associates — entry level and lateral — who attended Indiana law schools is just under 50%, with most of those who left going to in-house positions over the six-year period.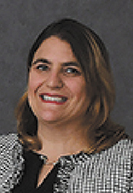 This coming year, 90% of the 2Ls working for Faegre Drinker in Indianapolis will hail from Indiana law schools, Glawe said.
However, Glawe noted that some of the associates working at Faegre Drinker while still in law school move to one of the firm's other offices after graduation.
At Ice Miller, which has its largest office in Indianapolis, Senior Director of Attorney Talent Debbie Atlas echoed Glawe and said the firm looks for strong ties to Indiana when hiring.
Atlas said the number of attorneys coming from IU McKinney and IU Maurer as summer associates are typically evenly split. Also, the firm has increased the number of 1Ls it has taken on over the last two years in an effort to
establish relationships with prospective employees early.
"We have been increasing our summer associate class sizes because we are investing more heavily in first-year law students," she said.•
Please enable JavaScript to view this content.