A former Elkhart resident who spent almost a decade in prison for a crime he didn't commit will receive the largest wrongful conviction settlement in Indiana history.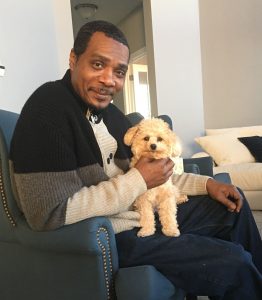 Keith Cooper has agreed to a $7.5 million settlement with the city of Elkhart, Cooper's attorney, Elliot Slosar of Loevy & Loevy in Chicago, announced Wednesday.
Slosar said the wrongful conviction settlement is believed to be one of the highest per-year wrongful conviction settlements — about $1.1 million per year of wrongful incarceration — in the nation.
"I've been waiting over 14 years for this day, and now it's here," Cooper said during a Wednesday afternoon press conference. "Like my attorney said, there is no amount of money that can give me back the amount of time I've lost. … All those other Keith Coopers out there, keep your hope and stay in faith because we are here together."
Cooper, now a resident of Chicago, was wrongfully convicted of armed robbery in 1996 in Elkhart County and was sentenced to 40 years' imprisonment based on faulty DNA evidence and witness statements.
In 2005, the Court of Appeals of Indiana overturned the conviction of Cooper's co-defendant, Christopher Parish, who later won a settlement for $4.9 million. Cooper was offered a new trial before the same judge who previously convicted him, or release with a felony on his record.
With his family living in a homeless shelter, Cooper chose release in 2006.
In 2017, Indiana Gov. Eric Holcomb granted Cooper a pardon, expunging his record and making him the first Indiana man to receive a gubernatorial pardon on actual innocence. Cooper had requested a pardon from then-Gov. Mike Pence, which was unanimously recommended by the Indiana Parole Board in 2014, but Pence didn't act on the request before becoming Donald Trump's running mate.
The victims from the home invasion supported Cooper's pardon, including Michael Kershner, who was shot in the back during the 1996 incident.
Cooper filed his civil lawsuit in 2017, accusing members of the Elkhart Police Department, including former Police Chief Ed Windbigler and officers Steven Rezutko, Steven Ambrose and Tom Cutler, of framing him.
Rezutko, who was the lead detective in Cooper's case, died by suicide in 2019 following the disclosure of records showing that he had resigned from the Elkhart Police Department in 2001 following an investigation into his improper involvement with female informants, according to the South Bend Tribune.
Slosar said Wednesday that Rezutko paid female informants money and had sexual interactions with them on multiple occasions, and those informants were then used to help frame innocent men and women. For more than a decade, the city had failed to disclose those records in lawsuits filed by Parish and Cooper, the South Bend Tribune reported.
Additionally, Slosar said the civil lawsuit filed by Cooper, who is Black, unearthed the existence of a racially motivated subgroup of officers in the EPD who called themselves "The Wolverines" — after the 1984 film "Red Dawn" — which preyed upon Black and brown people in the Elkhart community.
During Wednesday's press conference, Slosar called upon the Elkhart city administration to join in requesting the appointment of a special prosecutor to look into every single case that Rezutko, or any of the other defendants, had investigated.
Slosar said there is an "epidemic" in Elkhart and that Cooper's case will hopefully be used to bring in "scores of other wrongfully convicted people."
Jon Loevy, partner at Loevy & Loevy, said that while the firm works on a lot of exoneration cases in Chicago, Elkhart gives it "a run for its money on a per capita basis."
"The number and nature of the allegations in Elkhart is truly an outlier," Loevy said. "I mean, we litigate … all over the country. The problem that Elliot discovered, that Keith's case uncovered, is an aberration — it really is a cluster of misconduct."
Notre Dame Law School's Exoneration Justice Clinic was launched as a clinic in 2020 as a result of Cooper's story. Slosar is also an adjunct professor who currently co-teaches at the South Bend clinic.
Another Elkhart man who was wrongly convicted could also see a large settlement in the future.
Andrew Royer, who had a murder conviction overturned in 2020, sued the city and county in March.
Royer, who is white and has a mental disability, spent almost 17 years in prison after he was convicted of murdering 94-year-old Helen Sailor in 2005.
Royer, also being represented by Slosar, was convicted alongside co-defendant Lana Canen, but each have since been cleared, with the state dropping its case against Royer in July 2021. In Royer's 61-page complaint, Cooper's case is listed as part of a "custom, pattern, and practice of withholding personnel files containing sustained allegations of misconduct …" by Elkhart law enforcement.
Please enable JavaScript to view this content.