An Elkhart man whose murder conviction was overturned two years ago after he spent nearly 17 years in prison is now suing Elkhart County law enforcement officials who he claims conspired to exploit his mental disability and coerce a false confession.
Andrew Royer, now 46, was convicted in 2005 of the murder of 94-year-old Helen Sailor, who was found dead in her Elkhart apartment over Thanksgiving weekend in 2002. Royer was convicted alongside co-defendant Lana Canen, but each have since been cleared, with the state dropping its case against Royer in July 2021.
Now, almost two years to the day after he was released from prison, Royer is suing the city of Elkhart, Elkhart County, the state and a slew of local law enforcement officials, including Prosecutor Vicki Becker, for alleged violations of his rights through their conduct during the investigation into Sailor's death and their prosecution of the case against him.
In a 61-page complaint, Royer alleges nine violations of the U.S. Constitution and federal law, including:
Due process violations under 42 U.S.C. § 1983 and the due process clause of the 14th.
Coercive interrogation tactics in violation of his rights under the Fifth and 14th.
Deprivation of liberty without probable cause under the Fourth and 14th.
Supervisory liability under Section 1983.
Failure to intervene under Section 1983.
Conspiracy to deprive constitutional rights under Section 1983.
A Monell claim under Section 1983.
Violations of the Americans with Disabilities Act.
Violations of the Rehabilitation Act of 1973.
Royer also raises seven state-law claims, including:
Negligent supervision.
Breach of duty in hiring, training and supervising – negligence, against both the city and county.
Breach of duty in hiring — willful and wanton conduct, against both the city and county.
Respondeat superior.
Intentional infliction of emotional distress.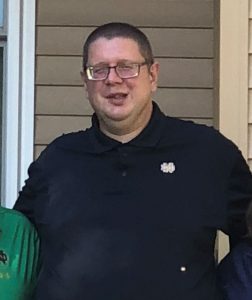 Royer is seeking compensatory and punitive damages, attorney fees and costs.
"Today begins the final chapter of Andy Royer's journey towards justice," Elliot Slosar, of Loevy & Loevy in Chicago, said in a Thursday news release announcing the lawsuit. Slosar, through the Exoneration Project, was part of a post-conviction team that also included the Notre Dame Law School Exoneration Justice Clinic and the Wrongful Conviction at Indiana University Robert H. McKinney School of Law.
"Tragically, Andy's 17-year wrongful conviction was not an accident, but rather, the result of Defendants' intentional misconduct," Slosar said.
In March 2020, Special Judge Joe V. Sutton granted Royer's successive post-conviction relief petition, ordering a new trial and allowing his release from the Kosciusko County Jail. The Court of Appeals of Indiana affirmed in April 2021 and the state dropped its case against Royer in July.
In the order granting a new trial, Sutton focused on three key pieces of evidence: fingerprint evidence, witness statements and the interrogation that led to Royer's confession — a confession Royer has consistently maintained was false and was the result of coercion.
The lawsuit filed this week likewise focuses on those three issues and, from a broader perspective, alleges an intentional conspiracy by Elkhart officials to frame Royer and Canen for Sailor's murder.
The fingerprint evidence in question was a latent print pulled from a medicine tub in Sailor's apartment. Elkhart County Sheriff's Department Detective Dennis Chapman claimed to be an expert in examining latent prints and said the print recovered from the crime scene matched Canen. That tied Royer to the crime because, according to the prosecution, Canen was the "brains" of the murder while Royer was the "brawn."
But it was later discovered that the print actually excluded Canen, and Chapman admitted to lying about being a latent print expert. In the new lawsuit, Royer's team alleges Chapman had a history of making false claims about fingerprint evidence at the urging of local law enforcement.
"Defendant Chapman was just a hired gun that the Elkhart Defendants used when the Indiana State Police Laboratory was not providing satisfactory results in criminal investigations," the complaint alleges. "When that occurred, the Elkhart Defendants would withdraw evidence from the Indiana State Police Laboratory and transfer it to Defendant Chapman, who they were confident would provide them with an opinion that was consistent with their theory of the investigation."
Canen was exonerated in 2012 after the fingerprint evidence was cleared. Former Indiana Attorney General Curtis Hill, who was the elected Elkhart County prosecutor at the time of Royer and Canen's trial, played a key role in her exoneration.
The next issue that undermined Royer's conviction was testimony from Nina Porter, Canen's neighbor, who claimed Canen told her, "Thanksgiving, thanks for giving death," an apparent reference to the Thanksgiving murder. Porter gave her statement after Detective Carl Conway threatened to take her children from her.
Porter testified for the prosecution during the trial against Royer and Canen, but she later recanted, saying her statement was coerced. Additionally, Porter was paid $2,000 for her testimony, a fact that was never disclosed to the defense.
The last key issue in the successive post-conviction proceedings was Royer's confession. Police obtained two recorded confessions from him, but he had also been questioned for hours before the recording device was turned on.
Conway led the interrogation, but several other people witnessed the questioning, including Becker, the current Elkhart County prosecutor who tried the case against Royer and Canen in 2005 as a deputy prosecutor.
Also witness to the interrogation was Detective Mark Daggy, who later described the questioning as among the worst he had ever seen.
There were several issues with Royer's interrogation, according to the complaint. The first is the fact that his mental disability was known to the defendants, but they took no steps to accommodate that disability, such as allowing Royer to have a counselor, family member or lawyer present.
"During the interrogation, Defendants observed that Mr. Royer had great trouble understanding and comprehending what was taking place," according to the complaint. "Defendants took no steps to limit or adapt their questioning of Mr. Royer in response to his known vulnerabilities.
"Instead, the opposite occurred: Defendants agreed among themselves and acted to exploit Mr. Royer's intellectual and emotional weaknesses to secure a confession regardless of whether it was true or false," the complaint continues.
Additionally, Conway fed details about the murder to Royer in order to secure a believable confession, according to the complaint.
Prior to the 2005 trial, Conway was removed from the Elkhart Police Department's homicide unit "due to sustained allegations of misconduct arising from an interrogation of a suspect in a separate homicide investigation," but his removal was not disclosed to the defense.
In ordering a new trial for Royer, the special judge found, among other things, that Conway provided false testimony at the original trial about his interrogation of Royer.
The special judge held that, "… Royer's due process rights were violated by the State's presentation of false and misleading evidence resulting in a conviction obtained in violation of his rights under the Fourth, Fifth, Sixth, Eighth and Fourteenth Amendments to the United States Constitution as well as the coordinate rights established under the Indiana Constitution."
In upholding that decision, the Court of Appeals expressed particular concern about Conway's actions.
"Detective Conway's false testimony at Royer's trial is particularly galling because he was an Elkhart Police Department detective at the time of Royer's trial and, as of the evidentiary hearing on Royer's successive petition for post-conviction relief, Detective Conway was still employed by the Elkhart Police Department overseeing the juvenile bureau and the special victims unit," it wrote.
In September 2021, Elkhart Police Chief Kris Seymore recommended that Conway be terminated from the force.  Conway resigned before his termination hearing, according to Royer's legal team.
Conway's interrogation tactics were discussed within the Elkhart County Prosecutor's Office, the complaint claims, and Hill, who was then leading the office, "had concerns about Mr. Royer's interrogation and declined to sign the charging documents against Mr. Royer. In his place, Defendant Becker authorized the charges against Mr. Royer for the murder of Ms. Sailor on September 8, 2003 — nearly five years after Defendants initially manufactured Mr. Royer's false confession."
According to the complaint, law enforcement zeroed in on Canen and Royer at the exclusion of two other possible suspects: Larry Wood and Tony Thomas.
Wood lived in the apartments at the time of the murder and was a deliveryman for the company that delivered Sailor's prescription drugs. Law enforcement later discovered a reddish substance similar to what was found on Sailor's body in Wood's sink, and an oily substance similar to what was found at the crime scene on his shoe.
As for Thomas, witnesses recalled him acting erratically on the night of the murder. He was at the apartment complex that day because his grandmother lived there.
Law enforcement destroyed, withheld and/or fabricated evidence related to Wood and Thomas in an effort to bolster the case against Royer and Canen, according to Royer's legal team.
But the complaint alleges more than just wrongful conduct as to Royer, specifically. Rather, it claims the defendants have a system of policies and practices that have allowed for misconduct in multiple cases.
"While Andy's wrongful conviction is a travesty of justice, it did not occur in isolation," Slosar, Royer's attorney, said in a statement. "Andy is the fifth Elkhart exoneree, a startling statistic for a community of this size. Andy's case demonstrates a pattern of police misconduct in the halls of the Elkhart Police Department of the Elkhart County Prosecutor's Office."
The complaint lists multiple other cases of wrongful convictions, including the case against Keith Cooper, who was pardoned in 2017.
Online court records do not yet list attorneys for any of the defendants. The Office of the Indiana Attorney General typically represents government entities and employees sued in relation to government work, although the individual law enforcement defendants are sued in their individual, rather than official, capacities in this case.
The case in the Indiana Northern District Court is Royer v. City of Elkhart, et al., 3:22-cv-00254.
Please enable JavaScript to view this content.