Editor's note: This story has been updated.
An emotional Marion County Prosecutor Terry Curry said Monday afternoon he was stepping down to focus on managing ongoing treatment for prostate cancer that he disclosed earlier Monday he has been battling since 2015.
Curry entered an afternoon news conference to applause, saying that ending his term was a difficult decision. He said in eight years he had done hundreds of press conferences, but, "Got to tell you, I'm a little nervous this afternoon.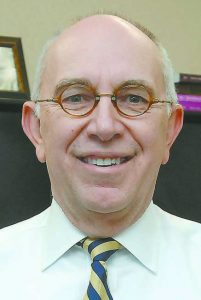 "… Make no mistake, it's killing me to have to step down at this time," Curry said. "I love this office. I love this job." He is optimistic about his own road ahead as he focuses on his health and family. He is receiving treatment at the Indiana University Simon Cancer Treatment Center.
Chief trial deputy Ryan Mears will immediately become acting prosecutor and a caucus of Marion County Democratic precinct committeepersons will be called within 30 days to elect an individual to fulfill the remainder of Curry's term, which ends Dec. 31, 2022. Curry said he intends to remain in the office as a deputy prosecutor, assisting with white collar criminal cases.
"I am indeed proud of our accomplishments in 8½ years," Curry said. "What goes on in this office impacts hundreds of thousands of people in central Indiana every year." He thanked his family, employees in the prosecutor's office, fellow elected officials, judges and Marion County voters. He cited initiatives such as diversion programs that help defendants get back to productive lives and efforts to advance hate-crimes legislation. He became tearful when talking about fallen officers.
Curry noted his office has assisted nearly 15,000 people expunge their criminal records. "We're particularly proud of our work in providing second chances for those who have been involved in the criminal justice system in the past but have taken steps to remove themselves from that criminal lifestyle."
"In leaving this office, stepping down from this position, I am confident the office is in capable hands. … I am completely upbeat about where life leads from here."
Believed to be the only three-term Democratic prosecutor in Marion County, Curry notified Gov. Eric Holcomb of his resignation Monday morning.
"Serving as the Marion County prosecutor has been the privilege of my professional life," Curry said in a press release prior to the  press conference. "It has been my honor to seek justice on behalf of those who are wronged in our community and to ensure that victims' rights are protected."
Curry was elected as Marion County prosecutor in 2010 and successfully ran for re-election in 2014 and 2018. He was a leader in the effort to get a hate-crime law passed in Indiana and had joined other prosecutors across the country urging the U.S. Senate to pass universal background checks on gun purchases.
He entered the prosecutor's office by reinstating charges against former Indianapolis Metropolitan Police officer David Bisard. The K-9 officer was on his way to a police call when he crashed his cruiser into a group of motorcyclists, killing one.
Curry revived the charge of operating while intoxicated with a blood alcohol content of 0.15 or higher causing death against Bisard. His trial was transferred to Allen County where he was convicted and sentenced to 16 years in the Indiana Department of Correction with three years suspended.
The Indiana Prosecuting Attorneys Council on Monday praised Curry's service while wishing him and his family the best.
"We will certainly miss Terry and his strong voice for prosecutors but we realize he is making the right decision for both him and his family," said IPAC Chair Lisa Swaim. "Indiana is fortunate to have several prosecutors who do their best to strengthen public safety, not just in their county, but across the state as a whole, and Terry was one of those prosecutors."
Linda Pence, partner at SmithAmundsen and former attorney with the U.S. Department of Justice, worked in private practice with Curry when the two were just starting their legal careers in Indianapolis. She credits Curry for picking up the complicated prosecution of Bisard and following through on a case that had very complicated legal issues.
"He has always taken his job very, very seriously," Pence said. "That I greatly respected."
Marion County Chief Public Defender Robert Hill also applauded how Curry ran the prosecutor's office. He and Curry knew each other long before they assumed their public roles.
"I'm sorry to see him go," Hill said. "I've enjoyed working with him."
Curry earned his B.A. in political science and history at Butler University then enlisted in the U.S. Army in 1971. After an honorable discharge following two years of military service, he became a reporter for the Indianapolis News, where he won a Casper Award for a series of articles exposing discriminatory lending practices in Marion County.
He was admitted to Indiana University Maurer School of Law in 1975 and graduated summa cum laude in 1978.
Before becoming prosecutor in 2010, Curry practiced as a trial lawyer for more than 30 years. He spent six years as a deputy prosecutor until he was elected the Marion County Prosecutor.
As deputy prosecutor, Curry prosecuted white collar crimes and political corruption matters, including bribery by public officials, securities fraud, Ponzi schemes, and employee embezzlements, according to Curry's campaign website.
Please enable JavaScript to view this content.