Dentons has announced a future combination with Salt Lake City-based Durham Jones & Pinegar, which is being billed as the largest law firm combination announced since the beginning of the COVID-19 pandemic.
This merger continues Dentons' Project Golden Spike initiative that started with the global giant's combination in January of 2020 with Bingham Greenebaum Doll.  The project seeks to create what Dentons calls the "first truly national U.S. law firm" that serves clients across the United States and around the world.
Durham Jones & Pinegar has nearly 100 attorneys in Utah with offices in Salt Lake City, Lehi, Ogden and St. George. It is a business-focused law firm, offering an array of services including complex business and finance law, mergers and acquisitions, banking, commercial litigation, and intellectual property.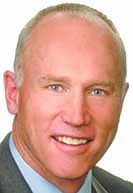 "In times of accelerated change, the model of law firm combinations needs to continue to transform," said Toby McClamroch, managing partner of Dentons United States Region and former managing partner of Bingham Greenebaum Doll in Indianapolis. "Through the Golden Spike model and this combination with Durham Jones & Pinegar, Dentons is able to foster true collaboration between member firms and continue its trajectory to better serve clients across our focus on the 100 largest legal markets in the US."
Dentons launched Project Golden Spike when it combined with Bingham Greenebaum and Pennsylvania-based Cohen & Grisby. Under the business model, the law firms operate in partnership, which increases their bench of attorneys and services while they retain their autonomy. The firms keep their defining characteristics and provide for their communities.
Now with the pandemic and the global economic crisis, Dentons sees businesses are confronting a "new dynamic" of constant accelerated change.
"We are delighted to be combining with the talented professionals of Durham Jones & Pinegar in a key and growing market for our clients," said Elliott Portnoy, global CEO of Dentons. "The Salt Lake City metropolitan area is a model for the New Dynamic economy: a community with a history of strong economic growth and stability that continues to foster a vibrant, diverse group of innovative businesses and initiatives. We look forward to becoming the first global law firm with an office in the 'Silicon Slopes.'"
At launch of the combination with what will be known as Dentons Durham Jones Pinegar, Dentons will extend its reach to 188 locations in 76 countries, including 37 offices in the US.
In 2020 to date, Dentons has launched six combinations including the completion of its combination with Bingham Greenebaum and Cohey & Grigsby, the inaugural member firms of Dentons US as part of Project Golden Spike.
Please enable JavaScript to view this content.