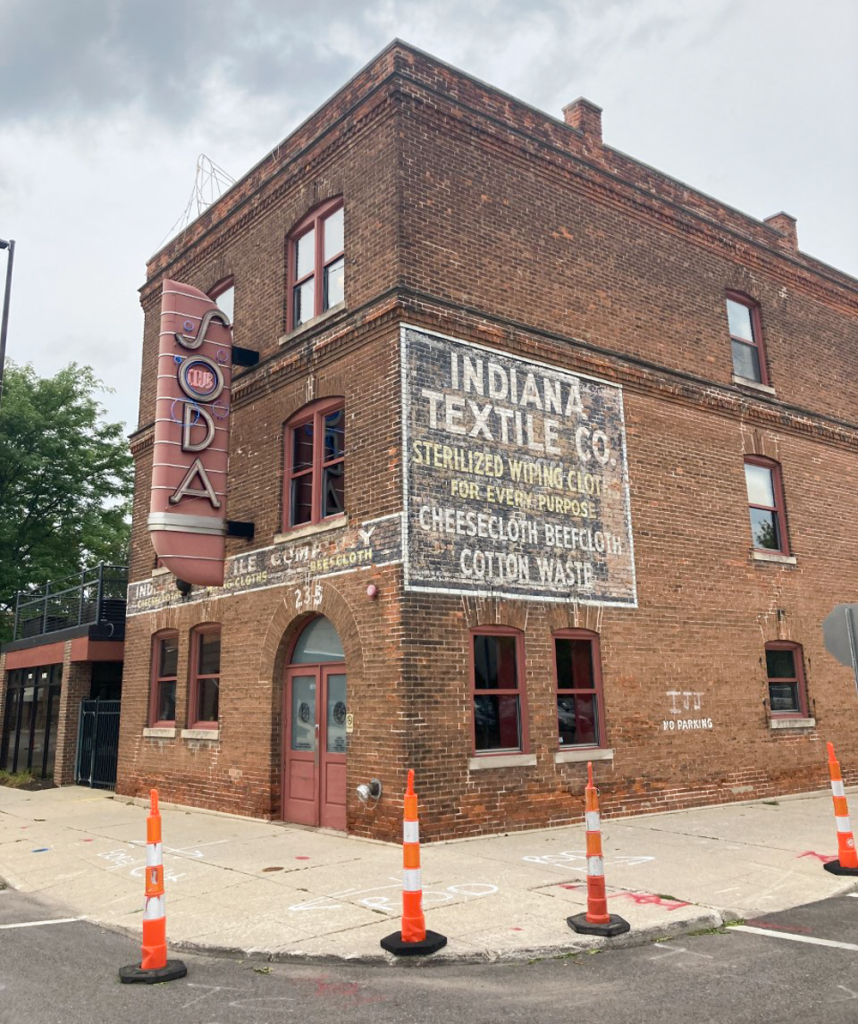 Sales were through the roof in 2019 for Fort Wayne's jazz venue, Club Soda. The music joint, steak restaurant and cigar/martini bar was co-founded by local attorney Douglas Ulmer with some friends in 1998, then transformed into a new company in 2002.
Ulmer agreed to help with the restaurant's legal needs in exchange for a small percentage of the company, which has flourished over the past two decades.
"Notwithstanding COVID-19, things have gone very well," Ulmer said. "COVID was a substantial blow. Our sales were off by $1 million, and had it not been for the (Payment Protection Program) loans, our existence would be in doubt."
Ulmer's restaurant wasn't the only one feeling the heat last year. Carryout services became a lifeline for many struggling dining establishments, and workers were cut loose for lack of business, leaving some questioning their job security.
Past the midway mark in 2021, restaurants and bars across the country are still reportedly struggling to find workers. Job openings at the end of June increased to a series high of 10.1 million, according to the U.S. Bureau of Labor Statistics, with 121,000 of those stemming from the accommodation and food services industry.
As a result, Hoosier employment attorneys say they've seen a trend of staffing shortages exacerbated by the pandemic forcing cooks, servers and hostesses to work significantly more hours.
Trending concerns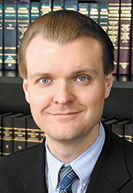 Employment concerns pouring into 2021 from last year have ranged across the spectrum, said Bradley Wilson of John H. Haskin & Associates. He said he gets calls from hospitality workers whose hours have been cut, as well as individuals who are being pushed to work well over 40 hours per week.
Some aren't getting paid at all, Wilson said, while others are being required to share their tips in violation of the Fair Labor Standards Act.
For the first time in 20 years of practice, Wilson said he's even received calls from parents saying their kids under age 16 are working well in excess of 40 hours per week at their restaurant jobs.
"A lot of this is staffing shortages because of, very likely, the unemployment (benefits)," Wilson said. "If they are making more on unemployment, (they are asking) 'Why would I work for minimum wage when I am making more on unemployment?'"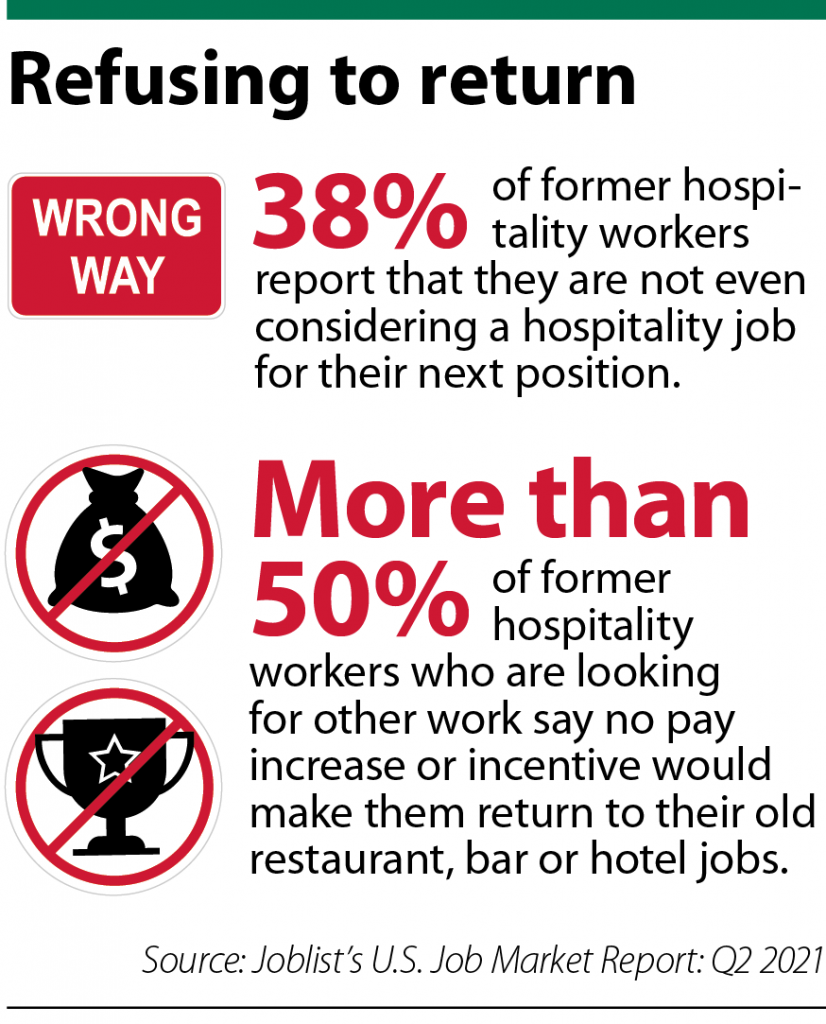 Indianapolis attorney Amber Boyd-Moorman said her hospitality clients are facing unemployment issues of a different kind. She's seen an influx of calls asking for help with unemployment benefits appeals, with some people owing up to $20,000.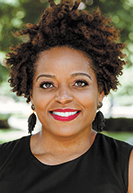 "During the pandemic, the dining industry was in a lot of turmoil. A lot of their workers had to receive or request unemployment benefits. They are waitresses and have always had opportunities to work," Boyd-Moorman said.
But as those benefits are rescinded, Boyd-Moorman said she's received numerous calls about how to go through the appeals process.
"It's a substantial amount of money," she said.
Acknowledging that while many food establishments are desperate for help after reopening, Boyd-Moorman added that dining staff have safety concerns holding them back.
"Some of them are scared, asking, 'Should I have to wear a mask? Do I need to get vaccinated?'" she said. "When you (work at) these restaurants, you have to wear mask. But the patrons don't."
Concerns about mask requirements and getting vaccinated for work are questions that both Boyd-Moorman and Wilson said they are receiving from their hospitality clients.
Keeping composure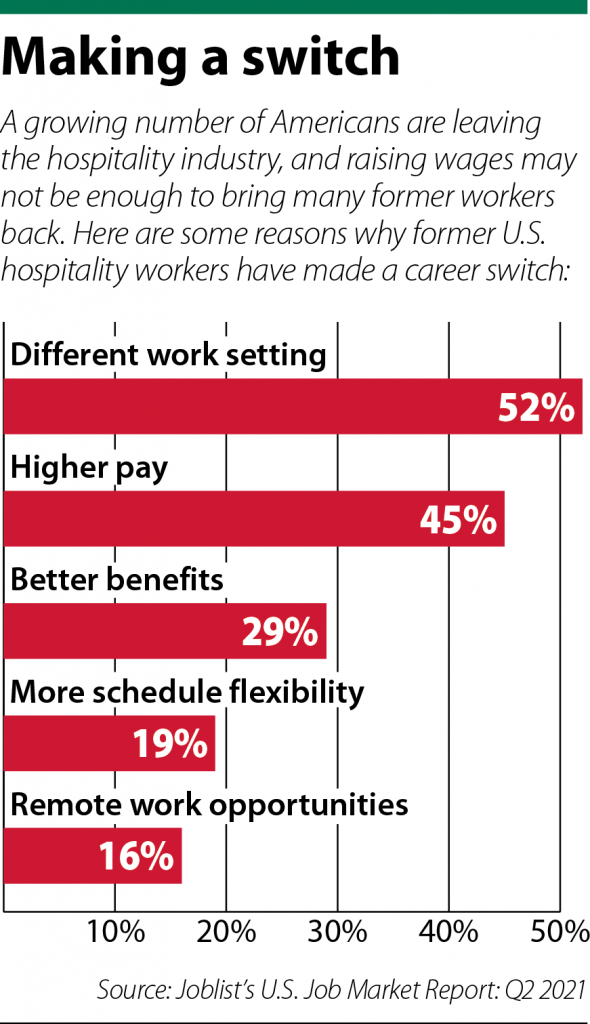 Dealing with angry and unappreciative customers is another reason some dining staff allegedly don't want to return to the restaurant industry, according to Joblist's U.S. Job Market Report. On top of being short-staffed, overworked and, in some cases, struggling, to stay afloat, servers who already have to deal with frustrated customers have had to become mask enforcers, sometimes receiving hostility and backlash.
The argument from Wilson's clients is, "We aren't getting paid enough for dealing with that."
Boyd-Moorman said she has also seen an uptick in the number of calls coming from people about how they are being treated by patrons when it comes to mask mandates and other public health precautions.
That hasn't been the mentality of Club Soda's staff, Ulmer said.
"Even at times when we were at 50% capacity, we were doing relatively well because people were tipping much more heavily than they would have otherwise," Ulmer said.
He added that it's mindboggling to him that there are reports of some restaurants having to encourage their patrons to be kind to their workers, even after 2020.
"I was in northern Michigan and I stopped in a place to get a coffee and right on the front door it said, 'Please be kind to our staff. We are understaffed and we are struggling to provide the service you expect.' I was struck by that," he said. "How dare people be sh—y to servers that clearly are struggling and owners that are struggling? And I just thought how lucky Club Soda and our employees have been."
Looking at the comparable restaurants around his community, Ulmer said he has observed many shutting their doors an extra day or two during the week because of staffing difficulties, no longer offering lunch and cutting back on hours.
"It's definitely a consequence of the pandemic," he said.•
Please enable JavaScript to view this content.