The former Johnson County prosecutor who was convicted of assaulting his former girlfriend and attempting to cover up his crime was suspended from the practice of law for four years without automatic reinstatement.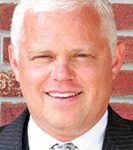 The sanction might effectively end the legal career of Bradley Cooper, formerly the long-serving prosecutor in the largely suburban county south of Indianapolis. The Indiana Supreme Court's order Wednesday found no reason not to subject Cooper to significant professional punishment after he was placed on interim suspension in August 2019, after pleading guilty in a felony domestic violence case.
Cooper "urges imposition of a short suspension with automatic reinstatement, likening his case to other disciplinary cases involving acts of battery committed by elected officials, deputy prosecutors, and other attorneys," the Supreme Court wrote in a per curiam opinion.
"However, any similarity between those cases and this one ends there. Respondent's acts of battery were more brutal and his victim more vulnerable; his criminal conduct involved not only violence but dishonesty; and he is a repeat disciplinary offender. All of these factors elevate this case into a far more serious realm requiring, at a minimum, that Respondent demonstrate his professional fitness before ever again practicing law in this state."
Justices were unanimous in their decision but stopped short of disbarment that had been recommended by Jackson Superior Judge Amy Marie Travis, who served as hearing officer in Cooper's discipline case. Jackson in September recommended the ultimate professional sanction, citing the actual harm Cooper had caused to his victim and the public and the potential for further harm to the public and profession.
Cooper pleaded guilty to Level 6 felony counts of criminal confinement, indemnity deception and official misconduct in April 2019.Cooper, who had served as the Johnson County prosecutor since 2009, allegedly struck his fiancée, causing her bodily injury, and confined her without consent when she tried to leave his home in Trafalgar, charging information states. He also allegedly pretended to be the victim in electronic messages sent to someone else and committed official misconduct by committing identity deception during a criminal investigation of domestic battery within his judicial circuit and in Johnson County.
In July 2019, Cooper confessed, "I did it … I did it all,"  when Hancock Circuit Special Judge Dan Marshall sentenced Cooper to 540 days' probation, as stipulated in his plea agreement. Cooper upon sentencing resigned as prosecutor though some in Johnson County were outraged that Cooper had continued to serve as the county's top law enforcement official for months after he pleaded guilty to felony charges in April.
The Supreme Court issued an interim suspension of Cooper's law license in August 2019 after his felony sentencing.
In its order Wednesday, the court found Cooper had violated Indiana Professional Conduct Rules 8.4(b) and 8.4(c) — committing criminal acts that reflect adversely on the lawyer's honesty, trustworthiness and fitness, and engaging in conduct involving dishonesty, fraud, deceit or misrepresentation.
The court wrote that Cooper "brutally beat and confined his girlfriend in his home. During this time he used his victim's cell phone to send various messages while pretending to be her. Eventually the victim managed to flee Respondent's house and summon help from a neighbor. When law enforcement officers arrived, Respondent locked the victim's phone and refused to unlock it. Shortly thereafter Respondent made statements to the media falsely accusing the victim of having attacked him."
Nevertheless, the court declined to agree with Travis' recommendation that Cooper should be disbarred. The justices noted he "already has been under interim suspension for about one and a half years. Together with the four-year suspension we impose today, which is effective from the date of this opinion and not retroactive, Respondent will serve well over five years of suspension before becoming eligible to petition for reinstatement. Should Respondent seek reinstatement at that time, his petition will be granted only if he is able to prove his fitness to resume the practice of law by clear and convincing evidence, a burden that will be particularly steep given the severity of Respondent's misconduct."
Among other things, the hearing officer had found Cooper's prior discipline — when he was reprimanded for critical comments he made about a judge's rulings in a case he had prosecuted — also argued for disbarment.
"We also share the hearing officer's concern that Respondent's prior discipline did not prompt him to address sooner underlying factors that Respondent acknowledges predate his earlier misconduct," justices wrote. "However, subsequent to the misconduct at issue here, Respondent has taken meaningful and substantial steps to address his alcohol use disorder and anger management issues. Respondent also has accepted responsibility in both his criminal and disciplinary proceedings for his deplorable acts, he has been compliant with the terms of his criminal probation, and his testimony at the final hearing reflects a degree of insight and remorse that distinguishes him, however modestly, from some other similarly-situated respondents.
"While these after-the-fact measures do not mitigate the misconduct itself, which was reprehensible, they do point to Respondent's potential for rehabilitation and narrowly persuade us that the door to Respondent's legal career should not be permanently and irrevocably closed."
The case is In the Matter of Bradley David Cooper, 19S-DI-00418.
Please enable JavaScript to view this content.