Based on the belief that eliminating discrimination starts with education, the Fair Housing Center of Central Indiana in partnership with the Indianapolis Public Library has developed an interactive exhibit that details the history of practices and tactics that barred certain groups from homeownership.
The exhibit, "Unwelcomed: A Fair Housing History of Sales & Lending Discrimination," is on display at the Central Indianapolis Library, 40 E. St. Clair St., through the end of April. On a series of 11 oversized panels, the story of redlining, blockbusting, racial covenants and other forms of housing discrimination are told through text, photos and QR codes that link to additional resources like videos and reports.
"The panels review the history of, basically, how we got here, why our neighborhoods are segregated, (and) why we have such a great ownership gap based on race and ethnicity," said Amy Nelson, executive director of the Fair Housing Center of Central Indiana. "The last few panels, we look at modern-day lending and sales discrimination and ways that the public can take action or identify discrimination happening."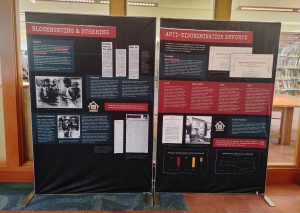 Neighborhoods in Indiana are still scarred by past real estate discrimination. Even while tactics like racial covenants have been outlawed, communities are still racially segregated and many people of color still struggle to buy a home.
"What is certainly there in evidence is that the impact of those policies and practices are still being fled by individuals in neighborhoods to this day," Nelson said. "Formerly redlined neighborhoods that still don't have adequate investment, the homeownership gap between races, that is a direct result of Blacks and other people of color and some religious groups being shut out of mortgage-backed loans."
However, Nelson pointed out, lending and sales discrimination continues, as indicated by the settlement agreement the Fair Housing Center reached in December 2021 with Old National Bank. The exhibit calls attention to these new forms of discrimination like reverse redlining, foreclosure disparities and algorithm bias.
Nelson said the goal of the exhibit is to change attitudes. Often, she said, people who face barriers to homeownership are told to work harder. However, the reality is they have been shutout of the home-buying process because of lending practices.
"We want (the exhibit) to be an education piece and then also, hopefully, lead to more discussion about how do we fix things," Nelson said, explaining the focus should be on things like addressing adequate investment in neighborhoods and closing the homeownership gap between the races. "We want to have more discussions or build more dialogue around that."
Coinciding with the exhibit is Fair Housing Center's celebration of its 10th anniversary. First opened in January 2012, the nonprofit has grown to just a handful of employees has had a "direct cash financial impact" from its enforcement work of over $43 million. That impact includes damage awards from lawsuits and settlement agreements which has provided community relief through such things as grants and loan subsidies.
Helping create the exhibit was Jordan Ryan of The History Concierge and Jessica Dunn of BrainTwins. The exhibit was funded through support by First Merchants Bank.
Please enable JavaScript to view this content.