Thomas L. Kirsch II, U.S. Attorney for the Northern District of Indiana, has been nominated by the White House to the 7th Circuit Court of Appeals. He is in line to fill Judge Amy Coney Barrett's seat on the appellate court if she is confirmed to the U.S. Supreme Court.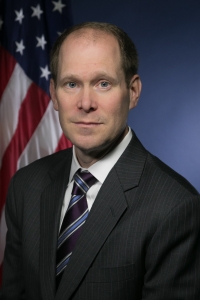 The Trump Administration nominated Kirsch to be the top federal prosecutor for Indiana's Northern District in 2017, and he was confirmed by a voice vote in the U.S. Senate. At the time, he was a partner at Winston & Strawn LLP in Chicago where his practice focused on complex litigation and corporate investigations.
When he became the 18th U.S. Attorney for the Northern Indiana District, he held a public investiture at the federal courthouse in Hammond. The Times of Northwest Indiana reported that Kirsch pledged to fight public corruption, violent crime and the opioid drug crisis.
"The blows will be hard but not foul," Kirsch said.
Prior to stepping into private practice, Kirsch served in various positions in the U.S. Department of Justice, including as an Assistant U.S. Attorney for the Northern District of Indiana and as counsel to the Assistant Attorney General for the Office of Legal Policy.
He earned a B.A. degree with highest distinction from Indiana University and received his J.D. from Harvard Law School. After completing his studies, he clerked at the U.S. District Court for the Southern District of Indiana for Judge John Tinder.
President George W. Bush nominated Tinder to the 7th Circuit in 2007. The judge retired in 2015 and his seat was filled by Barrett in 2017.
At Kirsch's investiture ceremony, Tinder praised his former clerk.
"Tom has a pitch-in attitude without seeking credit or accolades," Tinder said, as quoted by the Northwest Indiana Times. "He has the integrity and courage to make those decisions regardless of their popularity."
Please enable JavaScript to view this content.