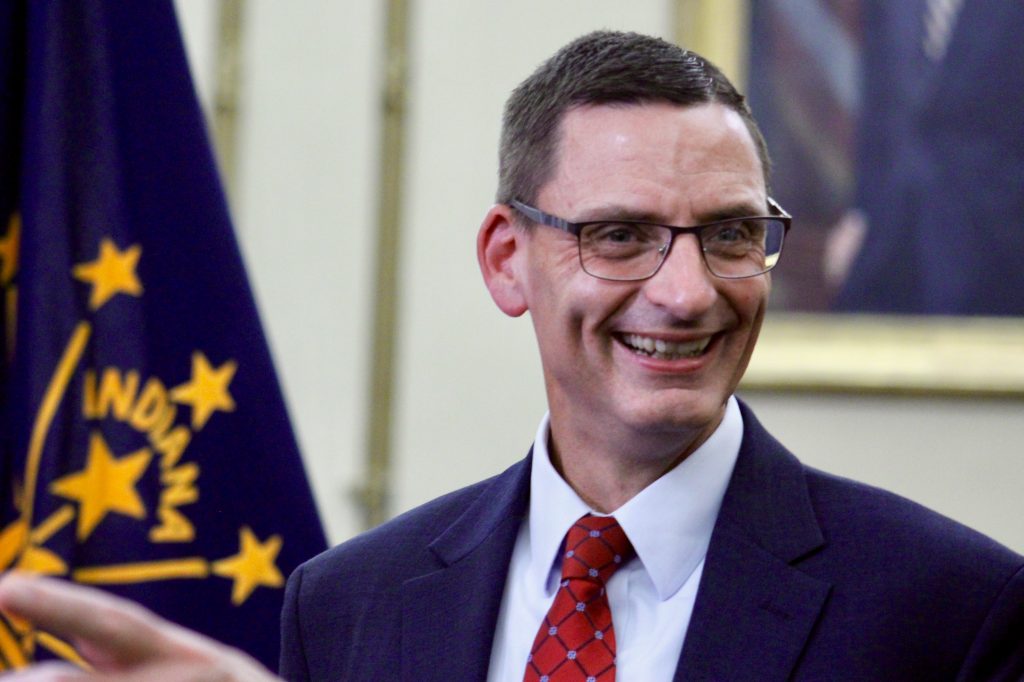 Morgan Superior Judge Peter R. Foley has been selected as the newest member of the Court of Appeals of Indiana, Gov. Eric Holcomb announced Wednesday.
The Republican governor selected Foley to succeed Judge Edward Najam Jr., who retired from the Court of Appeals this summer after more than 30 years of judicial service.
Foley was chosen from a group of three finalists that also included Owen Circuit Judge Kelsey B. Hanlon and Bargersville criminal defense and appellate attorney Stacy R. Uliana. Those finalists were selected from a pool of nine candidates vying for the appellate vacancy.
Led by Indiana Chief Justice Loretta Rush, the seven-member Indiana Judicial Nominating Commission interviewed each candidate on July 11.
During the Wednesday announcement, Holcomb described Foley as having the necessary patience and stamina for the job, having found several similarities between Foley and his predecessor.
Holcomb also praised Foley's passion for people, shown through endeavors in his Morgan County community, as well as his integrity and intellect.
"Judge Foley brings to the bench a calm and confident demeanor no matter the case before him or its complexity," Holcomb said.  "The Indiana appellate courts will benefit from his extensive experience, his compassion to do what's right and his sense of justice.
"There are so many positive attributes and traits in Judge Foley," the governor continued. "But maybe the most important one of all is that he holds the Constitution and the rule of law in the highest regard."
Foley has served on the Morgan Superior Court since 2015 and is a graduate of Indiana University Robert H. McKinney School of Law.
At the start of his legal career, Foley joined the family firm of Foley, Foley & Peden in Martinsville, founded by his grandfather in 1930. He has also served as a part-time public defender, in private practice and as the attorney for Morgan County.
Today, he operates the Morgan Superior Court's Mental Health Diversion Program, focusing on misdemeanor or low-level felony offenders who suffer from mental health conditions and are likely to respond to treatment.
Additionally, Foley is a member of the Morgan County Community Corrections Advisory Council, and he helped establish a 90-day intensive residential drug-treatment program within the county jail. He also obtained funding for Morgan County's Mediation Project to provide mediation services for low-income parties and has participated in IU Maurer's Rural Justice Initiative summer externship program.
The newly appointed COA judge began by thanking his wife and two daughters, crediting his family with their continuous love and support in his decision to climb the judiciary's ladder.
Foley also thanked Rush for her encouragement, and members of the Morgan County legal community for their mentorship and friendship.
"I am humbled and deeply honored by Governor Holcomb's appointment," Foley said. "I look forward to the opportunity to work with the other judges of the Court of Appeals for the advancement of justice in the State of Indiana.
"I am privileged to follow Judge Najam, who exemplified the characteristics of a strong judicial leader," he continued. "I remain committed to the rule of law, leadership within the judiciary and service to my community."
In congratulating Foley — who has previously applied for positions on the Court of Appeals and Indiana Supreme Court — Rush said he is the testament to the motto, "If at first you don't succeed, try, try, again." She said she's watched Foley tirelessly serve his community for years and said she looks forward to seeing him serve on the appellate bench.
"You're joining an unbelievably smart, hardworking and forward-thinking court," Rush said.
Addressing his new COA colleagues, Foley said he is looking forward to being a part of the team.
"The Indiana Court of Appeals has achieved a sterling reputation for the quality of its opinions, the efficiency of its work and the leadership of its judges," he said. "I pledge my commitment to each of you to maintain that reputation and continuously strive for improvement."
Foley is the fourth Court of Appeals judge Holcomb has appointed since he was elected governor in 2016.
Holcomb has made three other appointments to the Court of Appeals, including former Lake Superior Court Judge Elizabeth Tavitas in 2018, solo appellate practitioner Leanna Weissmann in 2020 and now-Indiana Supreme Court Justice Derek Molter in 2021.
The GOP governor has also made two appointments to the Indiana Supreme Court, elevating Justice Christopher Goff, a former Wabash Superior Court judge, to the state's highest bench in 2017. Most recently, Holcomb appointed Molter to the high court last month to succeed now-retired Justice Steven David.
The JNC will interview candidates later this month to succeed Molter on the COA.
A date for Foley's robing ceremony will be determined by the Court of Appeals.
Please enable JavaScript to view this content.