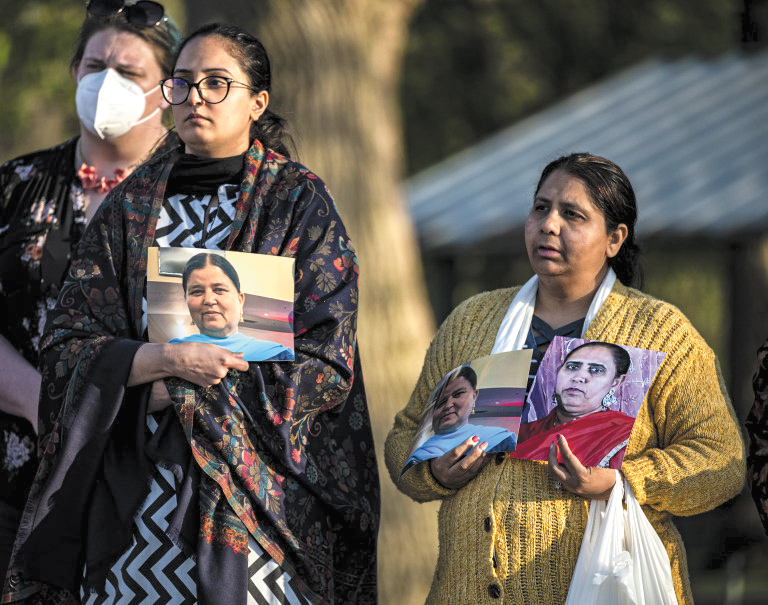 Amrith Kaur wants answers. But days after the FedEx shooting in Indianapolis that left eight people dead, she was dissatisfied with those she had gotten and troubled by those she hadn't.
Kaur, legal director of the New York-based Sikh Coalition, represents a population that has been repeatedly targeted in hate crimes, particularly since 9/11. Responding to the shooting in Indianapolis, Kaur said she is concerned about what she considers a lack of information about the shooting and about gunman Brandon Scott Hole, 19. She's troubled by what she called inconsistent information from law enforcement on whether bias may have been motivating his killings.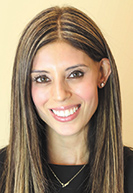 "I think more important than asking whether this was a hate crime, the first step for us was asking for a thorough and complete investigation," Kaur said. "Unless we have that, we're never going to understand what happened."
Four of the eight people killed were Sikhs, and Kaur acknowledges some things may never be known because Hole took his own life after the shooting. But she said a comprehensive and transparent investigation, possibly involving the U.S. Department of Justice, is critical to ensuring law enforcement builds trust and rapport with victims' family members, survivors and the community.
Kaur has questions. Among them, why did Hole choose to target the FedEx Ground facility where he briefly worked before he was fired last year? Was there a pattern to whom he targeted and shot, or a significance to the late-night assault? Was he motivated by white supremacist websites police said he had been viewing when they were dispatched on a mental health call to his home in March 2020?
She also has an overriding question that came to the fore in the days after the shooting: Why didn't law enforcement act on a pattern of facts that, to her prior experience as a Chicago prosecutor for more than a decade, raised plenty of red flags that she believes should have triggered a red flag petition to prevent Hole from obtaining a weapon?
"My job here is to ensure that all of those factors are investigated and taken into account," Kaur said.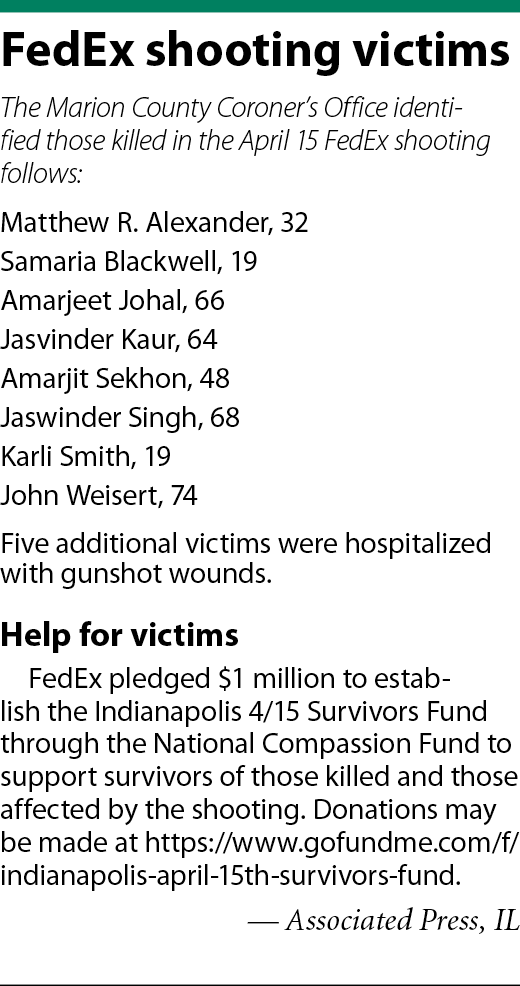 The FBI issued this statement April 22 attributed to Indianapolis Special Agent in Charge Paul Keenan: "The FBI continues to work with (Indianapolis Metropolitan Police Department) and other law enforcement partners to find a motive for this senseless act of violence, and will be meticulous and thorough in our investigation and devote as much time as needed to find answers for the victims' families. We are not ruling out any motive at this time, including one based on hate/bias."
Keenan previously had told reporters that after the March 2020 incident involving Hole, "no probable cause was found to initiate any type of legal federal process" against him, adding, "The FBI takes great care to distinguish between constitutionally protected activities and illegal activities undertaken to further an ideological agenda."
In calling on law enforcement to thoroughly investigate, Kaur noted a police report from that incident stood in "stark contrast" Keenan's statement. At that time, Keenan said the FBI had interviewed Hole after last year's arrest, "based on items observed in the suspect's bedroom at that time" by Indianapolis police. He did not say what items were found, but he said agents who interviewed Hole in April 2020 found no evidence of a crime and did not identify Hole as espousing a racially motivated ideology.
Kaur now represents a civil-rights organization that stands for members of one of the world's largest religions, but one frequently misunderstood and sometimes targeted and persecuted because of their ethnicity and articles of faith, including turbans and unshorn hair. The coalition estimates there are 8,000 to 10,000 Sikhs in Indiana.
Kaur also specifically represents Harpreet Singh, a FedEx employee who retained Kaur and the services of the coalition after he survived being shot in the head. Kaur said she was disappointed that, as of April 21, law enforcement had not interviewed her client.
"Physically, emotionally, it's all taken a huge toll on him and his family," Kaur said. "They feel like they have been targeted, their family has been targeted. … They have a lot of trauma and fear."
Several hundred Sikhs work at the FedEx facility, which reopened April 21, giving workers the option to return while also compensating them for the days the facility was closed after the shooting.
"We are communicating directly with affected employees and families as well as providing counseling services," FedEx spokeswoman Camille Diggs said in a statement. The company also donated $1 million to a fund for victims.
"Every dollar raised will go directly to those affected," Diggs said.
And while seeking accountability in an investigation, Kaur said the Sikh Coalition's response in Indianapolis was to immediately help victims and survivors in a time of need.
"Our bigger goal really was to be on the ground here and provide support," she said. "What we really wanted to do was provide legal support, community support and advocacy support in other ways."
EXTRA
Click here
to learn about the loop holes in Indiana's red flag law.
The coalition has coordinated its legal response with the National Asian Pacific American Bar Association. Health care, mental health care and counseling are critical, but so, too, are the legal needs of victims and survivors.
Distant family members who want to travel to comfort a victim or survivor may face travel restrictions, particularly due to COVID, that an immigration attorney may be able to resolve. Likewise, as families grieve, the expertise of probate and estate lawyers can help ease burdens for those who are experiencing loss.
Kaur said in the Indianapolis area, "a number of attorneys at both big and small firms offered pro bono services." She said local counsel interested in helping victims and survivors can contact NAPABA.
Kaur said she also has questions based on what she's heard from FedEx Ground employees she's spoken to. She said a majority of the workforce was Sikh, and she said she's concerned these employees may have been "segregated" from other workers — an assertion FedEx disputed.
"FedEx Ground policies prohibit discrimination or harassment of any kind," Diggs' statement said. "We are extremely proud of our inclusive and diverse workforce at the station in Indianapolis, and we stand in solidarity with all of our team members during this difficult time, including those of the Sikh community."
No matter what's learned in the ongoing investigation, Kaur said one thing is already known: Victims' families and their survivors will need support to carry on after the tragic events of April 15.
"That's a trauma I can barely imagine," she said.•
Please enable JavaScript to view this content.