Former Marion County Prosecutor Terry Curry was honored with the Indiana Prosecuting Attorneys Council's highest award last week during the organization's annual Winter Conference, recognizing his contributions in the realm of criminal justice.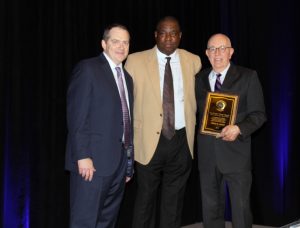 Members of the IPAC board of directors presented the former prosecutor with the Eugene "Shine" Feller Award last week in Indianapolis. The award, named after former Harrison County Prosecutor Eugene Feller, honors Indiana's outstanding citizens who make a difference in the world of criminal justice.
Curry, who stepped down as Marion County prosecutor in September after taking office in 2011, was nominated for the award by Lake County Prosecutor Bernie Carter.
During his tenure, Curry brought stability to the Marion County Prosecutor's Office and was a tireless advocate for justice, IPAC stated. Under his watch, the prosecutor's office started and expanded initiatives designed to focus on individuals driving violent crime in Indianapolis, build collaboration with parents to improve collections for child support, help reformed offenders expunge their criminal records, and empower communities through its crime prevention program and Community Justice Academy. He continues to work for the Marion County prosecutor as a deputy handling white-collar crime.
Other individuals  honored during the IPAC conference included lawmakers, victim advocates, administrators and law enforcement. Among the honorees were Sens. Mark Messmer and Mike Young, Republicans from Jasper and Indianapolis, respectively.
"We are extremely happy with all nominations that we received this year and we enjoy the chance to honor those who work hand-in-hand with prosecutors on a daily basis," IPAC executive director Chris Naylor said in statement. "The awards ceremony is our chance to say 'thank you' and to recognize some very dedicated people who have made outstanding contributions to public safety in Indiana."
Please enable JavaScript to view this content.