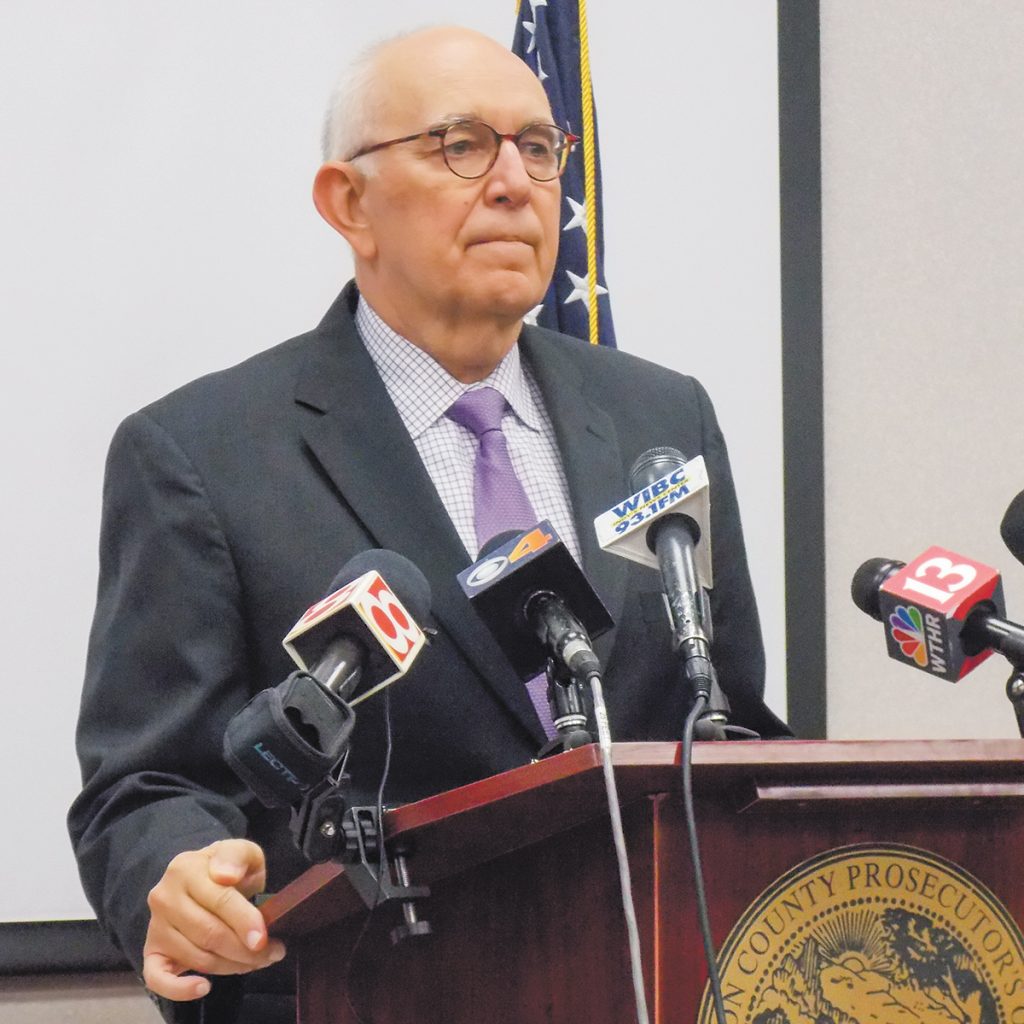 With a voice that sometimes came close to breaking, Terry Curry announced he was resigning as Marion County Prosecutor on Sept. 23, saying his health and desire to spend more time with his family forced him to make the difficult decision to leave the job he loves.
"But make no mistake, it's killing me to step down at this time," Curry said at a press conference that was overflowing with media, attorneys, staff, friends and family. "I love this office. I love this job."
Curry first took office in 2011 and is believed to be the only Democrat elected to three terms as prosecutor in Marion County. He is leaving before his current term ends because of changes in his health.
Undergoing treatment for prostate cancer since 2015, Curry said his treatment regimen has been recently altered as a result of changes in his medical condition. He had enrolled in a clinical trial at The John Hopkins Hospital in Baltimore at the beginning of this year but stopped when he was found to be no longer responding. His care is continuing at the Indiana University Melvin and Bren Simon Cancer Center.
During his time as leader, the prosecutor's office started and expanded initiatives designed to focus on the individuals driving the violent crime in Indianapolis, build collaboration with parents to improve collections for child support, help reformed offenders get their criminal records expunged, and empower the community through its crime-prevention program and Community Justice Academy.
Also, Curry's office tackled some complicated and high-profile cases, such as the 2012 explosion in the Richmond Hill neighborhood that killed two people and the prosecution of former Marion County sheriff's deputy David Carrico, who was found guilty of assaulting a handcuffed inmate at the county jail processing center.
Looking back at his 8½-year tenure, Curry said he wants the hallmark of his administration to be that integrity was restored to the office and that the attorneys and staff can now be proud when they say they work for the Marion County Prosecutor's Office.
"It has absolutely been the privilege of my professional life to serve as prosecutor and ending my term prior to the completion of this third term was understandably a very difficult decision," Curry said.
His work and advocacy have gained Curry recognition across the state.
In her 2017 State of the Judiciary address, Indiana Chief Justice Loretta Rush highlighted Curry's effort to provide interpreters to individuals who were appearing in court but had limited English proficiency or were hearing impaired.
"Prosecutor Curry has been a wonderful partner on so many judicial branch and criminal justice reforms," Rush said after his resignation announcement. "The judicial branch sends its best wishes to Prosecutor Curry as he focuses on his health. We send him positive thoughts for rest, recovery and long-deserved concentration on his well-being."
'Just passing through'
A 1978 summa cum laude graduate of Indiana University Robert H. McKinney School of Law, Curry has built a legal career that included working in a law firm and being a solo practitioner. However, the prosecutor's office is his favorite place.
He was recruited to the office by former Marion County Prosecutor Stephen Goldsmith and prosecuted primarily white collar crime and political corruption matters. He returned to serve under Prosecutor Jeff Modisett, then won the 2010 election, taking over the office from Prosecutor Carl Brizzi.
Curry acknowledged that many of the attorneys who now work in the prosecutor's office likely do not even know who Goldsmith and Modisett are. "I think that helped give me some perspective, and I feel I kept that perspective that I'm just passing through, that the institution of this office is what is important," Curry said.
Robert Hill, chief public defender of Marion County, credited Curry with improving morale at the prosecutor's office and not engaging in a "we versus them" battle with the public defender agency. In administrative proceedings like determining the budget, Curry always focused on what was best for the justice system overall.
"I think Terry's done a very good job as prosecutor," Hill said. "I've enjoyed working with him. I've enjoyed the collegiality and friendship around the City-County Building with Terry in the prosecutor's office."
Outside the office, Curry was a strong advocate, especially for Indiana's hate crimes law. Both Indianapolis Councillor Zach Adamson, Indiana's first openly gay elected official, and David Sklar, director of government affairs for the Jewish Community Relations Council, said Curry brought expertise to the issue. He was able to explain to the Indiana General Assembly why prosecutors needed such a law and how it would be applied.
"As long as I've known him, he's been behind this," Adamson said of Curry's support for a hate crimes law. "This has not been an evolutionary process for him, so we've been able to count him as an ally for equity and justice for the LGBT community from day one."
Former chief deputy prosecutor Ryan Mears is serving as acting prosecutor.
Campaign promise
Curry arrived in office after the election and immediately followed through on a campaign promise to refile the most serious criminal charge — operating while intoxicated with a blood alcohol content of 0.15 or higher causing death — against Indianapolis Metropolitan Police Officer David Bisard. The former K-9 officer was responding to a call for assistance when he crashed his cruiser into a group of motorcyclists, killing one and seriously injuring two others.
Former deputy prosecutor Denise Robinson, who prosecuted Bisard, called the case one of the most "stressful and disturbing" of her career. However, she said Curry, who trusted his attorneys, gave her the resources she needed, then let her do her job.
At the same time the Bisard case was ramping up, Curry's office took on another case involving an IMPD officer, but in this instance the patrolman was the victim. David Moore was shot four times and eventually died after making a routine traffic stop on a January 2011 morning.
Moore's parents, Jo Ann and Spencer Moore, both retired IMPD officers, were in the crowd when Curry announced his resignation. "He's not just a prosecutor," Spencer Moore said afterward. "He's a fine, fine man."
Through the entire process of catching and prosecuting the shooter, Curry met regularly with the Moore family, always took their phone calls, explained the judicial process and answered their questions. Ultimately, he followed the family's request that the offender receive life without parole rather than the death penalty.
"The one thing we could always do was count on Terry to be there to advise us, give us direction, help us through this ordeal, because the loss of a child is not something any parent wants to experience," Spencer Moore said.
Curry plans to stay at the prosecutor's office, assisting on grand jury investigations in the white collar crime area. Mentioning his family members by name, he said he owed it to them and himself to step down from leading the office and focus on his health.
"At this point, I'll rely on my family, my faith, my friends and the world-class medical treatment at the IU Simon Cancer Treatment Center to address my health going forward," Curry said. "With all that going for me, I am completely upbeat about where life leads from here."•
Please enable JavaScript to view this content.