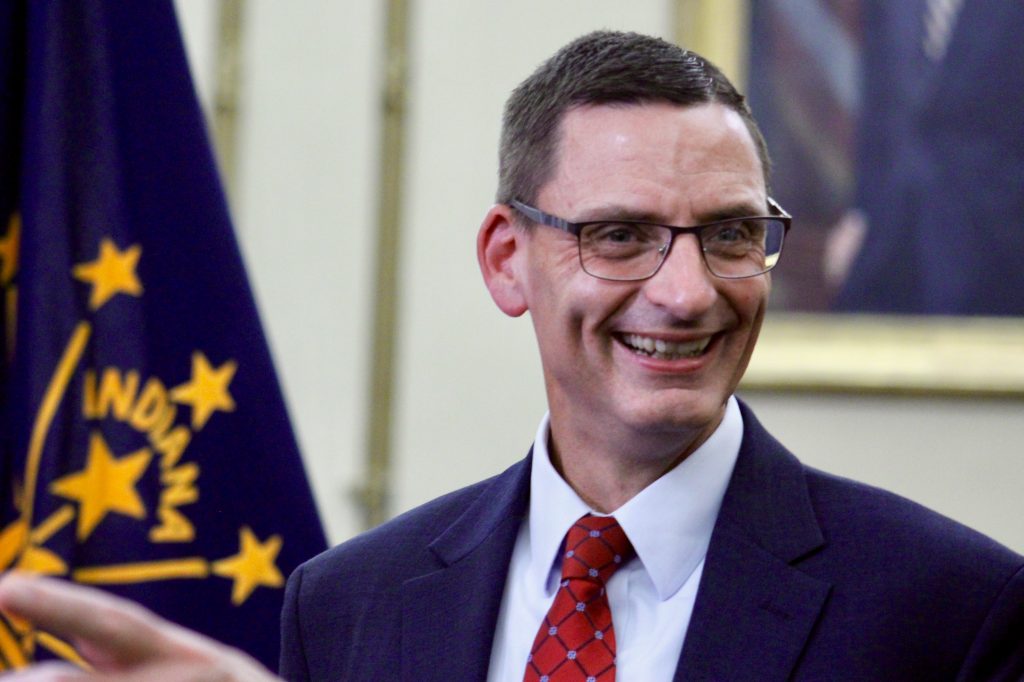 Editor's note: This article has been updated.
Upon reviewing the application from Judge Peter Foley for a vacancy on the Court of Appeals of Indiana, one character trait stood out to Chief Judge Cale Bradford: Foley's skills as builder.
The former Morgan County judge has spent significant time volunteering for Habitat for Humanity, building the Morgan County Residential Substance Abuse Program, and building for the future in his community by serving as a lunch mentor to school children, among other acts of service.
That stewardship mentality, combined with his 25 years of legal experience, will aid Foley — the newest judge of the Court of Appeals — well as he builds on the foundation laid by the judges before him, Bradford said.
"Your experience as a builder, whether it be structures, programs or relationships, will undoubtably serve you well as you embark on this next chapter of service to the people of our state," Bradford said. "… We know you will use your talents and abilities to the benefits of our fellow Hoosiers by helping to enhance this foundation."
Bradford spoke Monday at a robing ceremony held for Foley in the Indiana Supreme Court courtroom. Dozens of judges from across the state, a large contingent of members of the Foley family and members of his Morgan Superior Court staff were in attendance, among others.
Additional remarks were given by Indiana Chief Justice Loretta Rush, Joe Heerens, general counsel for Gov. Eric J. Holcomb, and Indiana Senate President Pro Tem Rodric Bray, R-Martinsville.
Rush said she has gotten to know Foley well over the last seven years, as he has served on a number of judicial committees. She called Foley a "big thinker" who has led quietly in his community behind the scenes.
"That hot breath of humanity you've lived with is going to serve you well on the Court of Appeals," Rush said.
At the podium, Foley said the words "gratitude" and "duty" came to mind when reflecting on the day.
"Gratitude for the honor of the appointment; gratitude for the love, influence, assistance and friendships of so many of you that are gathered here today," he said to the full courtroom. "The privilege to serve on this court comes with the duty to uphold the oath of office, to meet the expectations of that appointment, to continue the legacy of those who have come before me, and to fulfill the obligations to my fellow members of the court, the legal community and the parties that may appear before us."
Holcomb picked Foley for the appellate court in September, succeeding now-Senior Judge Edward Najam.
Heerens said Foley is Holcomb's 81st judicial selection since taking office in 2017 — the most ever by an Indiana governor in recent history. He added that there are five judicial selections in process, including one to replace Justice Derek Molter, who recently joined the Indiana Supreme Court, on the COA.
Foley said he believes only one other COA judge was living in Morgan County during the time of their appointment: Judge John C. McNutt, who served from May 1, 1916, to Jan. 1, 1917.
Before joining the COA, Foley had served on the Morgan Superior Court since 2015. Most recently, he operated the Morgan Superior Court's Mental Health Diversion Program, focusing on misdemeanor or low-level felony offenders who suffer from mental health conditions and are likely to respond to treatment.
Foley was also a member of the Morgan County Community Corrections Advisory Council, helping to establish a 90-day intensive residential drug treatment program within the county jail. Additionally, he obtained funding for Morgan County's Mediation Project to provide mediation services for low-income parties.
The new appellate judge paid homage to his predecessor, calling Najam — who was in attendance for the ceremony —an "exemplary" Court of Appeals judge.
Foley's parents, Ralph and Ann Foley, assisted with the ceremonial robing while his wife, Jill, and daughters, Maggie and Anna, stood beside him while the oath was administered by the chief justice.
The Foley family has worked in the legal field for almost a century in Morgan County.
At the start of his legal career, Foley joined the family firm of Foley, Foley & Peden in Martinsville, founded by his grandfather in 1930. He has also served as a part-time public defender, in private practice and as the attorney for Morgan County.
Ralph, a practicing lawyer, is a former member of the Indiana House of Representatives, representing District 47 from 1992 to 2012. The elder Foley practices with the firm his family started, now named Foley Peden & Wisco, P.A.
Please enable JavaScript to view this content.