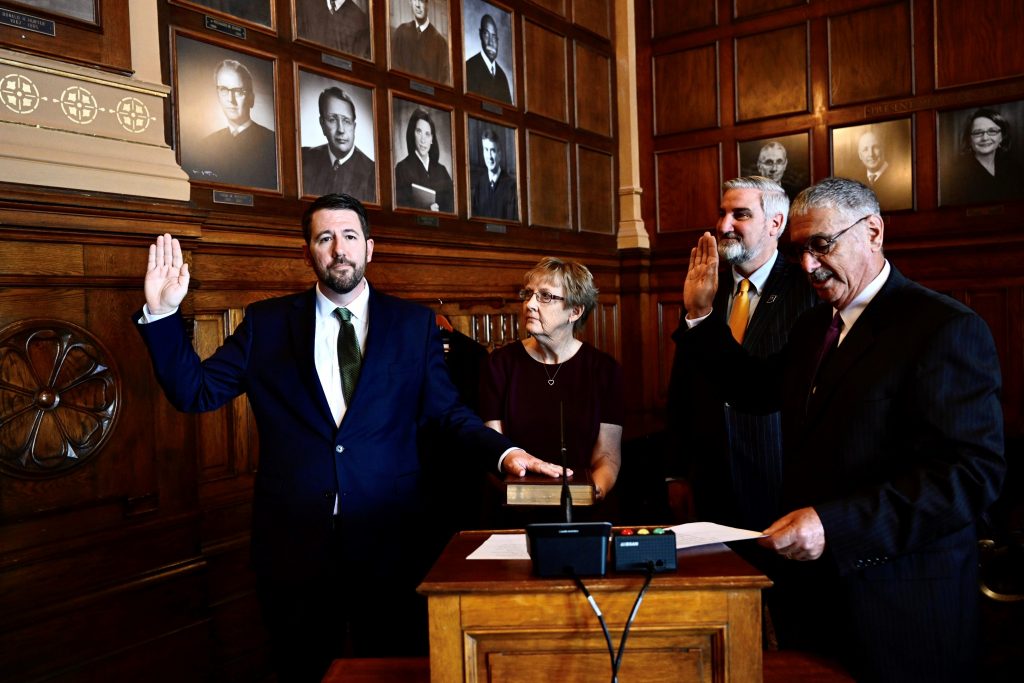 Hands clasped with a soft smile on his face, Justice Derek R. Molter sat in the front row of a packed courtroom facing his empty seat on the Indiana Supreme Court bench.
The state's newest justice received high praise and kind words during his official robing ceremony Tuesday, when he recited the ceremonial oath declaring him an official member of the high court.
Molter's ceremonial robing was held Nov. 1, about two months after he was formally sworn in as Indiana's 111th Indiana Supreme Court justice during a private ceremony on Sept. 1.
Tuesday's one-hour event began with remarks from Indiana Chief Justice Loretta Rush, who introduced a multitude of former and current judges in attendance, as well as the Indiana Judicial Nominating Commission, Molter's family and friends, and other distinguished guests.
Hosted in the Indiana Supreme Court courtroom at the Statehouse in downtown Indianapolis, the ceremony drew such a large crowd that Rush immediately pointed out that the Indiana Senate chamber down the hall was also packed full of his supporters.
"I'm not sure what's going on in Newton County today, but I'm gathering not much," Rush quipped, referencing Molter's hometown. "If you're represented by someone at Ice Miller (Molter's former firm) or you happen to want some justice in Newton County, good luck."
Court of Appeals of Indiana Chief Judge Cale Bradford stepped up to the podium and praised Molter for his character, kindness and willingness to serve "at an even higher capacity." Molter served on the Court of Appeals for about 11 months before joining the Supreme Court.
The chief judge shared sentiments on behalf of the lower appellate court, describing Molter as being a big-picture thinker with an eye for detail, collaborative, versatile and a hard worker — not to mention humorous and easygoing.
"One of the stories that was told to me was that someone asked Justice Molter once if he was an Eagle Scout and his reply was, 'No but I can see why you would think that,'" Bradford recalled, drawing chuckles from the justices and audience.
"He helps to build consensus — a judge after my own heart," Bradford added. "He puts people at ease and he is humble. Justice Molter is strength under control."
Following Bradford's sentiments, Indiana Gov. Eric Holcomb said he has become "very fond of days like today."
In his time as governor, Holcomb said he has appointed 79 judges, a handful of Court of Appeals judges and two Indiana Supreme Court justices. Each selection, he said, increases his confidence and optimism about the Indiana judiciary's commitment to fairness, justice and the rule of law.
"None has contributed to that feeling more so than Indiana's 111th justice," Holcomb said.
Molter was appointed to the Indiana Supreme Court following the retirement of Justice Steven David, who moved to senior judge status upon leaving the bench at the end of August.
Before becoming a justice, Molter had joined the Court of Appeals in October 2021. He was selected by Holcomb to fill an open spot on the lower appellate bench created by the retirement of Judge James Kirsch.
Following Holcomb's remarks, Molter stepped to the front of the courtroom and raised his right hand to take the oath of office, administered by his father, Newton Superior Judge Daniel Molter.
While the exchange between father and son took place, the chief justice wiped her eyes in emotion before being the first to stand and applaud. Molter's wife and children then presided over the robing ceremony.
The new justice gave his own remarks about his journey to the bench, joking that the only other robing ceremony he had attended for a Supreme Court justice was that of Justice Geoffrey Slaughter in 2016 — before he realized that he needed an invitation to attend.
Molter thanked the guests for honoring him, and his family for their presence at the event and for the roles they've played in helping him reach this point in his career and advancing the work of the judiciary.
He also thanked the JNC, stating that he may be the first Indiana justice in history to have to offer an apology for having to fill the same Court of Appeals seat twice in one year.
As he reflected on his ascension to the high court, Molter said there's been an unbroken pattern in his career: He has pursued positions because of the esteemed reputation of the people with whom he would be working.
Molter paid special thanks to his mentor, now-Senior Judge Theresa Springmann of the U.S. District Court for the Northern District of Indiana, as well as his former co-workers at Ice Miller LLP.
"To my friends from the Court of Appeals and especially my law clerks, thank you for making my time on the Court of Appeals such a wonderful experience," he added.
The new justice also thanked his predecessor, David, for his devotion and commitment to the judiciary. As he closed, Molter said it daunting to follow in David's footsteps and join the more than 125 years of legal experience between the four justices sitting beside him.
"I feel as though I'm sprinting to jump onto a train that is already going full-speed," Molter said. "But thankfully, all of my colleagues up here have extended a hand to help me on board."
To conclude the ceremony, Rush asked the crowd to take a minute and look around the room. There's a lot of history, she said, and the faces on the wall — the portraits of each justice, past and present — all tell a story.
Molter's grandfather then unveiled the new justice's portrait.
"We look forward to many years of your fine work on this court," the chief said.
Editor's note: This article has been corrected to reflect that the ceremony was held Nov. 1. 
Please enable JavaScript to view this content.