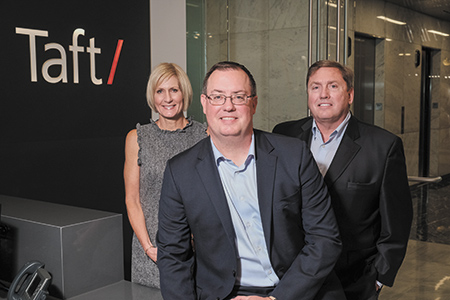 With its impending entrance into the Minneapolis market, Taft Stettinius & Hollister LLP is set to expand its footprint to 12 cities, grow its roster of attorneys to more than 600 and take a step closer to its goal of becoming a regionally dominant law firm.
Taft announced Aug. 30 that it will be combining with the Minneapolis law firm of Briggs and Morgan, which traces its roots to 1882. The agreement has been approved by the partners, and the Minnesota firm will change its name to Taft when the merger takes effect Jan. 1.
Robert Hicks, chairman and managing partner of Taft, called the combination "transformative for Briggs, Taft and — most importantly — our clients."
While the merger will likely not immediately change Taft's financials, the benefit will come from having more depth and more expertise among its pool of attorneys, said Hicks and Brad Schwer, partner-in-charge of the Taft Indianapolis office. There will be more knowledge and skills to draw upon in each practice area, which, they believe, will help better serve current clients along with helping to attract new business and lateral hires.
Minneapolis, with its collection of 19 Fortune 500 companies, is a desirable market, and Briggs, with its list of clients that includes the Minnesota Twins and Xcel Energy, has long been an attractive target, according to Hicks. Although more than 30 other firms have courted Briggs and Morgan, Taft was successful because its culture and economics are very similar.
Also, Hicks said, Briggs liked Taft's leadership model. Rather than designating a particular office as the firm's headquarters and making decisions in a top-down manner, each office is allowed some independence and autonomy.
"It's a unique management model," Hicks said. "It allows the people in each market to manage their firms."
The deal between Taft and Briggs is notable because one of the firms has a significant presence in Indiana, a state where law firms have been largely absent from merger activity in recent years. Moreover, the two firms are more comparable in size than typical mergers of late.
Taft has a roster of more than 475 attorneys, while Briggs has about 135. However, as law firm combinations have soared in recent years, the driver has been larger firms gobbling smaller ones. In 2018, the number of combinations hit a record of 106, with 80% of the deals being acquisitions of small firms with two to 20 attorneys, according Altman Weil Inc.
The pace of law firm mergers and acquisitions has slowed through the first half of 2019. At the end of the first and second quarters this year, 47 deals had been announced, which is a 10% drop from the midway point in 2018.
Altman Weil attributed the reduction to a slowdown in acquisitions of firms with 20 or more lawyers. An average of five acquisitions involving firms with 20-plus attorneys occurred in each quarter of 2017 and 2018. However, only three mid-sized and large combinations were completed in the first six months of 2019.
"Law firms' appetite (for merging and acquiring) is still as robust as the prior few years," said Thomas Clay, a principal of Altman Weil. "The problem is now there are fewer tasty morsels."
Hoosier firms merging
Indiana's legal merger market has seen a slight uptick this year, although aside from the Taft merger, the activity has been confined to firms within the state. The last time Indiana law firms were involved in mergers was in 2017, when Stoll Keenon Ogden of Lexington, Kentucky, acquired the former Bamberger Foreman Oswald & Hahn in Evansville, and Bose McKinney & Evans in Indianapolis acquired RobergeLaw in Carmel, according to Altman Weil.
So far in 2019, the Indiana activity has come in the second half of the year.
The family law firm of Hollingsworth & Zivitz in Carmel underwent a major transformation in July when one of the founding partners, Kena Hollingsworth, and four other attorneys joined Roberts Means. The new firm is now Hollingsworth Roberts Means. Also, three former Hollingsworth partners have started their own firm, Connell Michael Kerr LLP, which has offices in Carmel and Texas.
Indianapolis saw some movement among a handful of small firms Sept. 1.
Two firms that shared office space downtown in the Circle City, Funk & Spandau LLP and Tate & Bowen LLP, merged to create Tate Bowen Daugherty Funk Spandau LLC. At the same time, Fillenwarth Dennerline Groth & Towe, a firm that represented labor unions, employees and public interest organizations for more than half a century, dissolved. However, two attorneys moved their practices to Macey Swanson to create the new firm of Macey Swanson Hicks Sauer & Vlink LLP.
In Fort Wayne, Van Gilder & Trzynka merged with Eilbacher Fletcher in July to become Fletcher Van Gilder. The combination was prompted by both firms having longtime partners either retire or begin stepping toward retirement.
Attorney David Van Gilder said his firm fielded several inquires about combining, but Eilbacher Fletcher was the best fit because the two firms are very much alike. The latter firm brought expertise in civil litigation, business law and appellate practice, which complemented Van Gilder's practice in worker's compensation and personal injury. In addition, Van Gilder said, the new firm has a strong practice in municipal law, with the cities of Fort Wayne and New Haven as clients.
The new firm also has what Van Gilder noted was an "intangible but important" element in that its lawyers are respected by members of the bench and bar. He sees the good reputation as helping the firm build its book of business through referrals from other lawyers.
"We can only see a little sliver of the future," Van Gilder said, "but it looks really good."
Growth strategy
Merging does not, by itself, come with any guarantee that the resulting bigger firm will be better, Clay said. To avoid having the new combination end up being just "ho-hum," a lot of attention needs to be given to integration, getting rid of unproductive people and fostering collaboration among all attorneys.
The potential for the new firm is huge if leadership keeps the spotlight on integration, Clay said. Benefits can include increasing profitability, creating a place that attracts and keeps top talent, and providing clients more efficient service.
For Taft, mergers are a key part of its growth strategy. Instead of opening an office cold and staffing it with attorneys, Hicks said his team prefers to enter a new market by combining with a firm that already has a presence there.
For example, Taft landed in Indianapolis in 2008 when it acquired the former Sommer Barnard, then a 39-year-old Indiana law firm that had 103 lawyers. Its last expansion came in 2014, when it entered the Chicago market with the acquisition of Shefsky & Froelich.
Mergers, particularly among firms that are close to equals, can take a longer time to finish, Clay said, because "every single thing is up for negotiation."
Discussions between Taft and Briggs had been ongoing for the last two years, with the intensity increasing during the past six months, Hicks said. The firms decided to announce the merger four months in advance of the effective date because of the difficulty in keeping the deal quiet.
Currently, Taft is spread across Ohio with offices in Cincinnati, Columbus, Cleveland and Dayton, and also has offices in Kentucky and Arizona. In looking for future merger opportunities, Hicks said the firm will be eyeing Pittsburgh and Detroit.•
Please enable JavaScript to view this content.