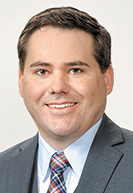 By Blake R. Hartz
Whether next month, next year, or even beyond, at some point, the COVID-19 pandemic will begin to end. The world may look and feel a bit different, but the intangible intellectual property system will still be here, and we can take steps now to better position you (or your clients) for what comes next.
File now to protect new business
Before we look too far ahead, it is important to take inventory of what already happened. The pandemic forced widespread changes in a matter of weeks to how businesses deliver goods and services. Did your intellectual property protection strategy adapt as quickly? (I didn't think so.) The obvious example is virtual services — things like telemedicine, educational videoconferences, and livestreamed entertainment. But there is also an explosion in delivery of physical goods and alternate purchasing methods. Do your trademark registrations cover how you are doing business in this new world? (I didn't think so.) If you developed new technology to deliver your services, maybe you need to look into patent protection as well. You can abandon cases later. You can't get retroactive filing dates.
Or maybe you now sell (or give away) masks? Did you already have trademark protection for masks last January? (I didn't think so.) At the beginning of the year, the USPTO would have issued you a trademark registration on "protection masks" in International Class 9. Now, faced with a flood of "mask" applications, the USPTO requires applicants to specify things like "protective face masks for the prevention of accident or injury" in Class 9 (safety equipment), "sanitary masks for protection against viral infection" in Class 10 (medical devices), or "fashion masks" or "knit face masks being headwear" in Class 25 (clothing). The list of acceptable "mask" descriptions has been updated five times since June. Thanks, COVID. Masks are a new accessory that will outlive the pandemic in some capacity. They are a new promotional item. To quote my favorite movie, "It's just they're terribly comfortable; I think everyone will be wearing them in the future." ("The Princess Bride," 1987.)
Reevaluate enforcement and usage decisions
You are not the only one to adapt in the last several months. The virtual, streaming world presents an array of potentially confusing trademark uses, public performances and copying of protected works, and distributed infringement problems. While these online infringement opportunities existed in the before times, the extent of their use and adoption may warrant reevaluating whether to take action to enforce your rights. And search engines, social media, and digital archiving can make it easier to uncover these activities.
On the other hand, those same technologies make it easier for you to be found. In the rush to adapt this spring, intellectual property clearance likely got overlooked, and your operations may not line up exactly with your pre-pandemic practices. Some of your business model changes will still be here after the pandemic (as will the Internet's memory), so this is a great time to check that your activities are (still) permissible.
Update (or create) IP systems to look forward
If your business has an office, it probably looks a lot less busy these days. But the work is still somewhere, buried in brains in employees' basements. That brilliant inventor with the terrible communication skills — you can't even corner him in the hallway to extract a progress report! There are reports that many people enjoy working remotely (my hand is raised) and that businesses are looking to shed expensive office space. To make this work long term, you will of course need secure technology infrastructure. But from an IP perspective, you need systems.
One of those systems is a way to get your employees to actually use the technology appropriately. You will want policies to govern use of company equipment and data and employees' personal devices, and communications and training to ensure compliance with said policies. If the VPN or other remote systems are too slow, users will be tempted to do things on local equipment and valuable competitive information may be left up to the vagaries of user's personal habits on operating system updates, home antivirus software, and wireless router configurations. Or users turn to cloud services without authorization and with untold number of additional personal devices synchronized and backed-up in third-party server facilities. So a key first step is driving use of information to your controlled technology environment.
Assuming you have control of your information, systems can help turn it into assets. Creative insights are often developed in informal interactions, and a lone employee at his kitchen sink may not be a good substitute for the office water cooler here. So you need to make a deliberate effort to mine the workforce for intellectual property — whether it be sales leads, marketing angles, or technological advances — in a way that works for your organization. That may be something like a recurring team meeting to review IP or assigning this task to a coordinator who connects with sources on an ad hoc basis. Proactive steps will go a long way to protecting your ideas, but you will need to do this in moderation.
Generating "intellectual" property requires good ideas, and an endless parade of virtual meetings is even more draining than a sterile conference room at the office.
Of course, an IP attorney can help you get started on all these processes.•
• Blake Hartz is a partner at Woodard, Emhardt, Henry, Reeves & Wagner, LLP in Indianapolis. Opinions expressed are those of the author.
Please enable JavaScript to view this content.