Editor's note: Incoming Indiana University Robert H. McKinney School of Law Dean Karen E. Bravo says in a letter today that she has a duty and obligation as the school's first black leader to speak out in the wake of the police killing of George Floyd in Minneapolis and protests that followed. We publish the letter in full here:
LAST WEEK, when I saw the video of George Floyd's extrajudicial killing by law enforcement, a familiar sense of anguish, fury, hopelessness, and malaise swept over me. So did a sense of helplessness.  We had seen this video before, over the long and many years. We had read this story. And yet, I had never before witnessed such a starkly calm extinguishment of a human life — a black human life. In the depths of my nightmares and unease, I thought: "Here we go again. This is a familiar atrocity. It, too, will be swept away in the usual rhetoric of demands for justice, responses about individual bad actors, and commitment to justice."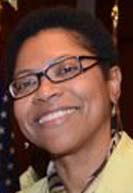 But the response would not be "normal." The young people of Minneapolis, the young people of the country would not have it so — they refused a return to "normal."  Protests swept across cities of the United States.  Those protests reached us here in Indianapolis, a city that had witnessed, only too recently, the extrajudicial killings of two black men by law enforcement. One, the killing of Dreasjon Reed, was livestreamed on Facebook. The vast majority of the protestors here and nationwide peacefully demand justice — for George Floyd, for the too-long list of black persons killed by law enforcement, and for all who face the structural racism that permeates all aspects of life in the United States.
On Saturday afternoon, led by my teenage daughter and her best friend, with members of my family, I joined thousands of demonstrators in a peaceful march from the War Memorial to Monument Circle. I knew that we must follow the example of our foremothers and forefathers who marched in Selma, who marched in Birmingham, and who marched with Dr. Martin Luther King Jr. to Washington, D.C.,  to nonviolently demand a more just society.
And I knew that this was not enough — could not be enough.  My role as incoming dean of the Indiana University Robert H. McKinney School of Law lends me a public profile and an audience that I have not had before. Surely it was a position that I had a duty to use — to speak to members of the law school and legal community, to reaffirm our values of justice, equality, anti-racism, and inclusion, to offer comfort and a path forward together in the midst of great pain.
But, that role is complicated, is it not, by my status as the first black dean of the law school? On this subject, my identity carries a symbolism fraught with more duty, more potential power, and more peril — both for me and for my institution. A peril that cautions me to keep a low profile, to stay out of the fray, to issue, at most, a few anodyne words that invoke justice and peace.
Because I am well aware that the words of a black person on matters of race evoke complicated reactions, ranging from "of course you're going to talk about race" to "why must it always be about race with you people." I am also deeply cognizant that the role and stature of the institution that I have committed to serve are intertwined with and dependent upon relationships across our state's and city's legal, business, and political institutions. Would speaking imperil future initiatives and accomplishments — both personal and institutional?
Michelle Obama has advised us: "Don't waste your seat at the table. If you aren't comfortable, get up and let someone else assume leadership." After too much reflection, and with those words in mind, I have decided that I must use this seat at the table — that my failure to speak up would let down the law school and legal community.
The events of the past week — the killing of George Floyd and the ongoing protests that followed it — do not come out of the blue. They are part of a long line of extrajudicial killings and a long line of conflagrations, and a long line of peaceful protests that have evoked violent responses or have devolved into violence. And have not resulted in structural change.
It is not difficult for me to understand that despair can lead to nihilism and violence. Some have seized upon the peaceful protests for those ends, and some protests appear to have provided the opportunity for individuals or groups whose sole purpose is to commit violence, not to demand justice.  This has resulted in extensive and heartbreaking property damage in cities across the United States, and in Indianapolis. I condemn that violence, and sympathize with all who were harmed –- including members of our own law school community, and the residents and business owners who are our school's downtown neighbors — when those who were bent on destruction infiltrated the peaceful protests.
What can and should we as a law school community do? What is our duty, our privilege, in responding to this moment? I welcome and endorse the statements from Indiana University President Michael A. McRobbie, IUPUI Chancellor Nasser Paydar, and James Wimbush, Indiana University's Vice President for Diversity, Equity, and Multicultural Affairs.
And I add the voice of the law school: We must affirm our values and commitments — to the role and power of law to create and maintain justice, to the rejection of racism and discrimination, to our welcome of all voices and points of view. We must recognize the anguish and pain of all members of our community — and especially of those who are members of groups that have suffered and continue to suffer racist violence and the effects of structural inequality. We must celebrate the bravery and commitment of members of our law school community who have contributed their voices to the cry for justice — last week, yesterday, the months and years before that, and who will continue to do so into the future.
The educational mission of the law school — preparing our students for their roles as legal professionals — demands that we commit to equipping them to create a future of justice, anti-racism, inclusion, and opportunity for all members of our society. As members of this community, as educators, as budding young professionals, and as new lawyers and well-established alums, we will continue to work toward these goals — in our classrooms and in our co-curricular endeavors, such as our pro bono programs and community service programs
To those who ask, "What can I do?" I say:  Start by making a commitment to positive change through your actions.
Inside the law school:  Learn about the law, its role and its power.  Prepare to become the best legal professional and leader you can be.  Lead and participate in meaningful and difficult discussions inside and outside the classroom.  Practice ethical and high impact leadership through creating, joining and leading student organizations.
Outside the law school: Participate in bar and professional organizations, join community groups, provide pro bono service, use your legal and leadership skills to contribute positively to our future.
But let me humbly acknowledge – I do not have the answer because there is no "the answer."  Yet, we have answers.  It is a truism and a cliché, but we are in this together.  Together, we have answers that can lead to the dismantling of the structures of inequality that we inhabit.  We can create the more positive future that our children are demanding.  We must commit to do so — together.  We owe that to our children, to our ancestors, and to ourselves.
Vice Dean Karen E. Bravo will become IU McKinney's 13th dean on July 1. She is the first person of color and the second woman to lead the law school in its 125-year history. Opinions expressed in this letter are those of the author.
Please enable JavaScript to view this content.