After releasing a letter affirming she attended former President Donald Trump's Jan. 6 rally in Washington, D.C., that preceded a violent assault on the nation's Capitol, Lynn Deddens, prosecutor for Dearborn and Ohio counties, is not answering questions or responding to calls from some for her resignation.
The prosecutor posted a statement Tuesday on official letterhead from her office that she did attend the event that turned into a riot and attack on the U.S. Capitol Building. In the letter posted on the prosecutor office's Facebook page, Deddens wrote she went to Washington, D.C. to attend a speech in support of democracy and that she left before the crowd marched to the U.S. Capitol Building and stormed inside.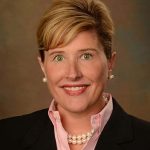 Deddens responded to an email from the Indiana Lawyer Jan. 20, declining to say whether she believed Donald Trump won the November 2020 election. "To be brief, I've said everything I'd like to say about the trip in my statement," Deddens wrote.
However, she did reply to the question of whether she or Dearborn County paid for the travel to Washington.
"I did pay every expense out of my own pocket," the prosecutor stated.
Dearborn County Council president Liz Morris did not have any concern about Deddens attending an event that turned into an insurrection. She said the prosecutor had a "high moral character" and is "not capable of doing something inappropriate."
"I can't for the life of me imagine Lynn breaking any laws," Morris said.
Also, the council president repeated several times that what Deddens does on her own time is her own business.  Morris said she had a "hard time believing" that anyone would "try to make something out of a citizen exercising her personal right to assemble or whatever."
Jim Thatcher, Dearborn County commissioner and president of the county's Republican Party did not return a call seeking comment.
At least one attorney who did not want to be identified for fear of retaliation has alerted the Indiana Supreme Court Disciplinary Commission and the Federal Bureau of Investigation about Deddens' attendance at the rally.
The reaction to Dedden's post on social media has been mixed. Several people expressed support for the prosecutor. They wrote she did not need to explain her actions, they stand with her, and they thanked her for her service. But others questioned her judgment, and some said she should resign from her position as an elected official.
Among those who supported Deddens, one wrote on the prosecutor's Facebook page, "I hate that our country has gotten to the point that you would even have to write an official letter with an explanation why you were there. While it is being portrayed that the capitol was stormed by all who were present (as it seems), it is quite clear a few select did storm the capitol. While we do not agree with what happened, and we condemn violence, we do not feel you should have to offer up an explanation as to why you attended the rally or that you were even at the rally."
But others called for her to resign or questioned her judgment in attending a rally as an elected official in support of Trump's call to overturn certified election results.
"While I am the first person to agree that Americans have a right to peaceful assembly, the Trump 'Stop the Steal' rally was based on a lie that the presidential election was stolen," one commenter wrote. "As a prosecutor, you of all people should know that the election was not stolen after 60+ courts said there is NO EVIDENCE … Trump invited his followers to come to Washington DC to challenge the election and promised it was going to be 'wild'. What else were you all assembling for?"
Deddens did not reply to IL when asked for her response to those calling for her to step down.
Please enable JavaScript to view this content.