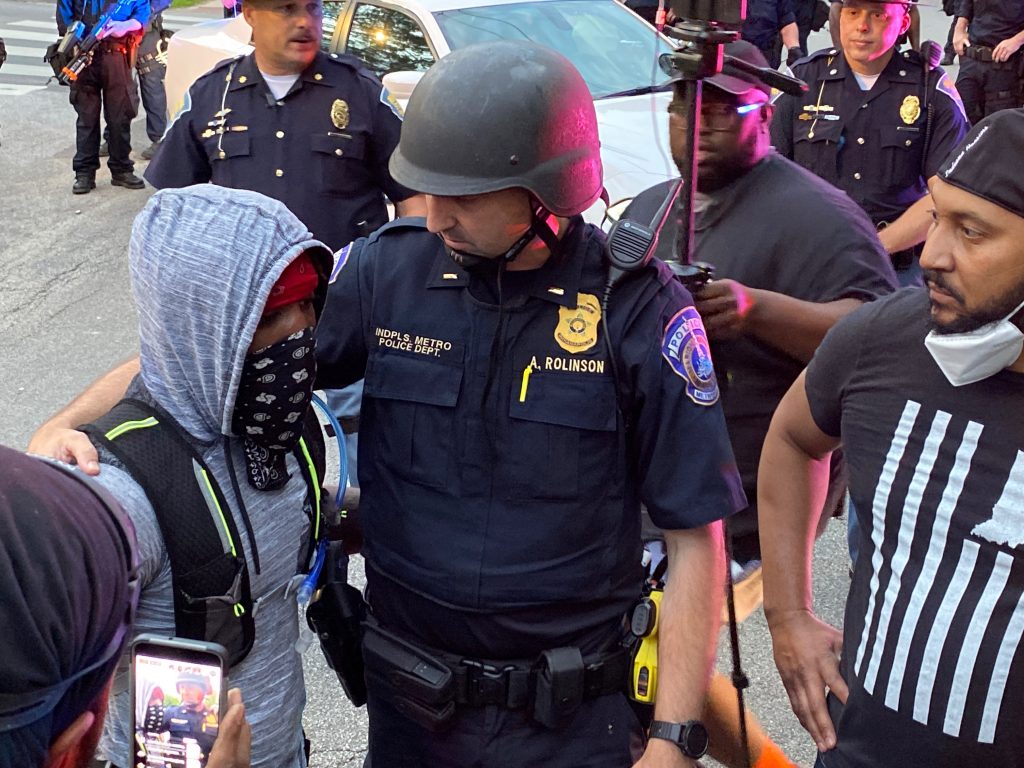 Police and protesters negotiated a truce and walked together on Meridian Street on Monday night following a tense standoff that lasted about 30 minutes near the Governor's Residence.
The move led to cheers from protesters as well as hugs and handshakes among the two groups.
"I feel like our message was heard by some at least," Malik Muhammad, one of the organizers, said after the walk as the group started to disperse. "And it wasn't for nothing."
Click here for complete coverage of Indianapolis protests from IL's sibling publication, Indianapolis Business Journal.
On Tuesday, Indianapolis Mayor Joe Hogsett announced the latest curfew in the city would begin at 9 p.m. and continue until 6 a.m. Wedenesday. While Hogsett said Indianapolis Metropolitan Police Department officers will exercise an education-first strategy, his statement noted violators face a potential $10,000 fine and up to 180 days in jail.
The developments came after Indianapolis began to recover from a weekend of violent protest over police mistreatment of African Americans.
Two people died in shootings, though it wasn't clear their deaths were related to the protests. Property damage and looting was widespread Friday and Saturday after peaceful protests in Indianapolis triggered by the death of George Floyd in Minneapolis turned violent.
Elsewhere around the state, police in Terre Haute said they arrested eight people Monday night on charges of obstruction of traffic amid a protest in the western Indiana city. An 18-year-old man faces a charge of battery resulting in moderate bodily injury after he allegedly threw a water bottle that struck a woman during a Monday evening protest near the Vigo County Courthouse, the Tribune-Star of Terre Haute reported. Seven others were arrested on charges of obstruction of traffic.
Large protests happened elsewhere in Indiana on Saturday, with police in Hammond using tear gas to break up protesters and officers blocking marchers from going onto Interstate 80/94. Fort Wayne police fired rubber bullets and tear gas to disperse a crowd after Friday night's demonstration resulted in some protesters throwing rocks at officers and breaking dozens of windows on downtown businesses.
Gov. Eric Holcomb announced that several hundred Indiana National Guard members were on standby to assist any cities with violence, although Indianapolis Mayor Joe Hogsett said he wasn't seeking such action as is being done in many other cities around the country.
Indianapolis police reported 29 arrests of protesters late Saturday until about 4 a.m. Sunday after 27 were arrested the night before. Marion County Prosecutor Ryan Mears said Monday those arrested for charges resulting from nonviolent protests will not be charged, but 14 peopled accused of illegally entering businesses and removing items will be charged with Level 5 felony burglary.
Please enable JavaScript to view this content.