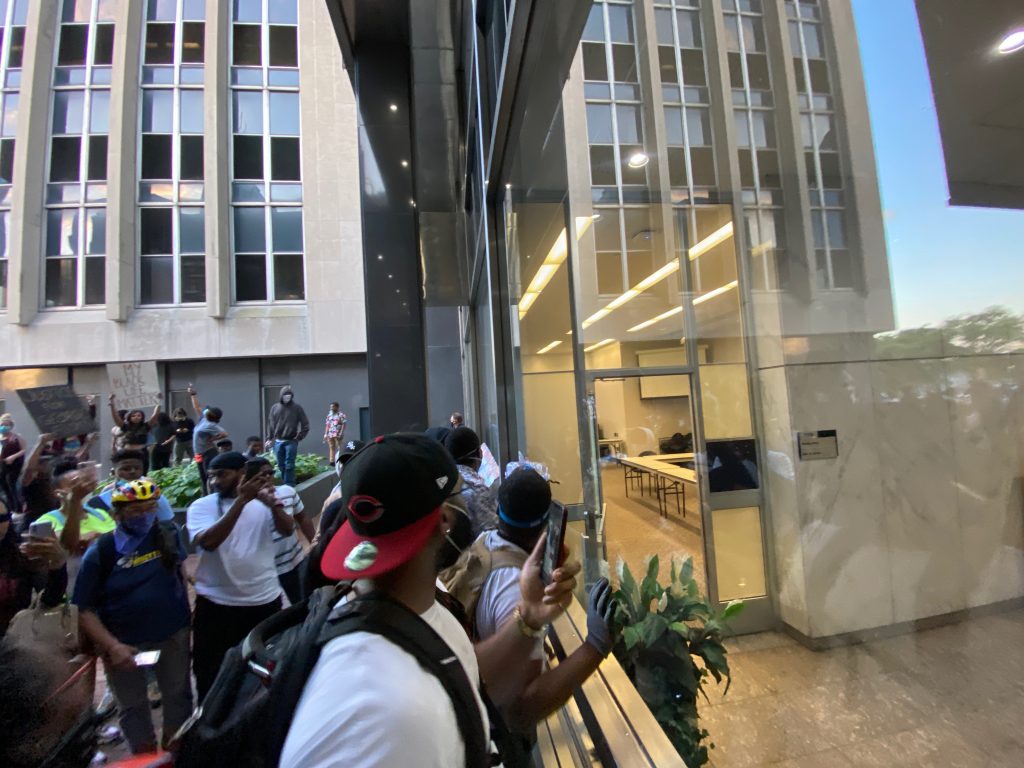 Like they have done in the past, the attorneys at Saeed & Little LLP sent out a tweet Saturday, offering pro bono representation to any protester arrested in Indianapolis, Chicago or Louisville.
Typically, the tweet might bring a 10 calls that result in about one or two clients. However, by Monday morning, the message had received more than 400,000 likes. Moreover, the contact page on the firm's website shut down Saturday afternoon after becoming overloaded, and about 70 attorneys with practices in areas as diverse as criminal defense, insurance and mergers and acquisitions had volunteered to help the protesters.
"I'm very encouraged at what I've seen," attorney Jon Little said of the number of lawyers reaching out to help. "I never expected the outpouring of support that we've gotten."
As of Monday morning, the firm had about 52 protesters who needed attorneys. Little said the individuals were being accused of such things as throwing objects at police and one was alleged to have stolen a police officer's horse.
The workload for Little and his colleagues in Indianapolis got a little lighter Monday afternoon when Marion County Prosecutor Ryan Mears announced his office would not be filing charges against nonviolent protesters.
"We will not file criminal charges against those who came downtown to stand against injustice and make their voices heard through peaceful demonstrations," Mears said in a press release. "For us, unfortunate choices by a few will not dilute the critical message carried by the majority."
Charges have been declined in 41 arrests from May 29 and May 30. However, 14 individuals have been charged with burglary as a Level 5 felony for allegedly illegally entering businesses and removing items after weekend protests in Indianapolis turned violent.
Lawyers and law firms are assessing the damage from weekend rioting in Indianapolis and other cities around the state. The protests and violent outbursts in Indiana and across the country were sparked by the outrage over the death of George Floyd after a Minneapolis police office knelt on his neck.
In the Circle City, nearly 60 people were arrested Friday and Saturday nights and about 30 downtown businesses were vandalized.
The front window at the English Building on Alabama Street, which houses the Indianapolis Legal Aid Society and the Indiana Bar Foundation, was broken. Also, some windows were damaged on the Delaware Street building that is home to Indiana Legal Services.
Major Indianapolis law firms such as Barnes & Thornburg, Faegre Drinker Biddle & Reath and Frost Brown Todd did not provide information on the status of their offices by IL deadline.
On Ohio Street, the Birch Bayh Federal Building and U.S. Courthouse was defaced. According to Southern Indiana District Court, four windows were broken and about 15 places on the building and around the base of some of the statutes were tagged with graffiti.   
Large protests happened elsewhere in Indiana on Saturday, with police in Hammond using tear gas to break up protesters and officers blocking marchers from going onto Interstate 80/94. Fort Wayne police fired rubber bullets and tear gas to disperse a crowd after Friday night's demonstration resulted in some protesters throwing rocks at officers and breaking dozens of windows on downtown businesses.
Attorney Doug Adelsperger confirmed the commercial space he owns in downtown Fort Wayne had several windows smashed, but no one was able to enter the building. Located at the corner of Wayne and Calhoun streets, the space is home to Adelsperger & Kleven LLP, the law office of Roy Kiplinger, the Volunteer Lawyer Program of Northeastern Indiana and a Jimmy John's sandwich shop.
The windows have since been boarded over.
Sunday morning, attorney Karen Celestino-Horseman carried a can of pepper spray and carefully walked over broken glass to get to her law office on Washington Street. Her firm, which sits on an upper floor, was untouched, but the barber shop and men's clothing store at street level were vandalized.
To get to her office, the protesters would have needed the special keys to unlock the elevator and door to the stairway. There is nothing of value to steal, but Celestino-Horseman still worried the protesters could damage or destroy files or computers.
She was dismayed by the amount of destruction she saw downtown.
"I believe in protesting, but this is not protesting," she said. "What happened after the protests is not protesting."
Employment attorney John Haskin of Haskin & Associates LLC, was angry at the level of destruction and what he sees as the inaction by Indianapolis Mayor Joe Hogsett to curb the violence.
Haskin owns his law firm's building, which is a historical structure that was originally the home to Indianapolis' first fire station, and the parking garage just to the south. He said the rioters broke five of the 10 windows on the parking garage — at a replacement cost of $4,000 each — and sprayed profanity on the two overhead doors.
If the mayor had called in the Indiana State Police or Indiana National Guard, Haskin believes the violence and vandalism would have been averted. Instead, he said, Hogsett did not want to offend minority supporters so he "sacrificed hundreds of business that were supposed to open up today" after begin closed by the COVID-19 public health emergency.
Root cause
Little sees the anger erupting in Indianapolis as ignited by the federal and state courts granting police officers qualified immunity over the last 20 years. The thousands of protesters who marched through the downtown and the destruction of storefronts and public buildings are the result of law enforcement not being held accountable for their actions.
"Qualified immunity has usurped the jury," Little said.
Others are echoing Little's assertion and calling for police reform.
The American Civil Liberties Union of Indiana urged law enforcement to respect the demonstrators' First Amendment rights and avoid making arrests or using force.
"These violent police interactions are not new," Jane Henegar, executive director of ACLU of Indiana, said in a press release. "The systemic targeting of and use of unnecessary force against people of color is woven into the fabric of our law enforcement institutions and stems from the legacy of slavery and Jim Crow in this country. We are in dire need of drastic and swift policy changes to address police brutality and use of excessive force."
The Indiana Black Legislative Caucus also spoke against racism and the number of African American lives being lost not only to the coronavirus but also to police actions.
"Over the last couple of days, members of our community have been willing to risk their lives during a pandemic to protest empty promises of change," said Rep. Robin Shackleford, D-Indianapolis. We have grown tired of hashtags and tired of waiting for progress. To articulate the exhaustion of the African American community, and the country, would be beyond a mere few paragraphs, but we are exhausted."
Sen. Jean Breaux, D-Indianapolis, described the outrage as caused by a policing system rooted in institutional racism.
"The killings must stop. The murders must stop," Breaux said in a statement. "What we are now seeing is that violence begets violence — violence is one method to exact social change. Unless our nation steps up and begins to honestly address policy brutality, I fear the violence in our cities and streets will continue."
Saturday afternoon, attorney Jared Haller stood outside the Allen County Bar Association to protect the building. The bar association had faced the dilemma of whether to pay the thousands of dollars to have boards placed over windows or risk having the property defaced, so Haller, an attorney with Indiana Legal Services, volunteered to stand guard.
"It easier to smash windows if nobody is there than if somebody is on hand to say, 'Let's talk before you do it,'" he said.
The evening was uneventful. Protesters walked by and he offered his support but there were no confrontations or incidents of violence. Haller does not believe he did anything remarkable. He said he was mostly there to persuade people, if needed, which he sees as what "attorneys are uniquely qualified to do."
The Associated Press contributed to this story. 
Please enable JavaScript to view this content.