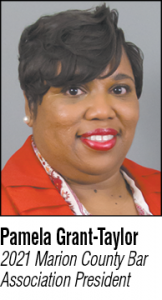 My name is Pamela Grant-Taylor. I am an attorney with the Marion County Public Defender Agency, assigned to Criminal 21. I primary handle the defense of major felony drug offenses and other Level 5 felonies in Marion County.
I am proud to serve as the 2021 President of the Marion County Bar Association. The theme I have adopted for my Presidency comes from thoughtful reflection over the past year, in this COVID era: Be the CHANGE you want to see.
I, like many of you, have been forced to re-examine and re-evaluate my work-life balance. I personally know many individuals who have been afflicted with COVID and survived. Unfortunately, a handful have perished, along with some of their family members and loved ones.
COVID has forced me to re-evaluate how I spend my non-work time and non-family time. I want to do more to help promote social justice. But how? "Be the CHANGE you want to see" has resonated with me for several months now. I am going to share with you how you too can be the CHANGE you want to see as well.
CHOOSE: Pick an activity, an organization or a cause to champion or to get involved with. You gotta start somewhere. Every journey starts with that first step. Make a decision. Choose something that positively impacts your life and the lives of others.
HELP: Once you have made your choice, be willing to do the work. Look at your skills and talents. Be willing to offer your help to help make changes you want to see. Offer solutions and ideas along with your criticism!
ADVOCATE: As attorneys, we are skilled at advocating for our clients. Open yourself up and advocate for the changes you want to see. Do more than express your thoughts and opinions on social media.
NEED: Use your skills and talents to provide an unmet need for the change you want to see. Want to see more social activities? Have an idea for a CLE or fundraiser? Help meet this need for the change you want to see!
GENERATE: Generate interest in making the change you want to see with your co-workers, colleagues, friends, family and social networks. Sometimes a suggestion from a friendly face is all that is needed to start a movement!
EDUCATE: Educate others about the change you want to see. It may inspire others to get involved too!
Be the CHANGE you want to see. Be well and stay safe!•
Please enable JavaScript to view this content.