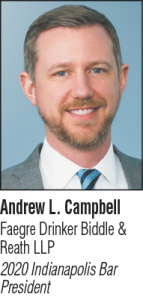 Three years ago, Bryan Strawbridge called me after I interviewed for an IndyBar Board of Directors position — any board position. At James Bell's insistence, I checked the box "president," and then never gave it much thought. Reassuringly, elder-statesman (and 2007 IndyBar President) Kevin McGoff had chaired the Nominating Committee, and it was young buck Bryan who was calling. I was relieved that getting in line for IndyBar president would wait a few years, if ever. Bryan confirmed it when he started with the obligatory "thank you for applying" and (unnecessary) sympathies. As I chuckled at James Bell under my breath, Bryan laughed and then congratulated me on my nomination to become IndyBar president in 2020. Looking back, it was the most 2020 thing to happen to IndyBar, even though it was still only 2017.
I'm a borderline millennial. I grew up with (certainly in my professional life) the internet, cell phones and social media. During law school, my dad constantly told me to put down my iPhone (that is until he got one.) I expect close relationships at work, and I want constant feedback. Work-life balance is my buzzword. I want opportunities for public service. I do pro bono, but not because I get billable credit. I'm obsessed with finding the "flow state" in my work, in my exercise routine, in my hobbies. And I'm going to lead a 150-year-old professional association of lawyers? Yeah, right.
Over the next couple years, the biggest project for the IndyBar was to find a new home. Our existing space on the 15th floor of a downtown high rise was like TBS reruns of "Friends" and "Seinfeld" — stuck in the 90s. It turns out that during our focus group process, we learned that IndyBar is becoming more millennial too. Our members want a modern "third space" where they can drop a laptop or make a confidential call while getting concierge professional development opportunities. We were fortunate to find the perfect first-floor space on the corner of Ohio and Illinois streets. We took possession as I was being installed as IndyBar President. It was my overriding goal to harness that new millennial energy into IndyBarHQ. And then, the pandemic hit. IndyBarHQ was open to members for six days.
You all know the rest of the story, even if you haven't paid close attention to the day-to-day of our association. Like everyone else, we immediately pivoted to remote work for our numerous staff, including making difficult cost-cutting decisions. We moved all our professional opportunities online. We became consumed with Zoom, Slack and Teams. We heard each other's dogs bark and saw half-naked kids streak through the background. We provided "COVID updates" galore. We became a cliché of the "new normal."
What was amazing, though, was our resilience. The relative ease with which we took to working from home. Teaching our kids. Missing out on the in-person activities we take for granted. I'm not saying it wasn't hard — at times, it was darn near impossible. But we did all of that and still had more participation in IndyBar events than in recent memory. We converted our legal advice programs to an online platform that has allowed us to help more of our neighbors with legal questions than at any time in the past. We provided more services and support to our professional colleagues than ever before. We passed 100 percent of our IndyBar Review students on the Indiana Bar Exam. We are addressing head-on an overdue social justice movement that demands changes to the legal profession. At the same time, we grew our hair long, got some exercise and rediscovered old hobbies. We were forced to heed the wisdom of Ferris Bueller: "Life moves pretty fast. If you don't slow down and look around once in a while, you could miss it."
My leadership of IndyBar has been 2020 in a nutshell — unexpected and (I thought) unprepared. What I've learned is that our profession is more prepared and resilient than I could have imagined. Now, as we slowly begin to emerge from the pandemic, we will begin to see the ways in which our profession has changed for the short- and long-term. We are extraordinarily lucky to have IndyBar, and its pipeline of young active leaders and staff, to help guide our profession as we implement those changes. Bon voyage, 2020! •
Please enable JavaScript to view this content.