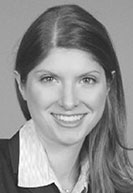 By Claire Emswiller, Emswiller Williams Noland & Clarke LLC
So here I am, in my pajamas, writing a blog post from my bedroom on a Thursday morning. I am not ill, there is no ice storm and the power/plumbing are all working perfectly in my northside office building. And you are all completely unfazed by that sentence. Because it is very likely that you are reading this blog post, in your pajamas, during the workday, in your home, where you have been 99 percent of the time for the past year.
I have not exchanged a small red ticket for an adult beverage in months. I haven't had to stash my "nice heels" in my car for my after-hours work event in what feels like forever. Prior to the pandemic, I was probably attending some kind of networking event twice a week, if not more. As a small-firm practitioner who makes her money by providing personal legal services, networking is vital for the continued source of clients I need to support my business and keep my associates busy. Planning committees, nonprofit boards, volunteering, social gatherings and local events were my go-to formula for expanding my circles and getting my name and face in front of people who needed to hire a lawyer for highly personal and sometimes sensitive reasons. They needed to have met me in person. They needed my name to come from someone they knew and trusted. At least, that is what I believed to be the only way, until that way no longer existed. And I am not just saying its disappearance is because of the pandemic.
The past year has not just found me with several more jigsaw puzzles than I have ever owned at one time in my life. It has found me with a new baby. Single parenthood will force me to change my networking strategies far beyond the end of the current health crisis. It will also substantially decrease the volume of individuals I meet, so when I do connect, I need to leave a lasting and favorable impression. So (forced to use my cellphone to actually make phone calls and chat with a few colleagues about the subject, along with research and reading what a few other blogging professionals have found to be worthwhile), I have picked ideas that I think would be conducive to growing and supporting a solo or small-firm model and making a big impact during the times in life when you cannot pound the pavement, shake hands or exchange your drink ticket.
• Turn to social media. I know, easy, right? With everyone scrolling their Instagram and Facebook feeds almost constantly while stuck at home, this seems like a no-brainer. But, if you are like me, I do not like mixing my personal pages with my business and keep my privacy settings high for that very reason. But consider a business account or Facebook business page. Tune in to what your potential clients are worried about during the pandemic and beyond. Post articles or helpful links that are related to these concerns and be available to fill in the blanks once they realize they need more than what Google has to offer.
• Get familiar with the technology. It doesn't matter what platform you use — Zoom, Google Hangouts or Teams, inevitably, the person you are "meeting" with is going to use something different than what you used last time. Take a few minutes before the meeting to go through the controls, the options and the nuances. While people are more forgiving these days regarding the occasional screen freeze or dog barking in the background, it is important to show the other person that you are taking this as seriously as you would if it were in person. Look into the camera, dress professionally and keep the background as "vanilla" as possible, and for goodness sake, do not vape on camera.
• Adopt a signature personal touch. My significant other said he had someone send him a cup of coffee through UberEats before their virtual meeting. Thoughtful, easy and inexpensive. The old-school thank you note makes a much more powerful statement when we are starved for personal connection (bonus points if it's scented!) Anything that shows the other person that you appreciate their time and strives to make these dark days a little bit brighter would work. Obviously, keep it professional (scented thank you notes are probably pushing it), but you can also use it as an opportunity to push your brand. I personally always appreciate a bag clip, but maybe that is just me.
• Host an informational seminar. OK, so I cheated on this one. I was already doing these pre-COVID, but it has transitioned well from in-person "lunch and learns" to online streaming. My law partner (AKA my dad) and I are the preferred legal providers for Elements Financial Credit Union (formerly Eli Lilly Federal Credit Union). Several times a year, we will host an estate planning seminar for Elements members. We also offer them a discount on their estate planning package if they hire us. More and more companies are looking for benefits to offer their clients and employees. Offering to provide an informational/educational seminar gets you in front of a large group of folks who are already interested in your services. Just make sure you review your trusty Professional Rules of Responsibility handbook to make sure your content falls well within your ethical obligations.•
This article was originally published on the IndyBar Solo and Small Firm Division blog. To see more from the division, visit indybar.org/ssf.
Please enable JavaScript to view this content.