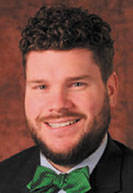 By Brett Thomas, Hume Smith Geddes Green & Simmons LLP
The Indianapolis Bar Association's Criminal Justice Section, Women and the Law Division and Public Outreach Committee are partnering with the Marion County Bar Association to collect donations for Craine House, an innovative work release program for women located in Marion County.
Women who are sentenced to Craine House are able to live at the facility with their children (infant to five years old) and have older children visit. Each resident is matched with professional services that fit their needs, including but not limited to, higher secondary education classes, financial classes, job skills classes, individual and family counseling, life skills programs, anger management, self-esteem programs, parenting classes, intensive substance abuse, access to faith-based programs, health and nutrition counseling, children support services and tutoring.
The wholistic approach to rehabilitation undertaken by Craine House has resulted in a recidivism rate of 20 percent, much lower than state and national averages. The recidivism rate published by the Indiana Department of Correction for 2020 was 38.6 percent. According to the Office of Disease Prevention and Health Promotion (ODPHP), people released from prison have a 66.6 percent chance of rearrest and over 50 percent chance of reincarceration within three years.
Craine House aims to break the generational cycles of abuse, poverty and crime by uplifting and supporting women convicted of crimes and their children. According to the ODPHP, children of incarcerated parents are more likely to live in poverty and experience homelessness, witness domestic violence or substance abuse, live with a person with mental health issues or who is suicidal, and have higher rates of learning disabilities, developmental delays, speech/language problems, attention disorders and aggressive behaviors. Further, children of incarcerated parents are up to five times more likely to enter the criminal justice system. Craine House programs and services offered for children help to improve their sense of security, social skills and reduce their risk of substance abuse, behavioral disorders, academic failure, delinquency and violence.
Craine House is a non-profit organization which receives much of its funding from grants and donations. During the month of May, the IndyBar will help collect donations by placing a donation box in the vestibule of the Indianapolis Bar Association at 140 North Illinois St. in downtown Indianapolis. We will collect chairs (rocking and smaller chairs), baby gates, diapers (sized 3+), bottles, baby monitors, baby hygiene (soap, shampoo, etc.) and baby medicine (Tylenol, Motrin, gas drops, diaper rash cream, etc.).
People who do not have items to donate can either visit the Craine House Amazon Wishlist, which ships donations directly to Craine House. If you would like more information about Craine House or would like to schedule a visit, please contact Executive Director Suzy Pierce at [email protected] or President Brooke Daunhauer at [email protected] Please consider helping this wonderful organization continue to positively impact our community. •
Please enable JavaScript to view this content.