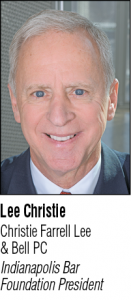 When I last wrote to you in April, the Indianapolis Bar Foundation (IBF) Board of Directors had emergently rededicated its Community Empowerment Grant (previously the Impact Fund Grant) funds to the Crisis Empowerment Grant to assist young, solo and small firm practitioners as the COVID-19 pandemic shuttered much of central Indiana. As you may recall, the Crisis Empowerment Grant provided grants of up to $3,000 for select lawyers to provide legal services to central Indiana families in need. By partnering with the Indianapolis Legal Aid Society, the Indiana Legal Services Organization, the Neighborhood Christian Legal Clinic and the Indiana Coalition Against Domestic Violence, we were able to pair lawyers with families and individuals who were particularly vulnerable and at risk during the pandemic shutdown. These individuals were provided up to five hours of quality legal assistance at no charge in the areas of family law, landlord-tenant rights, domestic violence and other areas where legal help was needed and necessary. The Crisis Empowerment Grant Program was a wholesale success! More than 110 cases were settled and dozens of cases have been finalized and paid out. More than 40 cases are still active and the selected lawyers continue to work with their clients to assist with their legal issues.
Listen to some of the lawyers who were selected to receive the grants: Samantha Huettner at Huettner Law, who practices in the areas of family law, estate planning and civil litigation says, "My firm was privileged to receive a grant to participate in the Crisis Empowerment Program. This excellent program allowed clients who might not otherwise have been able to afford a private attorney — particularly those impacted by the coronavirus pandemic — to access legal services. We were able to serve a wide range of clients with various legal needs through this program." Gabriel Berry recently opened his own practice and said, "(T)he Crisis Empowerment Program was really a win. Not just for my newly opened practice, but for the indigent clients with whom I was fortunate to connect. I was able to gain much needed experience, and I thank the Indianapolis Bar Foundation for this opportunity."
The mission of the Indianapolis Bar Foundation is to "advance justice and lead positive change in Indianapolis through philanthropy, education and service." The Crisis Empowerment Grant demonstrates the commitment the IBF has to its mission. It is due to all of you who support the IBF that we can assist our members in need as well as disadvantaged individuals and families in our community. In addition to the $35,000 Crisis Empowerment Grant, the IBF also grants $105,000 each year to a variety of community service programs co-sponsored with the Indianapolis Bar Association. Your contributions are very appreciated and help in so many ways. So thank you to all of you!
Additionally, the third annual IBF Day of Giving is on Oct. 21! The goal for this special fundraiser is to raise $35,000, which will help the IBF to continue to provide grants to local legal service providers and direct access legal assistance through programs like Ask a Lawyer, the Free Wills Clinics, Legal Line, the Hospice Program, the Homeless Shelter Project and other philanthropic services in our community. With fundraising efforts constrained to virtual events for the foreseeable future due to COVID-19, this year's Day of Giving fundraiser is more crucial than ever. You can learn more at indybar.org/dayofgiving.
Finally, in lieu of the annual Evening Under the Stars Gala, the IBF will be hosting IndyBar's Giving in 2020: an online, virtual auction from Nov. 23 to Nov. 27! Mark your calendar to bid on all the incredible auction items: from vacation homes and golf packages to gift certificates and homemade baskets filled with goodies and more! IndyBar's Giving is a win-win, as you get to purchase most items at cost or below cost and all the proceeds go directly to the Indianapolis Bar Foundation. The auction items are not quite ready on the website just yet, but you can check out indybar.org/barsgiving for updates. If you have items you want to donate, contact Biz Walker at [email protected] Thank you for your support of the Indianapolis Bar Foundation during this tough time!•
Please enable JavaScript to view this content.