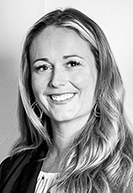 By Tara Rabiola, Cairns Rabiola Vance LLC
A lot has changed in both our professional and personal lives since March of 2020, but not all of them have been bad. When the world shut down, I was able to slow down a little. I was able to do things with my children that I would have never had the time or opportunity to do. We spent time in the woods, stomping through creeks and having picnics in parking lots.
When I first had to set up a workspace at home due to offices closing and e-learning, I struggled with being productive. However, once it became clear this wasn't going to be a quick thing, I made myself an actual home office. It is set up similar to how my actual office was arranged. And while I know not everyone has the ability to devote an entire room solely to a home office, I was able to do that. Soon, I was just as productive, if not more so, than I was at the office.
Fast forward to things starting to go back to normal and I realized I wasn't ready to give up working from home. Now that the kids are back in school and we have a normal schedule again, I love my home office. When the weather is nice, I can open the windows. When I need to step away from the screen for a few minutes, I am able to knock a task or two off my list of household tasks. I am able to grab my kids from the bus stop and go back to work if needed.
I joined a new firm at the first of the year and all three attorneys, as well as our paralegal, are mothers with young children. So we had all gotten used to working from home due to childcare and schooling issues. The lease on our Broad Ripple office was going to be up at the end of April so we had to decide where we wanted to go next. With one partner in Fishers, one on the north side of Indianapolis and one on the south side of Indianapolis (and a paralegal in Plainfield), it was difficult to decide a location that made sense for all of us Instead, we have decided to rent a tiny office in Greenwood that gives us access to conference rooms as needed. We have also chosen to utilize a space in Fishers that gives us a mailing address, office space when needed and conference rooms when needed.
We have all set up dedicated home offices but also have the ability to leave home and work in a private office, meet with clients, or mediate. This has given us the best of both worlds and has significantly decreased our monthly expenses.
I think we can all agree it would have been better if we had never heard of COVID-19. But I am grateful that its emergence gave us the ability to slow down (albeit briefly, because now we seem to be going at break-neck speed!) and really assess our business needs. Through it, we learned we don't need a large office with all the overhead that goes along with it. We can serve our clients just as well from our home offices while still having the ability to meet in person when needed.
There are several spaces throughout the Indianapolis and surrounding areas that offer flexible options for renting space. If you have been considering downsizing, I would strongly encourage looking into some of these options.•
This article was originally published on the Family Law Section blog. To see more from the section, visit indybar.org/fam!
Please enable JavaScript to view this content.