Indiana University Robert H. McKinney School of Law is welcoming a familiar face as its fourth and last candidate for the position of dean.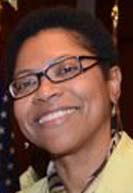 Karen Bravo, vice dean and professor at IU McKinney, will be undergoing the final phase of the interview process by meeting with students, faculty and alumni Monday and Tuesday. She has been a member of the faculty since 2004 and was promoted to vice dean in 2018 after she had served as associate dean for graduate studies and international affairs at the law school.
She earned her undergraduate degree from the University of the West Indies in 1985 and a J.D. degree from Columbia University School of Law in 1997. Also, in 2004, she completed an LLM at New York University School of Law.
Following graduation from law school, she practiced with international law firms in New York and Massachusetts, although her biography on the IU McKinney website did not identify which firms and did not include a copy of her curriculum vitae. She left private practice to join the American Bar Association's Central European and Eurasian Law Initiative in the Republic of Armenia.
According to the biographical sketch included with her 2007 article in the Houston Journal of International Law, she lived and worked in Armenia as a Rule of Law Liaison with the ABA Central European and Eurasian Law Initiative.
Bravo has also served as chair of the American Association of Law Schools Committee on Recruitment and Retention of Minority Law Teachers from 2007 to 2009. She was a member of the AALS planning committee for the 2007 workshop for new law teachers and the 2008 workshop on retention of minority law school teachers.
At IU McKinney, Bravo has taught courses in closely held business organizations, international business transactions, international law and international trade. She received an Indiana University Trustees' Teaching Award in 2008.
Her research interests include labor liberalization and human trafficking. Also, she is the founder and leader of the Slavery Past, Present and Future project, an interdisciplinary initiative that brings together scholars of slavery.
Bravo has been a finalist for deanships at other law schools. She was a candidate in the fall of 2019 to serve as dean of Willamette University College of Law in Oregon and remains one of four finalists to lead Mitchell Hemline School of Law in Minnesota.
IU McKinney has both full-time and part-time evening J.D. programs. The class that entered in 2019 had 256 students including 60 who were pursuing a law degree part-time. With a median LSAT score of 154 and a median GPA of 3.44, the 1L class of 2019 was comprised 140 men, 122 women and 48 minorities.
The class of 2018 had a first-time bar passage rate of 69.5%. Also, 141 of the 238 graduates found full-time, long-term employment in a position that required bar passage, while another 36 gained full-time long-term employment in a J.D. advantage job. The bulk of the graduating class, 70, went to work in law firms ranging in size from two to 250 attorneys while the next largest group, 52, secured jobs in government.
Other finalists who visited the IU McKinney campus in recent weeks are University of Nevada, Las Vegas professor Ngai Pindell, Cleveland-Marshall College of Law associate dean Milena Sterio and Michigan State University College of Law professor David Thronson.
Dean Andrew Klein announced he will step down in June.
Please enable JavaScript to view this content.