An expert in property law and former university vice provost at the University of Nevada, Las Vegas, is the third finalist for the dean's position at Indiana University Robert H. McKinney.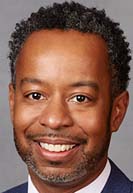 Ngai Pindell, International Gaming Institute professor of law at the UNLV Boyd School of Law, will be on the IUPUI campus Thursday and Friday to tour the law school as well as meet with students, faculty and alumni.
He has spent most of his career in academia and served in administrative positions for the UNLV law school and the University of Nevada, Las Vegas as a whole. Also, he has served as president of the American Association of Law Schools' Section on State and Local Government Law and evaluated law schools as part of the American Bar Association's Section on Legal Education and Admissions to the Bar site team.
In February 2013, he was interviewed by ABC News as co-president of the Society of American Law Teachers. He defended legal scholars in the story that examined the difficulty law school graduates were having finding employment after the Great Recession.
Pindell earned his undergraduate degree in economics from Duke University in 1993 and his J.D. degree at Harvard Law School in 1996.
Following graduation, he was a staff attorney at Empowerment Legal Services Program, Inc., in Baltimore, Maryland, where he represented community associations and helped supervise law students from the University of Maryland School of Law. From there, he took a bigger role in experiential education, first as a fellow at the University of Baltimore School of Law Community Development Clinic then as a visiting assistant professor.
Pindell joined UNLV Boyd School of Law as an assistant professor in 2000 and became a full professor in 2008. The courses he teaches include land use regulations, land use and community development, and wills, trusts and estates. His research interests include community development and affordable housing, state and local government regulation, and gaming law and policy.
As associate dean of academic affairs at the law school from 2012 to 2014 and vice dean from 2014 to 2016, Pindell helped develop the law school's first new degree program, an LL.M. in gaming law and regulation.
He stepped into university administration for three years starting in March 2016. Pindell was vice provost for faculty affairs before becoming special advisor to the executive vice president and provost. Along with leading the development efforts for faculty, chairs and academic units, he is credited with helping relaunch of the Leadership Development Academy and overseeing the merging of the Faculty Excellence Initiative and Faculty Affairs.
The UNLV Boyd School of Law has both full-time and part-time evening J.D. programs. Its entering class in 2019 had 133 total students who boasted a median LSAT of 159 and a median GPA of 3.69, according to the American Bar Association data. There were 74 women in the entering 2019 class, 59 men and 42 minority students.
The graduating class of 2018 posted a first-time bar passage rate of 72.82%, according to the American Bar Association. A majority of the 2018 class, 82, secured full-time, long-term employment at job that required bar passage, of whom 43 joined law firms with between two and 100 lawyers. Another 30 successfully applied for clerkships at local, state and federal courts.
Pindell is one of four finalists applying for the leadership position at IU McKinney. Cleveland-Marshall College of Law associate dean Milena Sterio and Michigan State University College of Law professor David Thronson are the other finalists who have already visited the Indianapolis law school. The fourth and final dean candidate is scheduled to be on the campus Monday and Tuesday.
Dean Andrew Klein announced he will step down in June.
Please enable JavaScript to view this content.