Marion Superior Judge Amy Jones has been selected as the next leader of the Marion Superior Courts Executive Committee.
Jones succeeds Judge Heather Welch as the Superior Court presiding judge. She will be joined on the executive committee by associate presiding judges John MT Chavis II, Alicia Gooden and James Osborn.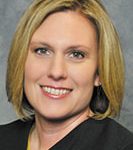 Jones, judge of Marion Superior Court 34, was elected as presiding judge by the general term of the Marion Superior Court. She will preside for the 2021-2022 term, her third term on the Executive Committee.
Jones joined the Indianapolis courts in 2013. In addition to Court 34, she also presides over a mental health problem-solving court.
The presiding judge has co-chaired the Superior Court's Justice Center Task Force and in 2016 was appointed to the Mayor's Task Force on Criminal Justice Reform. Also, she serves on the Indiana Supreme Court's Jury Committee, is a member of the Indianapolis Bar Association's Criminal Justice Section and has co-chaired the IndyBar's Bench Bar Committee.
Prior to taking the bench, Jones worked as a deputy prosecutor, a public defender and a private practitioner.
Chavis, who presides over Marion Superior Court 5, served as presiding judge for the 2015-2016 term and as associate presiding judge in 2014. He took the bench in 2013.
Chavis has also served on the court's Family Operations Subcommittee and assisted in redrafting the court's local rules. Prior to becoming a judge, he was in private practice.
Gooden, previously a master commissioner, was appointed to the Marion Superior Court in 2015. She presides over court 14, a Family Division court.
Gooden served on the executive committee in the 2019-2020 term, when she chaired the Family Operations Subcommittee. She was heavily involved in the creation of the court's new Family Division, which began operations Jan. 1.
Off the bench, Gooden is IndyBar president-elect and serves on the Supreme Court's Family Law Taskforce. Also, she represents Marion County on the Indiana Judges Association board of managers.
Osborn took the bench in 2009 and now presides over Superior Court 21.
He has served as an associate presiding judge, chairing the court's Technology Committee, serving as the jury supervising judge and serving on the budget and juvenile court committees. He is also a member of the Supreme Court's Strategic Planning Committee.
Please enable JavaScript to view this content.