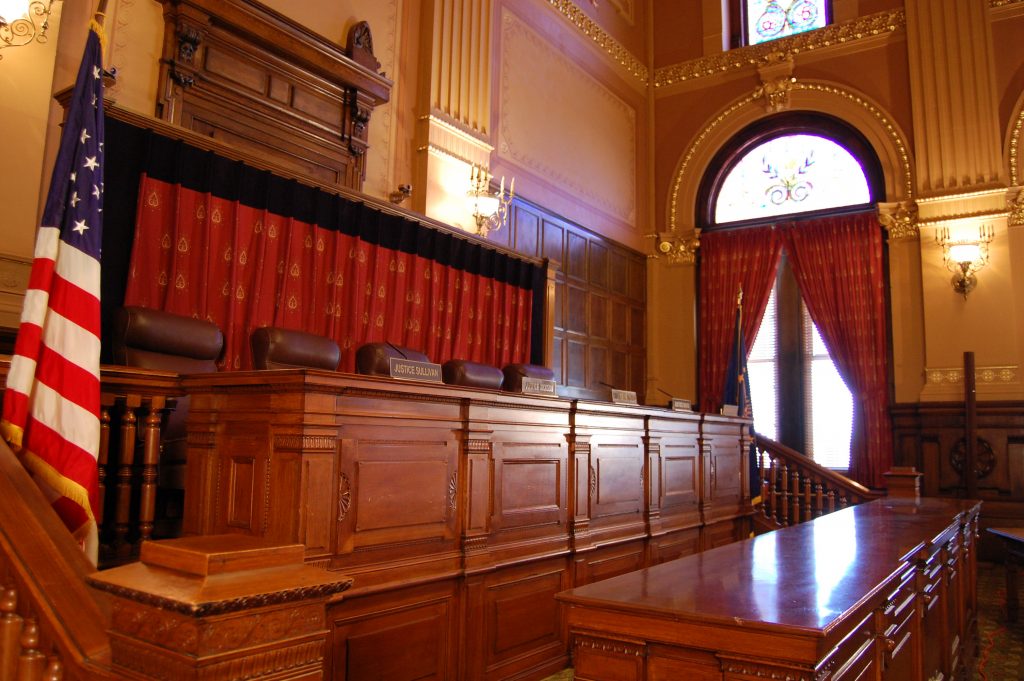 Indiana Supreme Court justices heard arguments Tuesday in a case involving a student who filed a class-action lawsuit against Ball State University for COVID-related closures.
Now, justices will decide whether a recently passed Indiana law is procedural or substantive.
An attorney for Ball State student Keller Mellowitz argued changes to Indiana code barring class actions against postsecondary educational institutions for claims of breach of contract and unjust enrichment arising from COVID-19 are procedural.
If that's the case, Indiana Code § 34-12-5-7, known as Section 7, would conflict with Indiana Trial Rule 23, which governs class-action procedures. Mellowitz's attorneys argued Section 7 is a nullity.
Attorneys representing Ball State and the state of Indiana argued Section 7 is substantive and therefore not in conflict with Trial Rule 23.
Mellowitz filed a putative class-action complaint in 2021 against Ball State University and its board of trustees in response to closures and remote instruction prompted by the COVID-19 pandemic.
He asserted claims for breach of contract and unjust enrichment based on Ball State's retention of tuition and fees after it canceled in-person classes and closed campus facilities.
But after the complaint was filed, the Indiana General Assembly enacted a law that, in part, bars the type of class action Mellowitz filed.
When Ball State filed a motion for relief based on Section 7, the Marion Superior Court ordered Mellowitz to file an amended complaint eliminating his class allegations.
Mellowitz appealed, and the Court of Appeals of Indiana agreed Section 7 is procedural, reversing the trial court's decision.
Ball State appealed, and the Supreme Court granted transfer in March.
Oral arguments took place at the University of Indianapolis, where students from the university and some surrounding high schools were in attendance to watch and ask the justices questions in a Q&A afterward.
Much of the arguments dealt with a recent Supreme Court decision — Church v. State, 189 N.E.3d 580 (Ind. 2022) — in which the court adopted a test for determining whether a law is procedural.
If the statute "predominantly furthers judicial administration objectives," it is procedural, the court ruled.
But if the statute "predominantly furthers public policy objectives involving matters other than the orderly dispatch of judicial business," it is substantive.
At the heart of the case at hand is the interpretation of how Section 7 fits within Church's test.
"Here, we have common law rights that have not been conferred, do not come from the legislature, but are simultaneously being withdrawn by the legislature," Colin Flora, one of Mellowitz's attorneys, told the justices.
Chief Justice Loretta Rush commented that, compared to other states that enacted similar laws related to education institutes and the pandemic, Indiana seemed to not take a hardline approach.
"Why shouldn't we defer to the legislature with the kind of balancing they did here, as opposed to doing something more drastic, which would really affect your client even more?" she asked.
Flora said that because the right to class actions comes from Trial Rule 23, "either Trial Rule 23 has granted a substantive right — which this court can't do and the Supreme Court of the United States can't do, so we submit is not what it did — or it is a purely procedural right."
Flora also argued that even if Section 7 is substantive and functionally an immunity provision, it "constitutes the taking of a vested substantive right and impermissibly impairs the obligations of existing contracts" by taking away what he called the only effective remedy for all Ball State students.
Justice Christopher Goff said the state took measures to make sure government functions could continue.
"With that in mind, why would we step in this lane in this particular situation?" he asked.
Flora said his side isn't contesting the shutting down of the campus, but instead is contesting a retroactive provision that "is shifting the risk of non-performance to the students instead of to the university."
Brian Paul, an attorney representing Ball State, said it is "quite clearly" the case that Section 7 is furthering a policy goal, making it substantive.
"The situation was unprecedented," he said of the pandemic. "Yet the schools provided the education students had paid for and then some, and still the schools have been sued."
Paul referenced the cost involved with defending a class-action lawsuit and said the legislature sought the balance the competing interests and rights and schools and their students.
"It's a very serious thing to strike down a piece of legislation," Paul said, "and it should rarely be done."
Justice Geoffrey Slaughter asked what the court's analysis should be in the hypothetical situation where there's an even split between a law being procedural and substantive.
"The tie, if you will, goes to the legislature on this sort of thing," said Thomas Fisher, representing the state.
The full arguments are available online.
Please enable JavaScript to view this content.