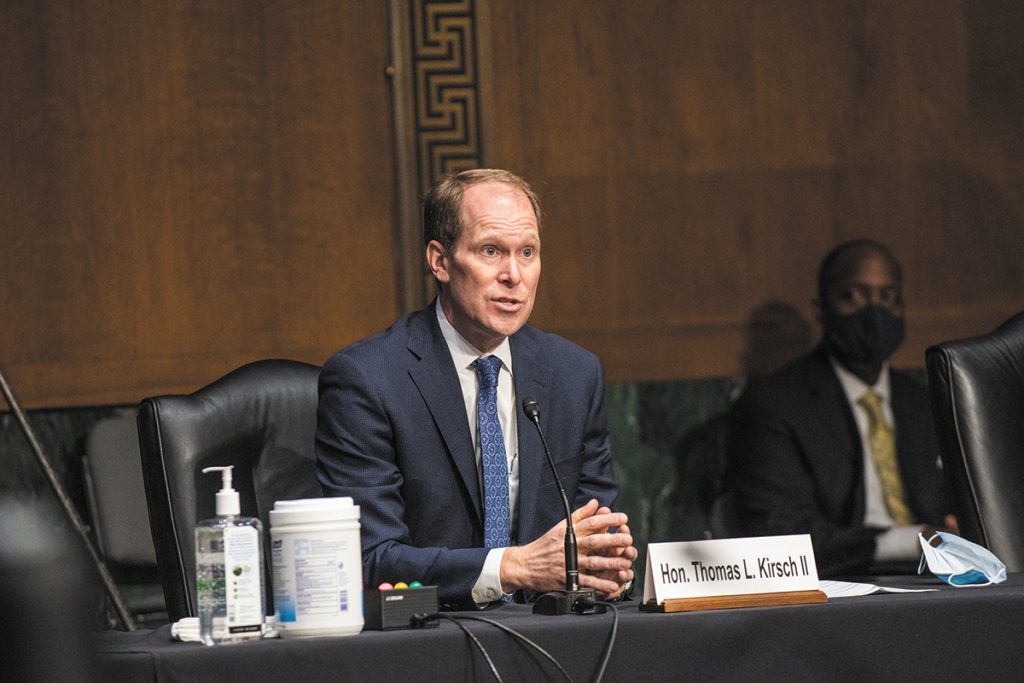 Editor's note: This article has been updated.
Thomas Kirsch II has been confirmed on a 51-44 vote in the U.S. Senate to the 7th Circuit Court of Appeals, filling the Indiana seat with a Hoosier who has been described as "an exceptionally good lawyer."
The vote Tuesday evening was mostly along party lines with Democratic Sens. Kyrsten Sinema and Mark Kelly, both of Arizona, as well as Sen. Joe Manchin of West Virginia joining Republicans in sending Kirsch to the federal bench. Indiana Republican Sens. Mike Braun and Todd Young also voted to confirm.
Kirsch was the U.S. Attorney for the Northern District of Indiana when President Donald Trump sent his nomination to the Senate Nov. 16. The Hoosier will fill the Indiana seat that became vacant when Amy Coney Barrett was elevated to the U.S. Supreme Court.
Formerly, that seat was occupied by Judge John Daniel Tinder, for whom Kirsch clerked. After graduating from Harvard Law School in 1999, Kirsch clerked from 2000 to 2001 when Tinder was a judge on the U.S. District Court for the Southern District of Indiana.
"Tom is an exceptionally good lawyer and I think he is a great choice for the judgeship," Tinder said, noting Kirsch is smart and brings a wide range of legal experience to the bench, having worked in private practice as well as the public sector and having handled both civil and criminal matters. "I'm very excited about Tom and envious that he will be working with my former colleagues."
Kirsch has served twice in the U.S. Attorney's Office for Northern Indiana and was a partner at Winston & Strawn LLP in Chicago from 2008 to 2017.
According to the 7th Circuit, no date has been set for when Kirsch will start.
Kirsch's nomination has been criticized because he will not bring diversity to the 7th Circuit bench.
The court is the only all-white federal appellate court and, with the addition of Kirsch, it has six male judges plus four male senior judges and only four female judges.
President Barack Obama had nominated former Indiana Justice Myra Selby to the 7th Circuit in 2016. She would have been the first African American and the first woman to fill the Indiana seat that federal appellate court. However, then-Republican Sen. Dan Coats blocked her nomination, insisting the state convene a special committee to screen and recommend potential judicial candidates.
After the Senate voted to invoke cloture Monday on Kirsch's nomination, the Leadership Conference on Civil and Human Rights urged he not be confirmed.
"… It is especially egregious that this is another white man nominated to an already all-white circuit court," Lena Zwarensteyn, fair courts and campaign director at the Leadership Conference, said in a statement. "… Our judges should reflect and represent the diversity of this nation, and (the Trump) administration has taken us back decades."
Several Democratic members of the Senate Judiciary Committee submitted follow-up questions to Kirsch about the absence of diversity on the 7th Circuit. Sen. Dick Durbin, D-Illinois, asked if it is a problem for litigants who appear before the Chicago-based court to not see any minority judges.
Kirsch replied diversity is important.
"I have been committed to diversity my entire career," he wrote in response. "All litigants who come before the Seventh Circuit and every court should be treated the same. All should be treated with dignity, respect, fairness, and receive impartial justice."
Senate majority leader Sen. Mitch McConnell, speaking on the floor Tuesday, called the judicial appointments "perhaps the most important" of all Donald Trump's accomplishments as president. During the past four years, three U.S. Supreme Court Justices and more than 220 Article III federal judges have been confirmed.
"These are brilliant, young, constitutionalist men and women in lifetime appointments who will renew the judiciary for a new generation — all because President Trump knows we need judges who respect the essential but limited job description the Framers wrote for our third branch of government," McConnell, R-Kentucky, said.
The day before the confirmation, the Senate voted to invoke cloture, 51 to 42, which limited the debate on Kirsch's nomination. Again, Democrats Manchin, Sinema and Kelly joined Republicans in voting yes.
Tinder noted the concerns raised about Kirsch being nominated and confirmed during the lame duck period of Trump's presidency. He maintained Kirsch still will be an asset to the court.
"Tom is of the caliber you want to see in a judge no matter what time he is nominated," the judge said.
Tinder said he has spoken with Kirsch several times during the confirmation process. As his former clerk prepares to join the judiciary, Tinder said his advice was to be careful and deliberate, work hard, and listen and read the materials both sides present.
"That will most likely lead him to good decisions," Tinder said.
President-elect Joe Biden will probably start his term with a vacancy on the 7th Circuit. After 37 years, Judge Joel Flaum took senior status Nov. 30, opening an Illinois seat on the appellate court. Also, a vacancy is scheduled to open on the U.S. District Court for the Northern District of Indiana when Judge Theresa Springmann takes senior status Jan. 23, 2021.
Please enable JavaScript to view this content.