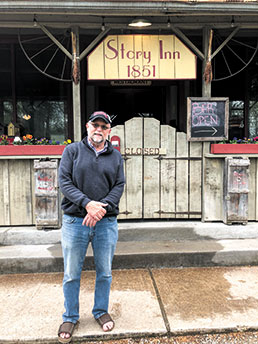 Richard "Rick" Hofstetter, the lawyer-turned-businessman who operated the popular Story Inn in southern Brown County, died Oct. 1. He was 63.
Born Aug. 27, 1956, Hofstetter purchased the town of Story, Indiana, in 1999 and began running the successful Story Inn and restaurant on the property. The town under Hofstetter became a popular venue for weddings and festivals, including the annual Indiana Wine Fair.
Earlier this year, Hofstetter listed the town for sale at a price of $3.8 million, though he told Indiana Lawyer he intended to keep possession of the inn and oversee its operations.
Prior to purchasing Story, Hofstetter was a business lawyer who was part of the team that took Conseco public. He also taught law-related topics at Indiana and Butler universities, including in the IU School of Public and Environmental Affairs, where he told IL he would continue to teach after selling the town.
Hofstetter earned his J.D. from Duke University Law School and his bachelor's and master's degrees from IU, where he had been a record-setting swimmer.
Outside of Story, Hofstetter's historic preservation work extended to his service as the first president of the Athenaeum Foundation Inc., which worked to save the Athenaeum building in downtown Indianapolis. His efforts were rewarded in 1992, when he received the Sandi Servaas Award for Historic Preservation.
Hofstetter was also an author, releasing "Kentuckiana Roads: A Freidenker's Story of Life in America's Flyover Middle" in 2017.
He is survived by his companion, Justine Fearnow, four children, five grandchildren, brother, sister and dog Snow.
A visitation will be held beginning 1 pm. Friday at Shirley Brothers Washington Memorial Chapel, 9606 E. Washington St., with a service to follow at 3 p.m. A gathering in Hofstetter's memory at the Athenaeum, 401 E. Michigan St., will follow from 5-7 p.m.
Please enable JavaScript to view this content.