Keeping low-risk and nonviolent offenders out of jail has long been a goal in the Indiana criminal justice system, especially with the recent implementation of Criminal Rule 26. But the novel coronavirus pandemic has cast concerns about inmate populations in a new, more urgent light.
As local governments and courts take steps to slow the spread of COVID-19, some counties are being more selective about which inmates remain incarcerated. The Indiana General Assembly considered legislation along those lines this year, with House Bill 1076 introduced to allow law enforcement to issues summonses to appear rather than making arrests for certain misdemeanor offenses.
House Bill 1076 didn't pass the Indiana Senate, but in light of COVID-19 restrictions, the Indiana Supreme Court urged trial courts to take a similar approach: issue summonses rather than bench warrants or notices of failure to appear. Local law enforcement seems to be following suit, adapting their arrest and incarceration policies to keep inmates at low risk for exposure.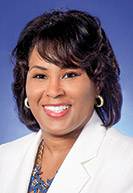 Proponents of HB 1076 say they hope, if nothing else, that the impact of COVID-19 might lead law enforcement agencies to see the merit of cite-and-release procedures endorsed by Indiana's Jail Overcrowding Task Force. Whatever changes are made, law enforcement officials say their eye will remain toward protecting public safety and making proper use of resources.
Legislative effort
House Bill 1076 was brought by Rep. Cherrish Pryor, an Indianapolis Democrat who said the idea came from a conversation with Marion County Prosecutor Ryan Mears.
Under the bill, law enforcement officers would have been given the discretion to issue summonses to appear for nonviolent misdemeanors committed in their presence, with a few exceptions: if an offender commits a violent misdemeanor with a victim, operates a vehicle while impaired, poses a risk to themselves, the officer or the public, or gives a false identification.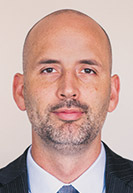 The Marion County Sheriff's Office was already using cite-and-release procedures when the bill was introduced, Sheriff Kerry Forestal said. For him, it was a matter of resources – those required to process and house a nonviolent misdemeanor defendant could likely be better spent on more pressing public safety issues.
Mears sees other pragmatic benefits to cite-and-release, such as the ability to de-escalate an otherwise tense situation between an officer and a suspect. And for Pryor, such measures would cut down on jail overcrowding.
Forestal did have some initial concerns with Pryor's bill, specifically its provisions requiring the issuance of a summonses and giving defendants two days to appear. Pryor later amended her legislation to a "may" provision and extended the timeframe to seven days.
The legislation passed the House Courts and Criminal Code Committee without opposition, with Rep. Wendy McNamara, the Evansville Republican who chairs the committee, joining as a co-author. It then advanced through the full House with a 97-1 vote, but made it no further.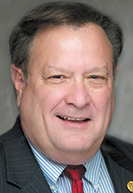 Rep. Mike Young, R-Indianapolis, chose not to call HB 1076 for a hearing in the Senate Corrections and Criminal Law Committee. Speaking with Indiana Lawyer, Young said he based his decision on the fact that provisions of the bill are already in law.
Indeed, speaking to the House committee, Mears acknowledged officers already have cite-and-release discretion. Passing HB 1076, the prosecutor said, would send a legislative signal that such discretion should be used more often than it is.
Pryor said she was surprised that her bill died in the Senate, especially considering the recommendation of the Jail Overcrowding Task Force. Among prosecutors, she said, some were supportive while others had concerns.
The Indiana Prosecuting Attorneys Council did not take a position on HB 1076 in the committee meeting, and it declined to comment to Indiana Lawyer about the legislation in light of the coronavirus pandemic.
However, IPAC senior counsel Dave Powell did raise one potential concern before the Courts and Criminal Code panel. That concern was around officers' liability – if a young officer, for example, chose to arrest a misdemeanor defendant rather than issue a summons, could the officer later be sued for false arrest?
Other organizations supported Pryor's bill, including the Indiana Public Defender Council and the Marion County Re-Entry Coalition. Indiana Lawyer reached out to the Indiana Sheriffs' Association for comment but did not receive a response.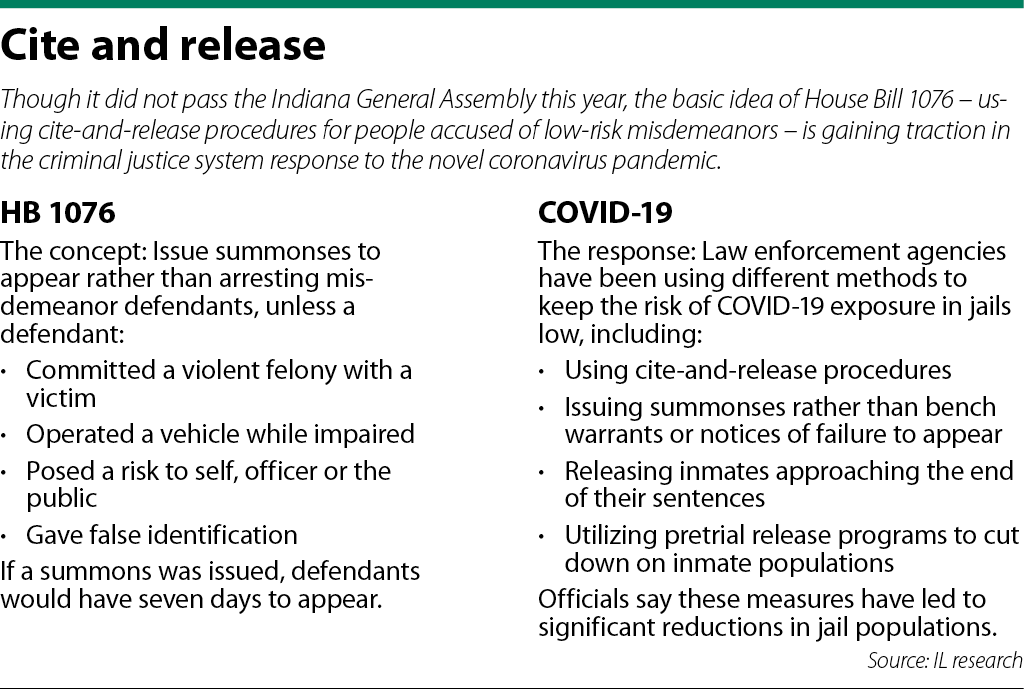 Coronavirus impact
Despite the bill's failure, COVID-19 has forced law enforcement agencies to take a different approach to their work.
In Tippecanoe County, the prosecutor's office is largely functioning as normal, Prosecutor Pat Harrington said – deputies are just working from home and using electronic filing to keep their dockets moving. But there are now weekly conversations between Harrington, the sheriff and other law enforcement personnel about the issues technology can't cover.
One solution in Tippecanoe County has been to release inmates from jail or community corrections who are close to finishing their sentences.
"What they've done in community corrections is looked at individuals who are close to finishing out and moved them on to the next phase of the process a little quicker, in a way that's not a risk of jeopardizing public safety," Harrington said.
Similar meetings are happening in Johnson County, according to Prosecutor Joe Villanueva, also with an eye toward public safety. The question they're asking, Villanueva said, is whether defendants pose enough of a risk to be taken to jail given concerns about virus exposure.
Hendricks County is building on its existing pretrial release program in response to COVID-19, Prosecutor Loren Delp said.
Pretrial detainees who are determined, using evidence-based metrics, to be low-risk will be released from jail, Delp said. Technically, though, they were still incarcerated pending their review, he added, so his county is not yet using a true cite-and-release procedure.
Even so, Delp said, the Hendricks County pretrial release program is making a difference in light of COVID-19.
"It's on steroids," he said.
Potential reforms
According to Forestal, cite-and-release has made a noticeable difference in the county's jail population as the state deals with the pandemic. There's been a 61% drop in booking arrests, he said.
Additionally, data provided to Indiana Lawyer shows that the Marion County Sheriff's Office reported 2,226 inmates on Feb. 26, exceeding capacity. But by March 26, the number had dropped to 1,718 – under capacity.
"If there is a 'benefit' to this (coronavirus), at least people will see that this can be done," Forestal said. "… We'll be able to look back at the data."
Harrington, Villanueva and Delp have all seen a drop in crime likely attributable to COVID-19, and Forestal thinks there's likely anecdotal evidence to support the same in Marion County. People staying home has cut down on drunken driving and thefts, for example, though Villanueva said Johnson County has seen a spike in domestic violence cases.
"People are cooped up and can't go anywhere, so tempers flare and people act in ways they normally wouldn't because they don't have a release valve," he said. Even so, the Johnson County jail population had dropped to 320 as of March 26, compared to 400-plus on a normal day.
For Delp, the goal for Hendricks County is to get to a place where law enforcement can determine on-site whether an offender can be released rather than taken to jail. The county is looking into the Hawaii Proxy Model, he said, with the goal of having information available that would keep low-risk offenders from having to spend any time incarcerated before their trials.
Indianapolis police are also issuing more summonses now, Mears told Indiana Lawyer. He hopes the forced changes that came about because of COVID-19 will lead to long-lasting reform in law enforcement practices.
"I think potentially part of the concern was, how would law enforcement partners adjust to summonses?" Mears said. "I think the answer is, they've adjusted quite well, quite easily."•
Please enable JavaScript to view this content.