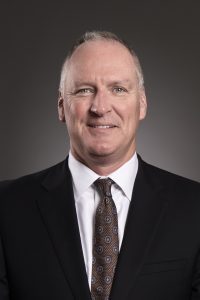 A. Richard M. Blaiklock has been named managing partner of Lewis Wagner LLP, where he is credited with helping to create the firm's business services practice group. In his new role, he will lead the executive committee, which leads the firm's strategic initiatives.
"Rich has long been a key contributor to the firm's success, including the creation of the firm's Business Services Practice Group many years ago which allowed Lewis Wagner to further diversify," said Jason Lee, who just completed his three-year term as managing partner. "… I have no doubt that Rich will lead the firm in the same manner he built the Business Services Group — with a focus."
Blaiklock's practice includes representing businesses, government entities and individuals in a variety of commercial and constitutional disputes. He has argued multiple times before the Court of Appeals of Indiana, the Indiana Supreme Court and the 7th Circuit Court of Appeals.
He earned a bachelor's degree in psychology from Hanover College in 1990, then earned a J.D., summa cum laude, in 1997 from the Indiana University Robert H. McKinney School of Law. He joined Lewis Wagner in 2001.
In a 2020 Indiana Lawyer article from the Defense Trial Counsel of Indiana, Blaiklock and Lee discussed how they began working together and developed their practice at Lewis Wagner.
"The first thing you have got to do before you even think about developing a book of business is to just be good at what you do," Blaiklock told DTCI. "Reading and learning about marketing — it matters nothing if you are not good at what you do. You have got to get that base of being good at what you do before you can think about going out and growing things."
Outside his practice, Blaiklock is a strong supporter of the Leukemia & Lymphoma Society. He is currently serving on the organization's board of trustees.
In 2017, he was named the society's Indianapolis Man of Year for raising $266,775 in 10 weeks.
Lewis Wagner, founded in 1955 in Indianapolis, has 39 attorneys practicing in the areas of business services, litigation and real estate along with alternative dispute resolution and personal services.
Recently, the firm relocated to a refurbished 1920s manufacturing facility that at one time was a box factory.
Please enable JavaScript to view this content.