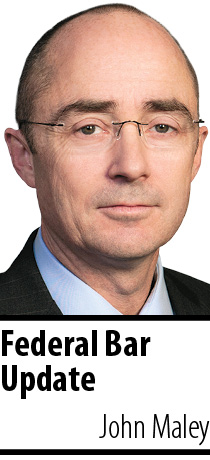 As was made public back in November of 2019, Judge Theresa Springmann from the Northern District took senior status in January of this year. She commenced service on the federal bench in 2003 and served as chief judge from 2017 through May of 2020. Senators Young and Braun announced in November of 2019 that they were accepting applications for the vacancy that would be created by her senior status.
Meanwhile, Judge Joel Flaum on the 7th Circuit Court of Appeals took senior status in late November of 2020. He was appointed to the appellate bench in 1983.
The nominations for these vacancies will now be made by President Joe Biden, and the dynamics and timing of these nominations remain to be seen. There are currently 53 vacancies across the federal courts.
Divisional venue
By statute, the federal district courts across the nation have specified divisions. In Indiana, 28 U.S.C. § 94 provides that the Northern District has three divisions (Fort Wayne, Hammond, and South Bend), and the Southern District has four divisions (Evansville, Indianapolis, New Albany, and Terre Haute).
In filing new actions in Indiana's federal courts, does divisional venue matter? It depends. For starters, although 28 U.S.C. § 1393 formerly addressed divisional venue, it was repealed by Congress in 1988. And 28 U.S.C. § 1391(b) provides the judicial district (not division) in which an action can be filed.
But 28 U.S.C. § 1406 still references divisions, providing, "The district court of a district in which is filed a case laying venue in the wrong division or district shall dismiss, or if it be in the interest of justice, transfer such case to any district or division in which it could have been brought."
And 28 U.S.C. § 1404 likewise references both districts and divisions: "(a) For the convenience of parties and witnesses, in the interest of justice, a district court may transfer any civil action to any other district or division where it might have been brought or to any district or division to which all parties have consented. (b) Upon motion, consent or stipulation of all parties, any action, suit or proceeding of a civil nature or any motion or hearing thereof, may be transferred, in the discretion of the court, from the division in which pending to any other division in the same district."
So can a case that seems like it should be, say, in Hammond be filed in Fort Wayne? Or can a case that seems like it should be in Evansville be filed in Indianapolis?
Some guidance comes from Local Rules. In the Northern District, Local Rule 3-1 directly addresses this topic, providing: "(a) Proper Venue. Divisional venue is determined by applying the district venue provisions of 28 U.S.C. §§ 1391-1413 to the divisions of the Northern District of Indiana as defined in 28 U.S.C. §94(a). (b) Improper Venue. On its own or the motion of a party, if the court determines a case is filed in a division without proper venue, the court may, pursuant to 28 U.S.C. § 1406: (1) dismiss the case; or (2) in the interest of justice, transfer the case by issuing an order directing the clerk to reopen the case in a proper division. (c) Waiver. If a party does not interpose a timely and sufficient objection to divisional venue, the objection is waived."
Case law applies Local Rule 3-1 in a straightforward fashion. In a criminal case, United States v. Newland, 2020 U.S. Dist. LEXIS 118799 (N.D. Ind. July 7, 2020), Judge Philip Simon applied Local Rule 3-1 to move the case from the Hammond Division to the South Bend Division. Although Judge Simon also addressed and relied upon criminal rules of procedure and precedent later in the opinion, from the outset Local Rule 3-1 was applied.
Judge Simon wrote, "Defendants … are Elkhart, Indiana police officers who are alleged to have committed criminal civil rights violations in Elkhart County which is situated within the South Bend Division of this Court. For reasons that are not particularly clear, the case was assigned to the Hammond Division even though the South Bend Division is where it should have been filed under our local rules. See N.D. Ind. L.R. 3-1. The defendants now seek to change the divisional venue in this case from Hammond to South Bend. Because the incident in question occurred in the South Bend Division, and the witnesses and defendants all likely reside there, their motion will be GRANTED."
In the Southern District, no Local Rule speaks to divisional venue. Caselaw is helpful here as well.
For instance, in Collins v. City of Seymour, 2014 U.S. Dist. LEXIS 8902 (S.D. Ind. Jan. 24, 2014), defendants sought to move an Indianapolis Division case to the New Albany Division. Judge Tanya Walton Pratt denied the motion, writing initially, "A civil action may be brought in 'a judicial district in which any defendant resides, if all defendants are residents of the State in which the district is located' or 'a judicial district in which a substantial part of the events or omissions giving rise to the claim occurred.' 28 U.S.C. § 1391(b)(1), (2). When a district does not have a divisional venue rule, the action can be filed in any division within that district. See Deputy v. City of Seymour, 2013 U.S. Dist. LEXIS 80848, (S.D. Ind. June 7, 2013). The Southern District of Indiana does not have a divisional venue rule, so it was not inappropriate for Mr. Collins to file this action in the Indianapolis Division."
Judge Pratt then turned to Section 1404(a)'s transfer provision for "convenience of parties and witnesses in the interest of justice." Balancing the factors, she determined that defendant had not met its burden for discretionary transfer.
Thus, divisional venue plays out differently in the Northern and Southern Districts due to the Northern District having a Local Rule addressing the issue. In the Southern District the Section 1404(a) standards govern.•
• John Maley – [email protected] – is a partner with Barnes & Thornburg, LLP, practicing federal and state litigation, employment matters, and appeals. He clerked for Judge Larry McKinney from 1988-90. Opinions expressed are those of the author.
Please enable JavaScript to view this content.