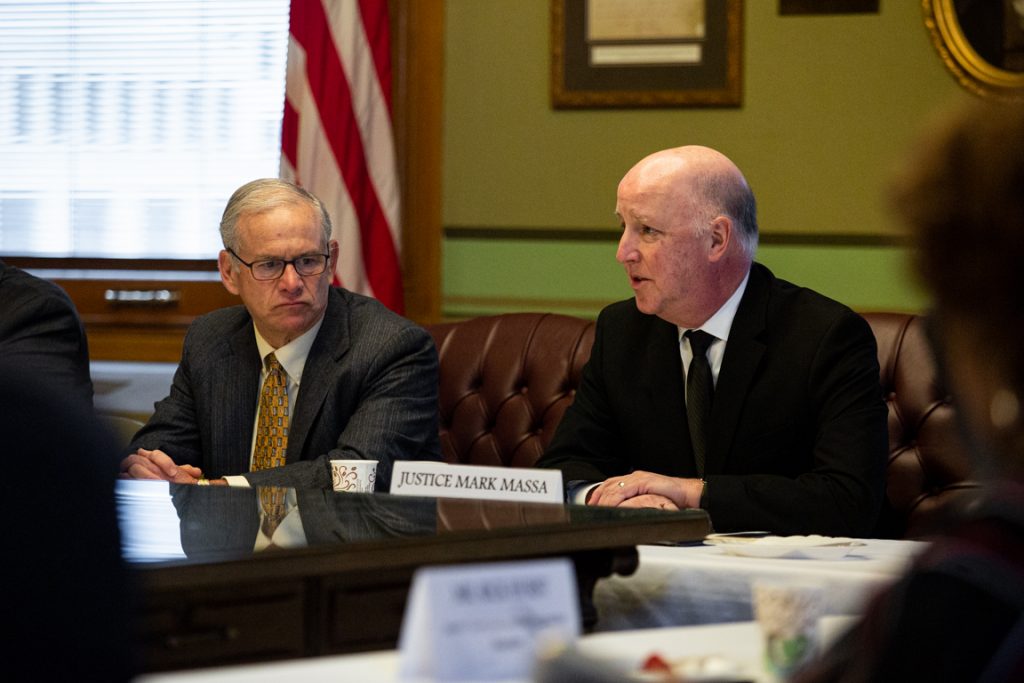 The second iteration of retention interviews for Marion County judges will begin in less than a month.
In a meeting Wednesday, members of the Marion County Judicial Selection Committee set aside March 9 to interview the 13 Marion Superior Court judges seeking retention. Those judges are:
Cynthia J. Ayers, Civil Division 4
David J. Certo, Criminal Division 12
Elizabeth Ann Christ, Criminal Division 24
Angela Davis, Criminal Division 16
Patrick J. Dietrick, Civil Division 12
Kurt M. Eisgruber, Civil Division 6
Shatrese M. Flowers, Criminal Division 2
Christina Klineman, Criminal Division 17
Gary L. Miller, Civil Division 3
Timothy W. Oakes, Civil Division 2
James B. Osborn, Civil Division 14
Marcel A. Pratt, Traffic Division
Marc T. Rothenberg, Civil Division 7
The 13 judges each filed with the committee, the Marion County Clerk's Office and the Indiana Secretary of State's Office notice of their intent to place their names on the November 2020 ballot for the question of retention. The 14-member Judicial Selection Committee will interview the judges and make a public recommendation as to whether the jurists should be retained.
The Marion County Judicial Selection Committee was created in 2017 through legislation that moved the Indianapolis courts to a merit-based selection system for the Superior Courts. The county's Circuit Court judge, currently Judge Sheryl Lynch, remains an elected position.
As was done in 2018 – when 17 judges sat for the first-ever Marion County retention interviews – the judges will participate in 20-minute interviews with committee members. Members expect to complete all interviews on March 9, but they are leaving open the morning of March 10 to continue their executive session discussion, if necessary.
After meeting in executive session to discuss the candidates and their qualifications, the committee will publicly vote on its retention recommendation for each judge. In 2018, all 17 judges were recommended for retention.
Then in May, the Judicial Selection Committee will reconvene to interview applicants to fill three upcoming vacancies on the Marion Superior Court.
Judges Barbara Cook Crawford, David Dreyer and Marilyn Moores each declined to seek retention in 2020. Dreyer announced his upcoming plans to step down from the bench last summer, while Crawford and Moores' retirement came to light when they did not file for retention by last Friday's deadline.
The Judicial Selection Committee will interview applicants to succeed those three jurist May 18-20. Members will select three finalists for each position – for a total of nine finalists – and send those names to Republican Gov. Eric Holcomb, who makes the final selection.
Committee attorney Jim Maguire reviewed the qualifications members should look for in applicants, including legal experience, public service and potential judicial temperament, among other factors. But politics are also at play, with the political parties of the candidates necessarily factoring into the committee's recommendations.
Per statute, no more than half of the 36 judges of the Marion Superior Court can be from the same party. Moores is a Republican while Crawford and Dreyer are Democrats, so the committee will be tasked with making recommendations for successors who maintain partisan balance.
Of the judges seeking retention, Ayers, Certo, Dietrick, Eisgruber, Miller, Oakes and Rothenberg are Republicans, and Christ, Davis, Flowers, Klineman, Osborn and Pratt are Democrats.
Indiana Supreme Court Justice Mark Massa, who chairs the Judicial Selection Committee, noted he committee faced the same situation in 2018.
That year, judges Thomas Carroll, Michael Keele and Becky Pierson-Treacy chose not to seek retention. Carroll and Pierson-Treacy were Democrats, while Keele was a Republican.
Of the nine finalists recommended to fill the 2018 vacancies, Charnette Garner, Jennifer Harrison and Mark Jones were chosen by Holcomb to join the Marion Superior Court bench. Massa said those appointments were a credit to the work of the committee and to Holcomb.
Committee members agreed to set aside three days for interviews in May to allow time for a significant number of interviews. Though the committee has discretion not to interview all candidates for the Superior Court vacancies, it chose in 2018 to meet with all 40 candidates.
Committee member Lacy Johnson, a partner at Ice Miller LLP, said doing so helped boost public confidence in the merit-selection process by giving all interested applicants a chance to make their case. When the committee was created, it was met with significant skepticism, particularly among advocates for race and gender diversity on the bench.
"I think the reason that some of the kudos we got was because of the process we ran, and that everyone in the community that was anxious about this new system felt good that everyone that had an interest got a shot," Johnson said. "I think for our broader community, it would be well-served to spend the time interviewing anybody that has expressed an interest."
Other committee members agreed with Johnson, though members still retain their discretion not to interview all applicants come May.
Official notice of the call for applicants will be posted this week, Massa said. The committee is required by law to post the announcement within seven days of receiving notice of vacancies, which Massa received Tuesday.
Once the announcement is posted, interested candidates will have 45 days to apply.
The makeup of the Judicial Selection Committee has changed slightly since it first met in 2018.
Mindy A. Westrick, vice president of the Indiana Energy Association, has replaced Bryce Carpenter as a representative of the Marion County Republican Party. Also, Indiana House Speaker Brian Bosma must appoint a new representative after his previous designee, Jennifer Thuma, resigned.
In addition to Massa, the committee is led by vice chair Cale Bradford, chief judge of the Indiana Court of Appeals. Other members are:
Lacy Johnson, representing House Democrats
Rick Hurst, representing Senate Republicans
Billie Breaux, representing Senate Democrats
Michael Gaerte, representing the Indianapolis Bar Association
Katherine Jackson-Lindsay, representing the Marion County Bar Association
Lee Christie, representing the Indiana Trial Lawyers Association
Susan Cline, representing the Defense Trial Counsel of Indiana
Mindy Westrick and Adrianne Slash, representing the Marion County Republican Party
Cordelia Lewis Burks and Andy Mallon, representing the Marion County Democratic Party
Committee members serve four-year terms and are eligible for reappointment to additional terms.
"I look forward to another several months of a good working relationship as we continue to ensure the quality of the Marion Superior Court going forward," Massa told the committee.
Please enable JavaScript to view this content.