Editor's note: This story has been updated.
As the newly named Marion County prosecutor, Ryan Mears promised to be an independent leader who works for the good of the Indianapolis community and takes a tough stance on violent crime.
Mears, formerly the chief trial deputy in the Marion County Prosecutor's Office, was named prosecutor Saturday by the Marion County Democratic Party. Elected Prosecutor Terry Curry resigned last month amid health issues,  and precinct committee members gathered Saturday at the Julia Carson Government Center to name his successor.
Mears will now serve out the rest of Curry's elected term, which runs through Dec. 31, 2022.
"I couldn't be more excited," Mears told reporters and supporters gathered around him after his victory. "I think this just goes to show everything Prosecutor Curry has been doing over the last eight years. I can't tell you how many precinct committee people I talked to, and most of them said, 'Hey, if Terry Curry says you're good enough for the job, that's good enough for us.'"
There were 309 eligible voters, though it was not immediately clear what the final vote count was between Mears and Tim Moriarty, special counsel in Mayor Joe Hogsett's office who was also seeking to succeed Curry.
A cheer went up from the crowd when Mears was announced as the next prosecutor. His acceptance speech was not long, though he threw up his hands as he exclaimed "thank you" to the voters.
Before he left the voting room, Mears was sworn into office with Curry looking on.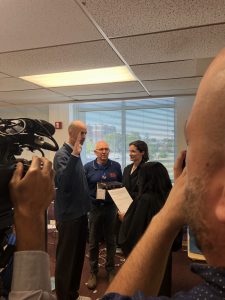 Mears has been serving as interim prosecutor since Curry stepped down Sept. 23. He's served as the chief trial deputy since 2015 and has 12 years of experience as a Marion County deputy prosecutor.
He is a graduate of St. Joseph's College in Rensselaer and of Indiana University Robert H. McKinney School of Law in Indianapolis.
There were some questions surrounding Moriarty's ability to be an independent prosecutor given his ties to the mayor's office. There were also allegations that Kate Sweeney Bell, chair of the county Democrats, removed Mears' supporters and friends from the list of precinct committeemen and women, and also removed current or former employees of the Marion County Prosecutor's Office, according to the Indianapolis Business Journal. 
Asked after his win if he could be an independent prosecutor, Mears said there was no question that he could.
"I think this week proved it – that we're going to try to do the right thing regardless of what the circumstances are," Mears said. "As I said on Monday, 'It's always the right time to do the right thing.' That's what we're going to continue to do."
In discussing his independence, Mears was referencing his announcement on Sept. 30 that the MCPO will no longer prosecute simple possession of less than 1 ounce, or roughly 30 grams, of marijuana. He made the announcement in his capacity as interim prosecutor, though he said the policy had been in discussion for at least two years.
Though Mears said he wasn't sure if the marijuana policy made a difference in the prosecutor's race, he said the announcement elevated the discussion about how the office under his leadership will prosecute cases.
"I hope it also sends a pretty clear message that I'm going to be someone who is independent, who's going to do what's the right thing to do under the circumstances," he said.
"Truth to power," Mears added, responding to a question about the pushback the marijuana policy has received. "We're not changing."
The driving force behind the marijuana policy shift was a desire to focus prosecutorial and law enforcement resources on the rash of violent crime in Indianapolis, Mears said during the Sept. 30 announcement. He addressed that desire again on Saturday.
"We're going to give everybody the opportunity to succeed," Mears said. "But we're going to draw a hard line in the sand when it comes to violent crime."
Hogsett and Rep. Andre Carson, a Democratic Congressman from Indianapolis, each had backed Moriarty as Curry's successor. Asked how he would work with Hogsett and Carson, Mears said they all need to come together.
"We're all Democrats at the end of the day," he added. "Obviously they took one position, and the precinct voters didn't necessarily agree with where they were coming out on this issue."
The room where the election was held was at capacity as precinct committee members – many donning shirts, buttons and signs supporting both Mears and Moriarty – cast their ballots. Mears celebrated that turnout as he celebrated his victory.
"I think it underscores the importance of this job," he said, "and the ability that this job can have on the community in terms of hopefully having a positive impact on people's lives."
Please enable JavaScript to view this content.