A week after he became acting Marion County prosecutor, Ryan Mears announced the office will no longer be prosecuting defendants accused of possessing 30 grams or less of marijuana.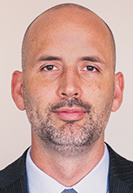 "Too often, an arrest for marijuana possession puts individuals into the system who otherwise would not be," Mears said at a press conference Sept. 30 announcing the change in policy. "The enforcement of marijuana policy has disproportionately impacted people of color, and this is the first step to addressing that."
Although the policy change came a week after Terry Curry stepped down as Marion County prosecutor, Mears said the decision not to prosecute possession of small amounts of marijuana came after two years of discussion. Also, the office already has been shifting toward fewer prosecutions.
In 2018, 74% of marijuana possession cases were dismissed in Marion County and so far in 2019, that number has risen to 81%.
Mears said the new policy will not impact public safety, and that there is no correlation between possessing a small amount of marijuana and violent crime. The policy does not apply to individuals under the age of 18. Also, cases involving trafficking or dealing marijuana and driving under the influence of marijuana will continue to be prosecuted in Marion County.
Currently, under Indiana law, possession of marijuana in an amount less than 30 grams can be prosecuted as a Class B misdemeanor punishable by up to 180 days in jail and a fine of $1,000.
The policy announcement put Mears, who has 12 years of experience in the Marion County Prosecutor's Office, into the spotlight just days after being tapped to temporarily lead the organization.
Mears was named the acting Marion County Prosecutor after Terry Curry resigned Sept. 23 because of health concerns. He has since announced his candidacy to fulfill the three years remaining on Curry's term.
"Terry is my mentor, he's my friend and I've learned so much from him," Mears said. "He's been such a good steward of the office."
The process for choosing a permanent replacement for Curry will be done by caucus. Marion County precinct committeepersons will meet before the end of October and vote for one of the candidates to serve as prosecutor at least until Dec. 31, 2022.
Mears started at the prosecutor's office in 2006 after his graduation from Indiana University Robert H. McKinney School of Law. He spent one year in private practice, representing civil and criminal defendants, which made an impression that he carried with him as he returned to the prosecutor's office.
"I think it's important to be able to see both sides and, also, it gives you a really good insight into what people are going through," Mears said. "I think it's always important to remember, it's not only the family of the victim who's going through things, the defendant's family is going through a lot, too."
Mears plans to keep going to court and leading trials as he handles the administrative duties of the office. He believes his direction on what cases are filed and how cases are resolved will be better appreciated by the deputy prosecutors if he regularly goes to court.
"That's one of the things that I've always tried to do is continue to try murder cases and be in jury trials or bench trials so people see I'm willing to make the same sacrifices as them to hold people accountable," Mears said.•
Please enable JavaScript to view this content.