Michelle Allen, deputy director and general counsel of the Office of Administrative Law Proceedings, has been selected as the office's new director, Indiana Gov. Eric Holcomb announced Thursday.
The office was created in 2019 to provide oversight and ensure impartiality to administrative law proceedings in Indiana. It is housed within the State Personnel Department.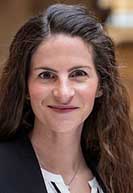 Allen, who joined the office when it launched in July 2020, has served as interim director since December 2020, when Holcomb tapped former director Matthew Brown to lead the Indiana State Personnel Department. As director, Allen will be responsible for administering the office, hiring administrative law judges and assigning the judges to proceedings.
Before joining the office, Allen worked at the Indiana Department of Homeland Security as deputy general counsel and project manager. She served in the Marion County Public Defender Agency from 2011 to 2017.
Allen earned an undergraduate degree from Purdue University and a law degree from the Indiana University McKinney School of Law.
Please enable JavaScript to view this content.