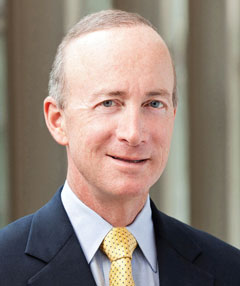 Former Gov. Mitch Daniels, who just completed a 10-year stint as Purdue University president, said Tuesday he will not run for the U.S. Senate, ending speculation that he would jump into the 2024 race after sitting Sen. Mike Braun decided to run for governor.
Daniels, a Republican who worked in the Ronald Reagan and George W. Bush administrations, said in a statement that he made the decision after "what I hope was adequate reflection."
"With full credit and respect for the institution and those serving in it, I conclude that it's just not the job for me, not the town for me, and not the life I want to live at this point," he said.
CLICK to read Mitch Daniels' full statement.
Daniels released the statement after a trip to Washington, D.C., in which he reportedly discussed the possibility with party leaders and the job with other senators. It also comes after the conservative group Club for Growth, which supports U.S. Rep. Jim Banks, a Republican who has already announced his Senate candidacy, launched a preemptive attack of Daniels, calling him an "old guard Republican."
But Daniels said his decision was based in part on the fact that he "never imagined that I would be well-suited to legislative office, particularly where seniority remains a significant factor in one's effectiveness, and I saw nothing in my recent explorations that altered that view."
Daniels' supporters had also urged him to consider a third run for governor.
"Maybe I can find ways to contribute that do not involve holding elective office," he said. "If not, there is so much more to life. People obsessed with politics or driven by personal ambition sometimes have difficulty understanding those who are neither. I hope to be understood as a citizen and patriot who thought seriously, but not tediously, about how to be deserving of those labels and simply decided the U.S. Senate was not the only way."
Indiana Democrats responded to the news with a statement from Chair Mike Schmuhl that Daniels' "announcement today shows that there's little room in today's Indiana Republican Party for candidates who don't pledge allegiance to Donald Trump before anything else.

"Daniel's 'no social issues' mantra would have had a tough time winning a GOP primary in Indiana and the knives were already drawn from groups saying that Daniels was a relic of the past."
No Democrats have announced an intention to seek the Senate seat.
Banks, who represents Indiana's 3rd District in the House, announced earlier this month that he would seek the Republican nomination. That follows Braun's announcement in November that he would run for governor.
"One thing is clear to me and that's that Hoosiers deserve a conservative fighter in the Senate," Banks told the Indiana Capital Chronicle when he announced his Senate candidacy. "And Mike Braun has been a consistent conservative and we should have a conservative replace Mike Braun and I want to be that conservative leader, that conservative fighter."
National Republican Senate Committee Chair Steve Daines said in a statement Tuesday that he has "utmost respect for the years of service Gov. Daniels has given to Indiana and wish him well in the future."
Although other Republicans—including Rep. Victoria Spartz, R-5th District—are also said to be considering a run, Danies' statement seemed to indicate the party's preference for Banks.
"I'm looking forward to working with one of our top recruits this cycle, Jim Banks, to keep Indiana red in 2024," he said.
Please enable JavaScript to view this content.