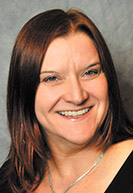 By Loretta Oleksy
"My favorite part of practicing law is giving and receiving feedback," said no lawyer or judge ever.
We all had a vision of what practicing law would be like. Maybe you imagined yourself fighting for justice like Jack McCoy of "Law & Order" or the iconic Atticus Finch. Perhaps your vision was a little more light-hearted, a la Vinny Gambino or Elle Woods. Whatever you pictured, it's probably safe to say it didn't include delegating tasks, mediating disputes among employees, or setting boundaries with or delivering bad news to clients. No one wants to see that movie. Yet this is a significant part of the work of most lawyers, and we leave law school unsuspecting and ill-equipped for this reality. Often we default to feedback styles that mimic our style with opposing counsel, or worse yet, we shy away from giving feedback.
Why does this matter? For those of us who manage employees, how we engage (or don't engage) them impacts how our work gets done. A 2009 Gallup study found that employees whose managers provided feedback based on strengths were 30 times likelier to be actively engaged than those whose managers provided feedback based on weaknesses. Think you can avoid that problem by simply not giving feedback? The same study found that managers giving little or no feedback to employees resulted in four out of 10 employees being actively disengaged. Even for solo practitioners with no employees, knowing how to provide feedback to our clients impacts the bottom line. The 2017-18 annual report of the Indiana Supreme Court Disciplinary Commission lists communication/non-diligence as the third most common reason for filing of a disciplinary complaint.
In her 2018 book "Dare to Lead," author and researcher Brene Brown writes that the consequences of shying away from difficult conversations in the workplace include:
Diminishing trust and engagement;
Increases in problematic behavior, including passive-aggressive behavior, talking behind people's backs, pervasive backchannel communication (or "the meeting after the meeting"), gossip and the "dirty yes" (when I say yes to your face and then go behind your back), and;
Decreasing performance due to a lack of clarity and shared purpose.
The solution is simple, but not easy. Brown says it all comes down to a slogan she heard decades ago in a 12-step meeting: "Clear is kind. Unclear is unkind." Author and former Google and Apple exec Kim Scott describes a similar approach in her book "Radical Candor." Radical candor happens when our behavior combines two concepts: care personally and challenge directly. The first dimension of Scott's approach suffers when we cling to a rigid view of "being professional." To many of us, Scott says, "being professional means show up at work on time, do your job, don't show feelings. … The result is that nobody feels comfortable being themselves at work." Caring personally means caring not just about the person's job performance or career trajectory, but also recognizing we are all human beings with human feelings that we don't magically turn off while we are at work. It means taking the time to learn what is important to people and sharing what is important to us. It is only after we have built that foundation of trust that we can successfully undertake the second dimension, challenging directly. Challenging directly is uncomfortable for many of us because it embraces conflict rather than avoiding it. It means being willing to share what isn't going well as well as what is and being open to admitting when we make mistakes and working to fix what isn't working.
If we plot our behavior on a graph with caring personally on one axis and challenging directly on the other, we can explore how feedback falls flat if we aren't incorporating both concepts. When we care personally but fail to challenge directly, we are engaging in what Scott calls ruinous empathy. We've all witnessed ruinous empathy when we've observed well-meaning parents who can't bring themselves to set limits for their kids. When we let poor performance slide or when we can't bring ourselves to tell our client they don't have a strong case, we are practicing ruinous empathy. In the former situation, our employee doesn't know what behavior they need to improve and will be shocked when things get worse and we eventually have to correct or even fire them. In the latter situation, we are building unrealistic expectations for our client and setting them up for disappointment and perhaps even anger regarding our representation.
Likewise, radical candor is not an invitation to criticize with abandon; if we challenge directly without caring personally, we aren't providing clear feedback, we are practicing obnoxious aggression. We've all experienced this type of feedback at some point; it's often followed by the phrase "I'm just being honest" or "it's nothing personal," but we all know it feels awful. Obnoxious aggression creates employees who are looking for work elsewhere or worse, actively working against us. It creates clients who don't hire us again, opposing counsel who dread working with us and judges who cringe when they see our name on the docket.
If we neither care personally nor challenge directly, we are practicing manipulative insincerity. People are manipulatively insincere when they are too focused on being liked or believe they can gain some sort of advantage. For people of my generation, think Eddie Haskell of "Leave it to Beaver." Manipulative insincerity is less about the true opinion of the feedback giver than it is about appealing to the emotions of the receiver. Manipulative insincerity not only results in the same problems we see with ruinous empathy, but even worse, it breeds mistrust and even contempt. Let's face it, most of us know when someone is being manipulatively insincere, and we tend to gravitate away from those people.
Even Atticus Finch had to do more than fight for justice in the courtroom; he provided uncomfortable feedback to Scout and Jem, as well as his community, and he did so with compassion. While managing employees or communicating with clients may not be what we dreamed of in law school, maybe embracing those tough situations and showing people that we care deeply enough about them as humans to challenge them directly is exactly what the practice of law is all about.•
• Loretta Oleksy is an attorney, a licensed social worker and the deputy director of the Indiana Judges and Lawyers Assistance Program. Opinions expressed are those of the author.
Please enable JavaScript to view this content.