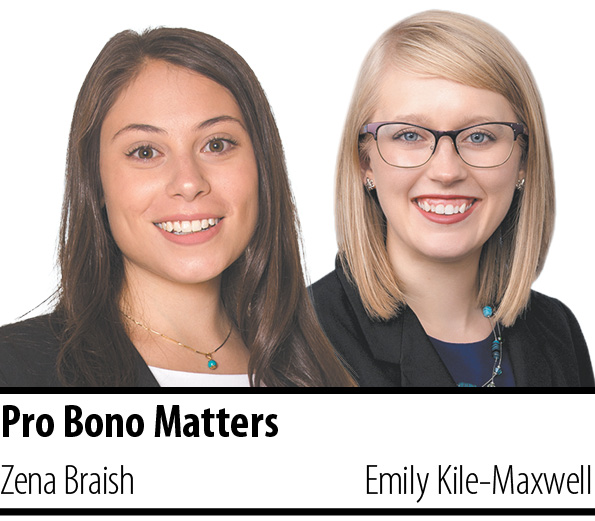 In a world where everything you need to know about a person is in the palm of your hand, some Indiana citizens have a hard time leaving their past mistakes behind. In order to address this, many lawyers dedicate their pro bono efforts to assisting with expungement clinics, which help eligible prior offenders seal certain arrest and conviction records.
Indiana was among the first states in the nation to enact "second chance" legislation. The expungement statute, first enacted in 2013 and amended several times since, provides a civil remedy for the expungement of arrest records that did not lead to a conviction as well as convictions for certain categories of crimes. This process helps previous offenders reenter the community and reduces the negative impact of publicly accessible arrest records and qualifying convictions.
When a conviction is successfully expunged, it's treated as though the person had never been convicted of the offense. This has a significant effect on the quality of a previous offender's life by restoring their civil rights and preventing discrimination that keeps them from securing employment, housing, and professional licenses. By helping previous offenders reintegrate into society, expungement is also thought to reduce the rate of recidivism. And while many past offenders are ineligible for expungement, there are other ways to assist them with general reentry efforts. For example, there is ample need for pro bono legal aid aimed at driver's license reinstatement and specialized driving privileges.
Since the expungement statute came into effect, thousands of Hoosiers have sought expungement of prior records, leading to enormous demand for pro bono legal services. This demand has not leveled off. The need for expungement services is ubiquitous throughout the state of Indiana, which has the 19th highest imprisonment rate in the nation at 3,999 per 100,000 residents, according to the Sentencing Project. Clinics and attorneys providing pro bono services, however, are largely concentrated in Marion, Lake and Allen County, leaving significant need for legal representation in rural areas. This leaves a gap in pro bono services that must be filled in creative ways.
Jessica Beheydt, one of the first providers of reentry legal assistance in rural Indiana, first got involved with expungement work as a law student at Indiana University Maurer School of Law, where she and others started an expungement help desk in Bloomington. Now, as a Skadden fellow working with Indiana Legal Services, she supervises six law students and two undergraduate paralegals as they represent Hoosiers in filing expungement petitions. The Bloomington Expungement Help Desk is also supported by the Center for Rural Engagement and IU Maurer.
Beheydt said attorneys volunteering their time for expungement and reentry pro bono opportunities generally can be trained to file expungement petitions or driver's license reinstatement applications in a matter of hours. That small investment, though, can have an extraordinary impact on the lives of their clients.
According to a 2016 study by the Indiana University Robert H. McKinney School of Law Health and Human Rights Clinic, approximately 420,000 Indiana residents had suspended driver's licenses. Approximately 216,000 — more than half of those suspensions — resulted from unpaid traffic fines.
"In most of our state, we don't have public transit," Beheydt said. "So to get to work, you're going to keep driving, and you're going to get pulled over. I've seen people who have multiple lifetime suspensions because they couldn't figure out how to get rid of a 20-year speeding ticket that they couldn't afford to pay."
Pro bono attorneys can assist those Hoosiers in applying for driver's license reinstatement or specialized driving privileges. They can also assist with expungement petitions, either of nonconviction arrest records (for charges that were dismissed) or of convictions.
Beheydt said that many employers will check public records for arrests but not know how to tell whether a case was dismissed or charges were dropped. Attorneys can easily learn how to file those non-conviction record expungement petitions, which are routinely granted. Expungement of conviction records can be more complicated, and the process depends on the severity of the conviction. Beheydt said one of the more challenging parts of expungement work, particularly for pro se litigants, is understanding that Indiana has a "once in a lifetime" expungement process. In other words, an individual can have his or her conviction record expunged once. It can be difficult — but important, given the once-in-lifetime rule — to compile a complete criminal history from various state records. Attorneys can help with that process too.
Indiana Legal Services is not the only legal services organization in Indiana providing reentry assistance. Here are some others:
Indianapolis Legal Aid Society: The Indianapolis Legal Aid Society has partnered with the Marion County Prosecutor's office and other local programs in the past to provide assistance to individuals seeking to have their driving privileges restored. Lawyers interested in volunteering with the Indianapolis Legal Aid Society should visit www.indylas.org/pro-bono.
Second Chance Reentry Assistance Program: The Second Chance Reentry Assistance Program (SCRAP), affiliated with the IU McKinney School of Law, is a law student organization that performs reentry-related community outreach by providing brief service and advice in a variety of areas including employment, housing, driver's licenses, and public benefits.  SCRAP collaborates with other groups and clinics to provide expungement services to the community including Professor Carrie Hagan's Civil Practice Clinic at McKinney as well as the law firm of Faegre Drinker Biddle & Reath LLP.
Neighborhood Christian Legal Clinic: The Neighborhood Christian Legal Clinic runs the Project GRACE Expungement Help Desk, which operates out of the Indianapolis-Marion County City-County Building. Lawyers interested in volunteering with the Neighborhood Christian Legal Clinic should visit www.nclegalclinic.org/volunteer-attorneys.•
• Zena Braish and Emily Kile-Maxwell are associates at Faegre Drinker Biddle & Reath LLP in Indianapolis. Opinions expressed are those of the authors.
Please enable JavaScript to view this content.