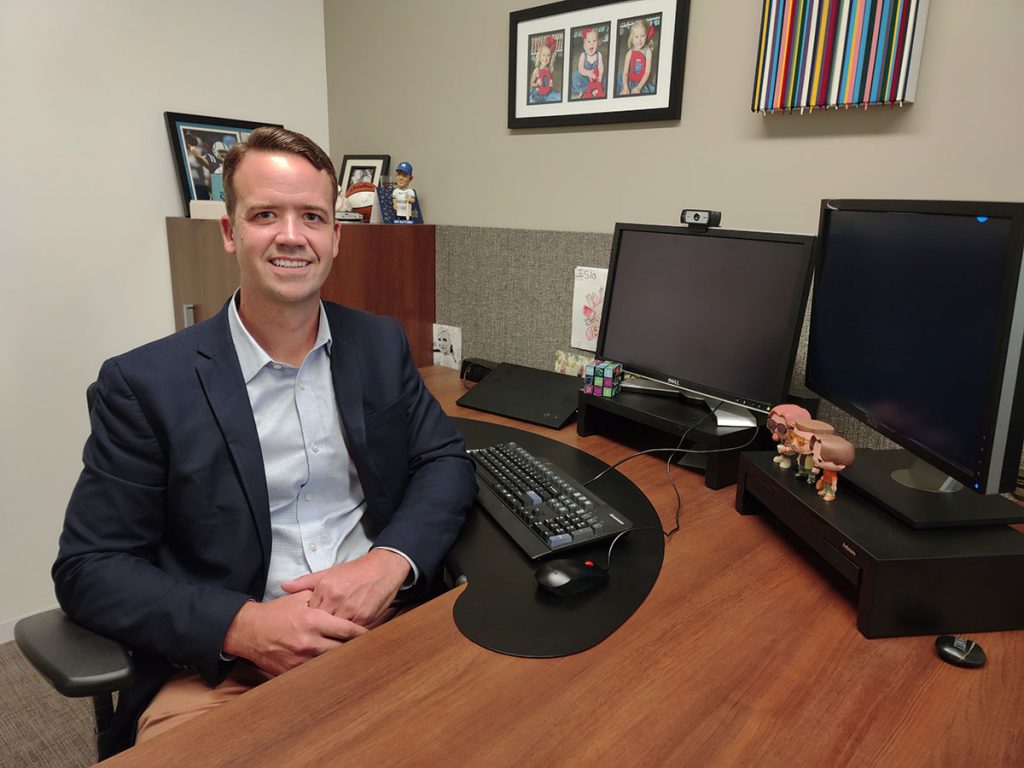 If John Stanley and his team of roughly 400 do their jobs correctly, no one will notice.
Stanley oversees a wide range of behind-the-scenes activities at Faegre Drinker Biddle & Reath LLP that attorneys and their clients might not pay much attention to unless whatever object or service they want is missing or malfunctioning. Across 21 global offices, he and his team handle such matters as operations administration, real estate, travel, hospitality and research and information.
Stanley describes his duties in terms of the ultimate goal of any law firm — helping clients.
"My role has always been to ensure the smooth operations of our offices across the firm in order to support our ability to deliver exceptional service to our clients," he said. "… A significant part of my role is to ensure Faegre Drinker just remains at the forefront to deliver best-in-class service."
Without ever having set foot in a law school classroom, Stanley began his tenure at what was then Baker & Daniels in 2007. He started working in the firm's marketing department then moved to the operations side where, in May, he was named to the new position of chief administrative officer.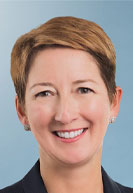 Stanley was promoted at the same time Lesley Ficarri was appointed as the firm's chief people officer. They are part of the operations leadership team that is led by chief operating officer Jane Koehl.
Faegre and Drinker Biddle had similar governance structures, which included boards and executive leadership teams, when the firms combined in early 2020. But in the months before the merger was completed, Koehl said, the leaders were thinking about how to create something different.
"We have this awesome opportunity to bring a professional leadership team together, executive leadership team together that's really focused on creating, making sure we have policies and talent and tools in place that help our lawyers and our consultants focus on our clients and not focus on how they get things done," Koehl said.
New initiative
Stanley works from his office on the 18th floor of Faegre Drinker's downtown Indianapolis location. It is strikingly clean with personal touches limited to a couple of family photos, a few notes jotted on a portion of the wall that is covered with whiteboard and a trio of plastic figurines staring at him across his computer keyboard.
The office illustrates the lesson learned during the pandemic that with a computer and internet access, Stanley and his team can provide support to the attorneys no matter where any of the members or the lawyers are physically located.
Currently, Stanley is leading a multi-year initiative that is incorporating remote work skills to change the way administrative support is delivered to the attorneys. He gave the example of a lawyer who has to file an emergency motion with the court. Previously, the administrative team that was in the same office as the attorney would help, but now the team member with the best knowledge and skills to assist with that particular court filing can be brought in to help regardless of geography.
'Buckle up'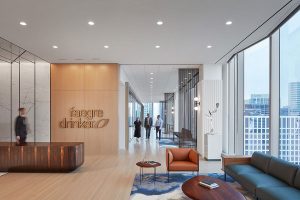 Along with developing the infrastructure that allows attorneys and staff to collaborate in the virtual world, Stanley and his team have also kept part of their focus on the offices in the real world. Most recently, they were integral to the design of Faegre Drinker's new Chicago office.
When Stanley and the administrative operations team started planning the new office, the building at 320 S. Canal St. was "just a hole in the ground." The project provided the "refreshing new opportunity" to reimagine the workspace that facilitates collaboration and client service.
"People work in many different and new ways in the hybrid setting, and the space is purposely designed to reflect that," Stanley said. "We built individually unique areas throughout each floor for different styles of work — from co-working space with technology enabling easy active collaboration, to quiet comfort booths for those who wish to be in the space, but don't necessarily need or desire a formal office, to casual cafe space built with flexibility for those who wish to concentrate in a cubby or a grab a cup of coffee with a colleague."
Stanley, Koehl and their operations colleagues have the added challenge of providing support at time of uncertainty. The pandemic is continuing, employers are still grappling with hybrid work and concerns are growing about the economy. Whatever changes might be coming next, Koehl advised the operations team to "buckle up and be ready."
"(For) our operations team, our job is to be looking around the corner and making sure we are ready in terms of talent, in terms of technology, in terms of efficient support and being able to be very nimble and responsive to our clients and our clients' changing needs," Koehl said. "Our reputation is built on our lawyers and our consulting professionals and the excellent service they provide. So we have to be able to support them to provide that excellent service."•
Please enable JavaScript to view this content.