The state of Indiana will ask the Indiana Court of Appeals this week to reinstate a murder conviction against a mentally disabled man who won post-conviction relief 15 years after his initial conviction.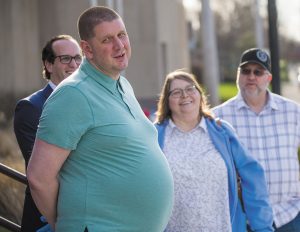 The appellate court will hear arguments Wednesday in the murder case against Andrew "Andy" Royer, who was convicted in 2005 of the murder of 92-year-old Helen Sailor.
Royer's co-defendant, Lana Canen, was also convicted but was exonerated in 2012. Then in 2020, Royer prevailed on a successive petition for post-conviction relief.
Special Judge Joe Sutton granted Royer's PCR petition in April 2020 after determining that his 2005 trial was tainted by false evidence and coercive investigative techniques that exploited Royer's mental disability and forced him to make two false confessions. The judge granted Royer a new trial and ordered that he be released from incarceration.
The state, however, is appealing the grant of post-conviction relief, arguing the trial court made an inappropriate finding that there was newly discovered evidence supporting Royer's PCR petition.
"The evidence Royer offered during the successive post-conviction proceeding was not newly discovered because it was known at the time of trial or could have been discovered with the exercise of due diligence, it was immaterial, cumulative, merely impeaching and/or would not probably produce a different result at retrial," the state wrote in its appellant's brief.
"Royer's jury listened to his confessions to the crime. Royer's counsel argued his confessions were unreliable, suggested that police could have fed him the information, and emphasized Royer's mental disabilities and the lack of physical evidence," the brief says. "The jury evaluated Royer's statements, found his confessions reliable, and convicted him based on its determination.
"In his successive post-conviction proceeding, under the label 'newly discovered evidence,' Royer simply repackaged the evidence known — and mostly presented to the jury — and reargued the weight that should be given his two statements to police. The successive post-conviction court mistakenly endorsed Royer's recycled evidence as newly discovered and clearly erred when it determined Royer's confessions were unreliable and involuntary."
Royer is represented by a team of wrongful conviction lawyers, including Elliot Slosar of the Exoneration Project in Chicago, the Exoneration Justice Project at Notre Dame Law School and the Indiana University Robert H. McKinney School of Law Wrongful Conviction Clinic. That team is urging the appellate court to uphold the grant of post-conviction relief.
"In the end, the PCR court oversaw a hearing double the length of Royer's trial. Afterward, the court issued 172 paragraphs of factual findings supporting its decision to grant Royer a new trial," Royer's brief says. "Here, the Appellant does not meaningfully challenge the new trial grant. Nor could it.
"Rather, the State's appeal consists of piecemeal attacks — almost none of which it preserved — in an effort to obtain an advisory opinion deeming Royer's false confession admissible at retrial," the appellee's brief continues. "Given the binding precedent … this Court should decline to do so."
Oral arguments in the case of State of Indiana v. Andrew M. Royer, 20A-PC-955, will begin at 11 a.m. Wednesday and can be watched online. Check Indiana Lawyer on Wednesday for coverage of the argument.
Please enable JavaScript to view this content.