One of the two men charged in a violent altercation with two southern Indiana judges has pleaded guilty to misdemeanor battery.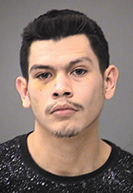 Though he won't serve any jail time, 24-year-old Alfredo Vazquez will spend 180 days on Marion County Community Corrections home detention — with credit for 11 days actually served, plus 11 days of misdemeanor credit — for a probation violation. He will also serve about one year of probation.
Vazquez was charged in June with seven counts, including two felonies, related to a May 1 downtown Indianapolis shooting. Vazquez and his uncle, Brandon Kaiser, were charged with battery against Clark Circuit judges Andrew Adams and Bradley Jacobs after both judges were shot and hospitalized.
Vazquez pleaded guilty Friday to Count IV, Class A misdemeanor battery resulting in bodily injury as to Jacobs.
Adams — who was charged with the same counts as Vazquez — likewise pleaded guilty in September to misdemeanor battery against Kaiser. He received a suspended sentence with no probation.
Jacobs was not indicted by the grand jury.
Marion Superior Criminal Court 2 Judge Shatrese Flowers sentenced Vazquez to 365 days on the misdemeanor count, with 353 days suspended and credit for the remaining 12 days. He was placed on probation for 353 days, which will begin after he serves his community corrections term.
Just 15 days before the shooting, Vazquez had been sentenced to probation for a drunken driving conviction. He admitted in court Friday that he had been drinking before the shooting, telling Flowers he was celebrating his new job doing body work on cars.
In placing him on probation again, Flowers warned Vazquez against the "domino effect" of violating the terms of his consecutive sentences. She ordered him not to use alcohol, consume nonprescribed substances or have any more arrests during his probation. A no-contact order was also imposed as to Adams and Jacobs.
Flowers also told Vazquez that he must comply with random drug testing. She imposed a $100 fine, $185 in court costs and standard administration and probation fees.
Vazquez spoke some during the plea hearing, telling the judge he was remorseful for what happened on May 1 and thanking her for accepting his plea. His lawyer, Indianapolis defense attorney Greg Spencer, also told Flowers that from the very beginning of the case, Vazquez wanted to accept responsibility so he could put the incident behind him.
Spencer told Flowers she would not see Vazquez in court again, and the judge told Vazquez she sincerely hoped that would be true.
The defense attorney also said Friday that Vazquez has been cooperative with law enforcement, the Marion County Prosecutor's Office and the grand jury proceedings, adding that he is willing to testify in the future as needed. That would include if he is called to testify in the criminal case against Kaiser, Spencer said.
Kaiser, who is represented by Indianapolis attorney Bradley Banks, is scheduled to go to trial beginning Nov. 18. He's facing 14 charges, including eight felonies and six misdemeanors.
Kaiser is the alleged gunman, while Vazquez was involved in the physical altercation with the judges.
Vazquez could also be called to testify in the judicial disciplinary actions against Adams, Jacobs and Crawford Circuit Judge Sabrina Bell, who was also present during the shooting. The three were in Indianapolis for a statewide judicial conference that began the morning of the shooting. There is no indication the judges were targeted.
Bell was not shot, but filings with the Indiana Commission on Judicial Qualifications allege she incited the incident by giving Kaiser and Vazquez the finger, then verbally provoked the men.
Adams was suspended from the Clark Circuit Court 1 bench in June after his criminal indictment, though he moved for reinstatement after his guilty plea. The JQC has opposed that motion.
Senior Judge Steven M. Fleece has been serving as judge pro tempore in Adams' place. Senior Judge Kenneth L. Lopp served as judge pro tem in Clark Circuit Court 2 while Jacobs recovered from his criminal injuries until the judge returned to the bench in July.
Bell is the only Crawford County judge.
Notice of the disciplinary charges against the judges was filed Oct. 11. No subsequent action has been taken, according to online records.
Please enable JavaScript to view this content.