A suspended Greenwood lawyer accused of stealing hundreds of thousands of dollars from disabled and injured clients whose special-needs trusts he established and then allegedly used for his own purposes is in jail in Muncie, where he may remain until standing trial on criminal charges around the state.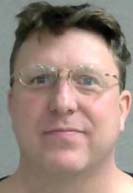 Kenneth "Shane" Service, 46, was booked into the Delaware County Jail on Thursday, according to jail records. He was being held without bond Tuesday morning pending trial on a litany of theft charges, the first of which were filed more than 1,200 days ago.
Service, who in 2007 founded the Carmel-based National Foundation for Special Needs Integrity Inc., has been criminally charged with felony theft in four counties. Collectively, he is charged with stealing a total of more than $250,000 from former clients. He also also is accused in civil lawsuits of taking more than another $100,000 from trust funds of former clients in Allen, LaPorte and Wabash counties.
Delaware Circuit Judge Marianne Voorhees issued a warrant for Service's arrest in September 2019,  after he failed to appear as ordered for a court hearing. His public defender at the time had said Service was "in treatment," according to online court records. But Voorhees ordered Service to be arrested and held without bail until his next court session. A trial date on the Delaware County charge of Class D felony theft had not been docketed as of Tuesday morning.
Meanwhile, Service is scheduled for a three-day trial beginning April 1 in Lawrence Superior Court — the first county where he was charged with theft more than three years ago. His trial setting in Bedford has since been continued four times, court records show. He faces a single count of Level 5 felony theft in Lawrence County for an alleged theft of more than $50,000.
An Indiana State Police investigator who began looking into Service's cases in 2017 and filed the initial criminal complaint said authorities were concerned about "numerous victims in multiple states" after a former client accused Service of taking about $85,000 from his trust account.
Service also has been granted multiple continuances in his criminal case in Franklin County, where he is accused of three counts of theft — one as a Class 5 felony for a sum greater than $50,000 and two as Class 6 felonies. His trial at the courthouse in Brookville, where a judge also had issued an order for his arrest, is scheduled to begin May 13.
Service also faces charges in Marion County, where another warrant for his arrest had been issued. No trial date is set for his charges in Indianapolis, which include Level 5 and 6 felony theft and racketeering.
The Indiana Supreme Court suspended Service indefinitely after he was charged, saying he failed to cooperate with a disciplinary commission investigation of a complaint against him.
Please enable JavaScript to view this content.