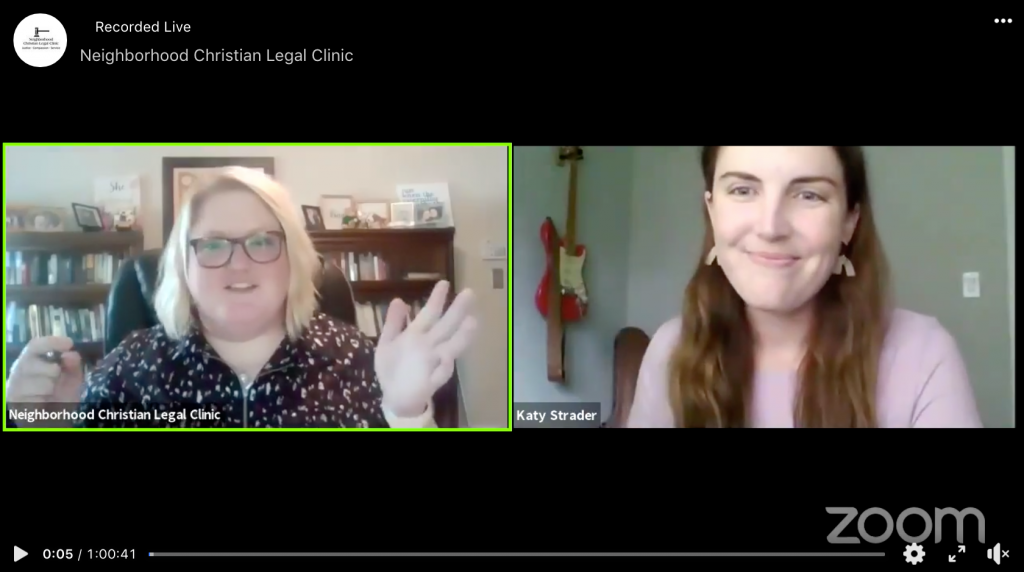 When in-person legal education events became virtually impossible during the ongoing COVID-19 pandemic, the Neighborhood Christian Legal Clinic chose to go virtual.
The clinic, out of necessity, decided to implement a new way of reaching the communities it serves through a social media platform that has recently taken off, Facebook Watch.

"The concept of doing outreach through legal education came about as a need, and that need was, 'How do we replace what we were normally doing?'" said Amy Horton, the clinic's executive director. "Switch to a mechanism that people could utilize to get the information that they desperately needed."
For the past few months, the clinic every Tuesday has offered legal education focused on a variety of general civil legal aid topics, such as family law, housing and consumer issues, wills and estates, and driver's license issues, among others. Thursdays are dedicated solely to issues surrounding immigration.
Every attorney at the Neighborhood Christian Legal Clinic participates in the Facebook Live series discussions, said Rachel Van Tyle, the clinic's director of legal services. Each attorney delves into topics in their practice areas and digs further into specific concerns related to those topics.
Van Tyle is the only attorney who participates in the live series every week, but it's because she loves doing it.
"I like providing people with information. It has always been an important part of our mission, part of which is providing people with legal education. I think we have to get creative with how we do that, but I think it is so important because better-informed people can make better-informed decisions about their future," Van Tyle explained.
Van Tyle hosts the discussions on immigration each Thursday with the assistance of Katy Strader, one of the clinic's bilingual paralegals who translates Van Tyle's messages into Spanish. Every episode from the live series is translated, Van Tyle noted, regardless of the legal topic. The hope in doing that, she said, is to reach the most people who can access the clinic's services from wherever they are. View an episode of the series here.
Far and wide
Reaching a larger audience is tricky, said Chase Haller, senior staff attorney at the clinic. The key is to push out information in as many different avenues as possible so that people can find it — an approach that seems to be working when it comes to the clinic's Facebook Live series.
Since launching its first Facebook Live session in the beginning of March, the clinic has offered 22 online sessions with a total of 19,900 views and 16,900 minutes watched, as of July 10. Immigration sessions single-handedly win the day with an average of 1,213 viewers per session, according to data provided by the clinic. The next highest-viewed sessions discussed unemployment benefits, survivor remedies and housing/landlord and tenant issues.
More viewers are attending the sessions, Haller said, because the information is more accessible to viewers online. But when educational events are in person, attendance is limited to the number of people who can fit in the room.

"It's trying to meet your clients where they are. The pandemic has given us an opportunity to reevaluate how we can reach the public with legal education," Haller said. "Innovation by necessity. We have to fulfill this component of our mission and the way we can do it and make sure we are getting the information out there as far and wide as possible is using platforms where we know our clients are."
Horton has been surprised by the demand for the live sessions, where viewers are able to ask questions by posting in the live feed's comment section. Then, the attorneys hosting the session can either answer the question at the end of their allotted time or address it during the next session.
"In this case where people are going online for it, they may be different than those we traditionally serve," Horton said. "They might be those who are more tech savvy or have greater access to technology, they may be those who may not have heard of us. I think we are not only reaching people, but also reaching those who might not have reached us through the traditional channels."
Silver linings
All in all, the attorneys agree that things are going well on the new platform.
"We are very pleased to see the number of viewers in all of the different sessions," Horton said. "The numbers in terms of views and the minutes of people watching and the questions really (indicate) that there is a need for this information and people are finding new ways — like these Facebook live sessions — to get that information."
In addition to getting good questions and increased community engagement, Van Tyle said she thinks that the Facebook live series has helped both the community it serves and the clinic.
"We learn from the questions being asked and the issues people are having. I think it has helped us hone our message too a little bit better," Van Tyle said. "Like, 'Oh, maybe that isn't a particular concern, but maybe this is, and we should be focusing more of our time on this.'"
Horton says the clinic is eager to do a deep analysis on whether to continue the Facebook Live series once it is able to return to in-person events.
"I guess the silver lining to the pandemic is providing and allowing law firms and legal service providers to think of different ways of serving our clients," Haller said. "I think overall that is a really good thing for access to justice."
Please enable JavaScript to view this content.