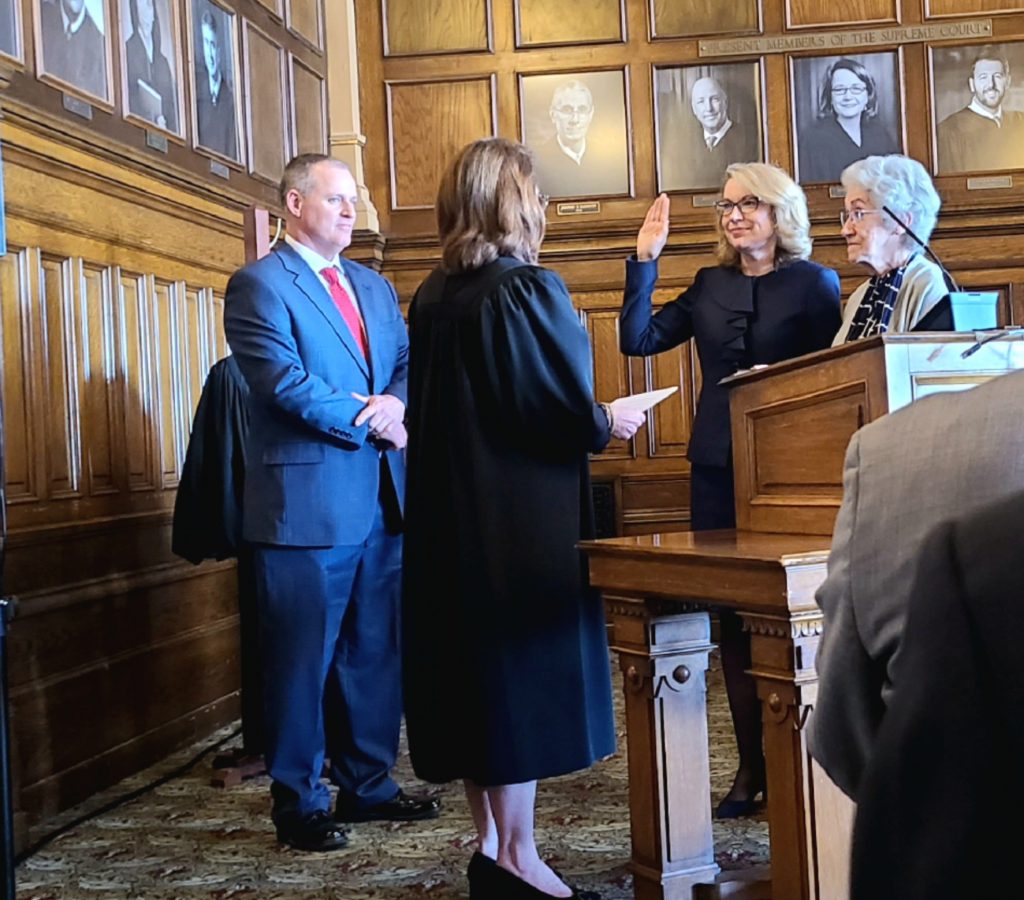 Court of Appeals of Indiana Judge Dana Kenworthy's robing ceremony on Wednesday afternoon was full of laugher and gratitude as she ceremonially took the judicial oath.
Trial judges from across the state traveled to the Indiana Statehouse to attend the ceremony for Kenworthy, who joined the COA in January.
Indiana Chief Justice Loretta Rush jokingly observed that it's no easy feat to get that many judges in one room at the same time.
"And by the way, I'm worried about what's going on back in your counties today," Rush quipped. "I hope I don't get any calls."
Rush then transitioned into remarks about Kenworthy, who served on Grant Superior Court 2 for 12 years before joining the COA.
"Judge Kenworthy has been a leader on the trial bench. If anybody had a question regarding children, they would call Judge Kenworthy," Rush said, referencing Kenworthy's work on child welfare issues. "We're thrilled to have you. History's going to remember Dana Kenworthy for all the great things she has done, and we're very pleased to be able to watch and work with you on this next chapter."
Joe Heerens, general counsel for Gov. Eric Holcomb, who selected Kenworthy for the appellate bench, discussed the process of reviewing Kenworthy's application. It was her experience that made her stand out, he said.
"From the first conversation about Judge Kenworthy that my team and I had with the governor, he was impressed with her and all that she has accomplished in a short period of time as a lawyer and a judge," Heerens said. "And what's not to be impressed with? Judge Kenworthy is one of the sharpest legal minds in our state."
He added that Kenworthy's low reversal rate on appeal was something the governor's office also considered. She will be missed on the trial bench, he said.
"I couldn't be more confident that she will serve honorably and justly and make it not just history, but her own unique mark in the years ahead," Heerens said on Holcomb's behalf.
James Luttrull, director of institutional response for the organization Godly Response to Abuse in the Christian Environment, spoke about his interactions with Kenworthy during her time as a trial judge.
"Your courtroom was a special place for incredible moments," Luttrull said.
Luttrull described a time when the judge listened with care to the families of three students killed in a drunken driving accident, calling it one of her finest hours. He also mentioned her work with the nationally-recognized Grant County Family Recovery Court, as well as her kindness as a foster parent in her own home.
"You paid great attention as both a lawyer and a trial judge and served extremely well. We are so proud. You will be an even better Indiana appellate court judge, in large part because you pay attention to what truly matters," he said.
Rush then administered the oath to Kenworthy. Her mother, Flossie Cantrell, held the Bible while her husband, Alex, stood beside her. The ceremony marked the first one COA Chief Judge Robert Altice attended in his capacity as chief.
After she was robed, Kenworthy discussed the support she has received over the years to get where she is today.
"If you're in this room, you are responsible for many of my best days, including today," Kenworthy said.
She recalled being in law school at Indiana University Robert H. McKinney School of Law, where she heard COA Judge Nancy Vaidik speak. Kenworthy was so impressed that she applied to be Vaidik's law clerk, but she ultimately wasn't chosen.
However, when Kenworthy became an appellate judge, Vaidik became her mentor.
"Well, doesn't it feel good to be chosen," Kenworthy said jokingly.
She also discussed how Wayne Superior Judge Darrin Dolehanty had been her head coach throughout the interview process, sending her encouraging texts alongside questions she may be asked.
"If he ever chooses to retire from the bench, he has another calling as a coach — after he publishes his book and writes an album of songs, of course," Kenworthy said. "I am very happy to be the Newman to your Seinfeld."
Kenworthy then received a standing ovation as she walked down the front row to her seat next to COA Judge Peter Foley and her other colleagues on the bench.
She went to her seat before Altice said she could, and he responded with, "She is definitely a take-charge lady."
Altice then noted the historic nature of Kenworthy's appointment: She brings the COA to eight women judges on the 15-member bench — the first time the Court of Appeals has had a female judge majority. He also noted only 10 women have ever been appointed to the Court of Appeals since 1891, the first being V. Sue Shields in 1978.
Wednesday's robing was ceremonial, as Kenworthy was officially sworn in on Jan. 18 in a private ceremony. Judge Margret Robb — the COA's first female chief judge — administered the oath and even let Kenworthy use the same Bible she had used when she took the oath in 1998.
Please enable JavaScript to view this content.