Editor's note: The following story contains profanity.
Zionsville Mayor Emily Styron expressed her frustration about gun violence in the United States in a profanity-filled Facebook tirade last week following a school shooting in Texas that took the lives of 19 children.
Guy Relford, an attorney and host of the WIBC 93.1 FM radio program "The Gun Guy," posted a screenshot of her Facebook comments Tuesday afternoon on Twitter.
Styron's comments were written late last week during a conversation about gun-ownership rights involving several individuals on the Facebook page of Robert Goodman Jewelers, which had opened the thread by asking for political change and showing support for gun-free spaces.
Styron responded to a Facebook user named Joel Bardach by writing, "F— you. I am so sick and tired of the stupid, useless rhetoric by jack asses like you when it comes to gun regulation. F—ing sick and tired of mass murders [of] OUR F—ING CHILDREN… it's time for the majority who know that gun permits and banning automatic weapons is COMMON F—ING SENSE. So yeah, F— YOU."
IBJ added hyphens to the profanities, which Styron spelled out in full.
Styron went on to write that she was "the f—ing mayor of this town" and called the commenter a "f—ing a–hole.
Styron told IBJ on Tuesday that she posted the comments from her personal Facebook account the morning after a gunman killed 19 students and two teachers on May 24 at Robb Elementary School in Uvalde, Texas. The thread, however, has a May 26 start date and Styron didn't comment until May 27.
"As a mom and a mayor, I woke up that morning just so angry and so frustrated that it takes more work to be able to exercise our constitutional right to vote than it does to get a semi-automatic weapon and go in and shooting a whole classroom of people," Styron said Tuesday.
Styron, the second mayor in Zionsville history and a Democrat in a community led by an all-Republican town council, called the system of gun regulation in the United States "broken."
She also pointed to a lack of gun control legislation in the years since a gunman killed 20 students and six staff members in 2012 at Sandy Hook Elementary School in Newtown, Connecticut.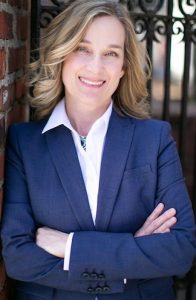 "My oldest child was around 10 or 11 when Sandy Hook happened … and my youngest child is now 10 years old, and we are seeing the same sort of horrific violence happen again in America," she said.
Many Twitter users responded to Relford's post expressing support for Styron's comments, while others questioned if a mayor should use profanity on a public forum.
Styron said she noted during her 2019 campaign for mayor that she uses colorful language at times. She added that she thinks she could have had "a more genteel and appropriate, less vulgar response to that gentleman," but preventing gun violence is an issue she is passionate about.
She worries that increased access to guns as a result of the new Indiana law that eliminates the license requirement to carry a handgun will lead to more violence. It's a concern, she said, for Zionsville's police department and community.
"I am done listening to people who want to argue 'but my rights,'" she said. "I'm just done. I want us to be mad and to elect people into public office who are going to protect our communities, our children, our teachers, our churches."
Please enable JavaScript to view this content.